Michael Muhney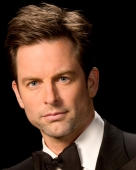 ­Michael Muhney joined the cast of THE YOUNG AND THE RESTLESS in May, 2009 as the charming-yet-shady Adam Newman (a.k.a. Victor Newman, Jr.), the prodigal son of Victor Newman (Eric Braeden) and his ex-wife, Hope Adams.

Muhney starred as a series regular in the television series "Turks," "The Huntress" and, most recently as Sheriff Lamb in "Veronica Mars." His numerous television guest starring roles include "Without a Trace," "Numb3rs," "ER," "Charmed," "NCIS," "Boomtown" and "CSI: Miami." He also starred in the mini-series, "A Will of Their Own."

Muhney's film credits include "Columbus Day," "Reeker: No Man's Land," "Lovers, Liars and Lunatics," "Act Your Age," which he also co-wrote and produced, "Virtual Nightmare," "Disconnect," "Love 101," and the award-winning Independent feature at the DigiDance Film Festival, "Nicolas."

Born in Chicago, Muhney moved to Texas at age eight where he resided until heading back to Chicago for college. He received a bachelor's degree from the Goodman School of Drama at DePaul University.

In his free time, Muhney enjoys rock climbing, ultimate frisbee, basketball, golf, and soccer. He is a member of MENSA and he is also an active participant in Pancreatic Cancer charity foundations as well as numerous other charity organizations. Muhney currently resides in Los Angeles.