Jessica Collins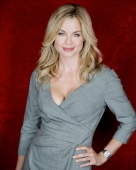 Jessica Collins joined the cast of THE YOUNG AND THE RESTLESS in July, 2011 as no-nonsense attorney at law, Avery Bailey Clark.

Collins was born on April 1 in Schenectady, New York. At eighteen, she moved to New York City to study acting and soon got her first break when she landed the role of DinahLee Mayberry on the daytime drama "Loving."

Her extensive television credits include such shows as the critically-acclaimed HBO series "Unscripted," "Big Shots," "Scoundrels," "Tru Calling," "American Dreams," and "Beverly Hills 90210." She has guest-starred on numerous series including "It's Always Sunny in Philadelphia," "Nip/Tuck," "Two and a Half Men," "CSI," "Everwood," "Andy Richter Controls the Universe," "Dawson's Creek," and "Star Trek: Voyager.

Her motion picture credits include "The Ranch," directed by Susan Seidelman, "Beautiful," directed by Sally Field, and Steven Spielberg's "Catch Me If You Can."

Collins studied acting with renowned teachers Howard Fine and French instructor Phillipe Gaulier. In addition, she attended Shakespeare & Company in Massachusetts and The Royal National Theatre in London.

Jessica is also a professional chef. In 2009, she graduated with the highest honors from the pristine cooking college Le Cordon Bleu. She produces and hosts the cooking show "Sugared" and has an entertaining food blog at jessicacollins.com.