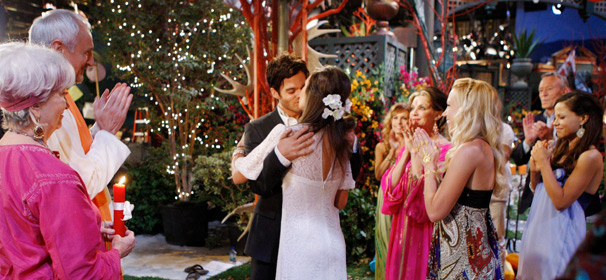 Famous Love: Kevin and Jana's Wedding
It was love at first site for Kevin Fisher (Greg Rikaart) when he hired perky Brit Jana Hawkes (Emily O'Brien) to help him at Crimson Lights. The fact that she murdered Carmen Mesta (Marisa Ramirez), tried to frame him and then tried to kill him and Colleen was a bit of an obstacle but when he learned that a brain tumor made her do it, Kevin was able to forgive his sweetie. Since then it has been smooth sailing for the young couple who may in fact be the most "grounded" of their current peer group which includes the scheming and misguided Amber (Adrienne Frantz) and troubled Daniel (Michael Graziadei).
Kevin and Jana's wedding finally arrived! Share the joy with their family and friends as we celebrated their love and union. Click through the photo gallery and re-live the romance as Kevin and Jana exchange their vows.