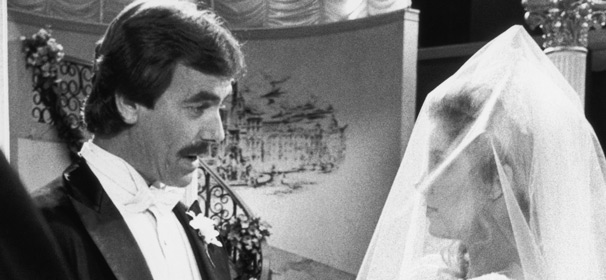 Famous Love: Victor and Nikki
Colonel Douglas Austin introduced Victor Newman to Nikki Reed when Nikki was a stripper at the Bayou. Victor was instantly smitten with the young dancer and took it upon himself to become part of her life. He encouraged her to pursue an education and to explore her love for piano. Despite his feelings for Nikki, he supported her relationship with eligible bachelor Kevin Bancroft, whom she later married. Unbeknownst to Kevin, Nikki was pregnant with Victor's child (Victoria) from their one night of passion. Kevin and Nikki eventually divorced, allowing Victor and Nikki to pursue their feelings for one another.

When gangster Rick Daros kidnapped Nikki, Victor came to her rescue but was wounded by a harpoon in the process; he proposed to Nikki from his hospital bed. The couple married in 1984 in an extravagant wedding. Alas, happily ever after was not to be. They divorced several years later and over the next three decades would get together (including two more weddings, one of which was an invalid deathbed wedding) and break up time and time again. Other husbands, wives and lovers would come and go, but through it all, these two would remain the true love of each other's lives and always find their way back to one another.