Training Day Star Bill Paxton: Expect Complex (But Fun) Characters
Paxton, Justin Cornwell, Jerry Bruckheimer, Antoine Fuqua, and others tease what's in store.

At the 2017 Television Critics Association Winter Tour on Monday, co-stars Bill Paxton and Justin Cornwell hit the stage with Executive Producers Jerry Bruckheimer, Antoine Fuqua, Will Beall, and Barry Schindel to discuss their new CBS show, Training Day.

Bill Paxton compared the police drama's high intensity to how a Tesla "goes from zero to 60." The veteran actor shared what most excites him about the new crime thriller, which follows a young, idealistic police officer (Justin Cornwell) who is tapped to go undercover in an elite squad of the LAPD. There, he partners with an experienced, morally ambiguous detective played by Paxton. Katrina Law, Drew Van Acker, Lex Scott Davis, Julie Benz, Christina Vidal, and Marianne Jean-Baptiste also star.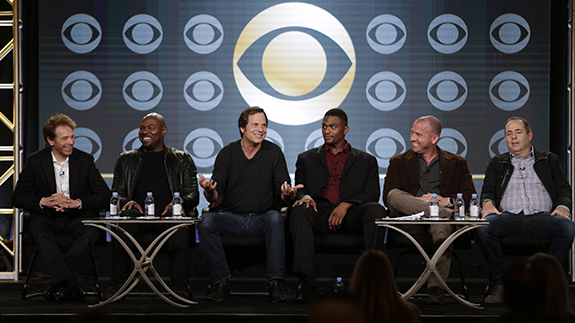 "It has been a lot of fun to play a roguish character," said Paxton. "There's a real Western ethos to [my character, Detective Frank Rourke]. He's a throwback."

Paxton appreciated the challenge of playing a complicated character that was, as he explained, pulled out of a time capsule and "thrown into the modern age." Adding to the experience was he was able to delve into the many different sides of another main character: the city of Los Angeles. The series will explore areas like Skid Row and downtown Los Angeles, where Paxton revealed that he was once held at gunpoint.

"L.A. is an amazing place," stressed Paxton. "We're going to go everywhere with this [series]."

As for comparisons to the movie of the same title, Executive Producer Will Beall explained that it will live in the same universe as the 2001 feature film, but will be "its own thing." The new CBS series is set 15 years after the events of the original.




"We considered that sacred ground," said Beall of the film. He was adamant about giving the show some distance. "We are distinct in that our tone is really fun... Training Day is a valuable title that Warner Bros. has and we treat it like Cameron's dad's Ferrari in [the film] Ferris Bueller's Day Off. We put a lot of miles on it."

That actors were quick to praise the feature film, but understood they were creating something wholly different for a TV audience. "I'm a big fan of the original movie," shared star Justin Cornwell.

Those involved in the original production gave their warmest blessings. Executive Producer Antoine Fuqua said that upon hearing of the series, actor Denzel Washington said he was glad that the TV version would allow audiences to "explore more of that world." Fuqua is especially excited to dive further into the show's main characters and the ethical struggles they face.


"Training Day,
for me, was like
Heart of Darkness,
" said Fuqua of the feature film. In contrast, the TV series will demonstrate how "Bill" character Frank has made it up the river and somehow made his way back ... he's still looking for redemption." Fuqua added that it's all about character development. Viewers can expect a complexity that's both entertaining—and enlightening. "You get to explore a little further than in a movie of what's [considered] going too far."
But don't worry, there will still be humor, action, and plenty of entertainment. As Paxton explained, it comes down to the likability and charisma of the characters, of which he expects plenty.
"I think people are gonna wanna hang with these people," he shared. "I'm psyched."
Watch
Training Day
on Thursdays at 10/9c on CBS and
CBS All Access
.