Jon Cryer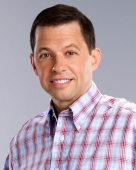 Throughout his career, Cryer has turned in outstanding, eclectic performances in film, television and on stage. Cryer won an Emmy Award for Best Supporting Actor in a Comedy Series for his work as Alan Harper. Recently, he was nominated for his first Screen Actors Guild Award for Outstanding Performance by a Male Actor in a Comedy Series for this role. The show also won The People's Choice Award for Best New Comedy Series in its debut year as well as Favorite TV Comedy. After making his directorial debut on an episode of "Two and a Half Men" during its fourth season, Cryer continues to direct episodes of the show.

Cryer's first foray into television was playing the title role in "The Famous Teddy Z," on the Network. He has since starred in "Getting Personal," "Partners" and "The Trouble with Normal." In addition, he's had notable guest starring roles on "The Practice," "Andy Richter Controls the Universe" and "Mr. Show."

Initially, Cryer gained attention on the big screen opposite Demi Moore in "No Small Affair," followed by his iconic performance as an endearing misfit in John Hughes' "Pretty in Pink." Other film credits include "Hot Shots," "Hiding Out," "Shorts" and the indie feature "Weather Girl."

Cryer's talent is not limited to acting – he's a gifted filmmaker, as well. He co-wrote, produced and starred in two well-received independent films with director Richard Schenkman. The first, "The Pompatus of Love," explores the romantic floundering of four friends in their 30s. Cryer based his second film, "Went to Coney Island on a Mission from God… Be Back by Five" on the true story of a childhood friend who was homeless and living in Central Park. The film garnered awards in film festivals both in the U.S. and abroad.

On stage, Cryer has hit the boards on both sides of the Atlantic. Most recently, he appeared in the New York Philharmonic Broadway revival of "Company," which marked his first foray into musicals. He played David in Harvey Fierstein's "Torch Song Trilogy," bringing the role from Broadway to Los Angeles; starred as Eugene Jerome on Broadway in Neil Simon's "Brighton Beach Memoirs," and played Jack in the Los Angeles premiere of "Boys' Life." His performance in the London production of "900 Oneonta" inspired the Daily Mail to proclaim Cryer's work "…undoubtedly one of the funniest performances on the West End stage."

A native New Yorker, Cryer is the son of actor David Cryer and writer and actress Gretchen Cryer. Alongside his mother, he did his first commercial at the age of 4 and was so excited that he broke out in hives, halting production. He studied acting at Stage-door Manor, a summer acting camp featured in Todd Graff's Sundance favorite, "Camp," before being accepted to the London's prestigious Royal Academy of Dramatic Art. In the fall of 2011, coinciding with the ninth season premier of "Two and a Half Men," Cryer was honored with a Star on the Hollywood Walk of Fame.

Currently, Cryer resides in Los Angeles. His birth date is April 16.