Conchata Ferrell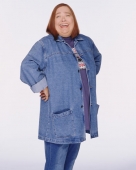 Three-time Emmy Award nominee Conchata Ferrell's television series credits include "Hearts Afire" and "A Peaceable Kingdom," both on the Network, as well as "Push, Nevada," "Teen Angel," "Townies," "L.A. Law," for which she was nominated for an Emmy Award, "Anything but Love" and "ER," among others. Ferrell began her television career as a series regular on Norman Lear's "The Hot L Baltimore." Her guest-starring appearances include "Judging Amy," "Becker," "JAG" "Walker, Texas Ranger," "Cagney & Lacey," "Touched by an Angel," "Knots Landing," "Good Times," "Maude" and "Murder, She Wrote," all on the Network, as well as "Sabrina the Teenage Witch," "Popular," "Friends," "Buffy the Vampire Slayer," "Who's the Boss?," "St. Elsewhere," "The Love Boat" and "The Rockford Files."

Her numerous television movie credits include "Amy & Isabelle," "Stranger Inside," "Sweet Dreams," "Backfield in Motion," "Chains of Gold," "Opposites Attract," "Your Mother Wears Combat Boots," "Goodbye, Miss 4th of July," "Portrait of a White Marriage," "Runaway Ralph," "Eye on the Sparrow," "Picnic," "Samaritan: The Mitch Snyder Story," "North Beach and Rawhide," "The Three Wishes of Billy Grier," "Nadia," "Emergency Room," "Miss Lonely Hearts," "Life of the Party: The Story of Beatrice," "The Great Gilly Hopkins," "Rape and Marriage: The Rideout Case," "Reunion," "The Seduction of Miss Leona," "Before and After," "Who'll Save Our Children?," "The Girl Called Hatter Fox," "A Death in Canaan" and "Mixed Nuts."

Ferrell's feature film credits include "Mr. Deeds," "KPAX," "Erin Brockovich," "Freeway," "Family Prayers," "My Fellow Americans," "True Romance," "Heaven & Earth," "Edward Scissorhands," "Mystic Pizza," "Where the River Runs Black," "Chains of Gold," "Heartland," "For Keeps," "Network" "Surviving Eden" and "Kabluey." Her theater credits include "Picnic," "The Sea Horse," "The Hot L Baltimore," "Battle of Angels," "Getting Out," "Night of the Iguana, "Cabrona" and "Love, Loss and What I Wore."

In 2005 and 2007, Ferrell received Emmy Award nominations for Outstanding Supporting Actress in a Comedy Series for her role as Berta. She is also the recipient of an Obie Award, The Drama Desk Award and a Theater World Award for her work on stage. During the summers of 2008, 2009, 2010 and 2011, Ferrell taught a workshop in acting for situation comedy at UCLA.

Ferrell attended West Virginia University, where she studied political science. She completed college at Marshall University, where she studied social studies in education, and was trained in acting at the Circle Rep Theater Company in New York. A self-proclaimed "old hippie, political liberal and feminist," she enjoys writing children's poetry, reading history, playing video role-playing games, gardening, seeing films and shopping.

Born and raised in West Virginia, Ferrell lives in Hollywood with her husband, Arnold Anderson, with whom she has a grown daughter, Samantha. Her birth date is March 28.