Holland Taylor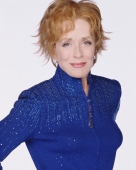 Emmy Award winner Holland Taylor is a veteran of film, television and theater. Her film credits include "Baby Mama," "Legally Blonde," "Wedding Date," "Keeping the Faith," "D.E.B.S., " "Spy Kids 2 and 3," "The Truman Show," "George of the Jungle," "One Fine Day," "To Die For," "How to Make an American Quilt," "Alice," "She's Having a Baby," "Jewel of the Nile," "Romancing the Stone" and "The Chosen One."

In 2005, 2007, 2008 and 2010, Taylor received Emmy Award nominations for Outstanding Supporting Actress in a Comedy Series for her role as Evelyn Harper. Taylor's additional television credits include the series "The Practice," for which she won an Emmy Award for Outstanding Supporting Actress in a Drama Series, "The Naked Truth," Norman Lear's "The Powers That Be" and "Bosom Buddies," with Tom Hanks, as well as the movies "Counterfeit Contessa," "Concealed Enemies" and "People Like Us." She has also guest-starred in "Ally McBeal," playing her character from "The Practice," and "The L Word."

Taylor's Broadway theater credits include "The Devils," "Butley," "Breakfast with Les and Bess," "Moose Murders," "Murder Among Friends," "Something Old, Something New" and "We Interrupt This Program." She also performed in the world premieres of "Cocktail Hour," "Drinks Before Dinner," "Children," "Fashion" and "Colette," as well as "Love Letters" and "The Vagina Monologues." She spent her summer 2009 hiatus in New York appearing opposite Buck Henry in the Off-Broadway premiere of "Mother." Taylor spent three years researching and writing "Ann!" a play about Governor Ann Richards, which launched at the Galveston Opera House in Texas in 2010. The successful first production appeared in San Antonio, and in May 2011, played at the Paramount Theatre in Austin. It will open in Chicago in fall 2011 and have its pre-Broadway run at the Kennedy Center December 2011 through January 2012. A New York production is expected in spring 2012.

Taylor was born in Philadelphia and lives in Los Angeles. Her birth date is Jan. 14.