Ashton Kutcher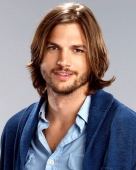 Ashton Kutcher – an actor, producer and co-founder of Katalyst, a new breed of media company – first gained recognition as Michael Kelso on the comedy series, "That 70's Show," which aired for eight seasons. Kutcher went on to star in a variety of box office hits on the big screen, including "What Happens In Vegas" with Cameron Diaz, "The Guardian" with Kevin Costner, "Valentine's Day," "No Strings Attached," with Natalie Portman and the cult hit, "Dude, Where's My Car?" For television, Kutcher has served as co-creator and producer of MTV's hit series, "Punk'd," and The CW's reality series "Beauty and the Geek" and "True Beauty."

Kutcher's company, Katalyst, creates original digital media, television and film. Katalyst is driving a radical shift in the way content is created and consumed, celebrating the social connection between the viewer and the brand. Katalyst film credits include "The Butterfly Effect," "Guess Who," "Killers" and "No Strings Attached." Television property credits include the hit series "Punk'd," "Beauty and the Geek" and "True Beauty." Digital Media properties include programming for major brands such as the Levi's Curve ID campaign, winner of the 2011 OMMA Award for Best Integrated Online Fashion Campaign, Nikon "The Chase," Mountain Dew "DEWmocracy" and United Nations "Malaria No More." In 2010, Katalyst was named one of the year's Top 50 Most Inspiring Innovators by Ad Age and one of Fast Company Magazine's Top 10 Most Innovative Companies.

Born and raised in Homestead, Iowa, Kutcher attended the University of Iowa, where he was a biochemical engineering student. He was discovered by a local talent scout and soon began a career in modeling before segueing into acting.

In 2010, Kutcher was named one of Time Magazine's Top 100 Most Influential People.

Kutcher lives in Los Angeles. His birth date is Feb. 7. He can be followed on Twitter at @aplusk.