Season 1: Episode 1 - Pilot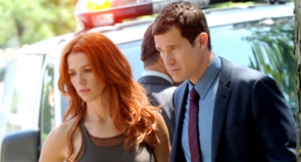 Pilot: ­We are introduced to Carrie in this pilot episode in an exciting and fun scene, where we are following a very beautiful, sexy woman into a casino. She is immediately busted for card counting, and taken to a back room where we also learn she knows how to hold a gun with confidence. This is our lead character, Carrie, who has unbelievable powers of recollection. This is based on a true skill, or brain condition, where the mind knows how to actually capture every memory as far back as childhood down to the most minute details. In Carrie's case, her sister was abducted and murdered when she was just a girl, and this is the one event that she can not recall. Because of this, she became a cop, however the job proved too emotionally tough for her, and she quit the Syracuse force nine years ago. We meet her present day. She is living alone in an inauspicious apartment in Queens. She goes to the casinos at night, and during the day she works at a nursing home, where we learn at the end of the episode, her mother lives. The irony being that her mother is in late stages of Alzheimer's disease, and cannot even remember who her own daughter is.

Carrie is brought back to the law by an old flame, Al, who is a lead detective in the Queens PD. They meet up again quite accidentally when there is a murder behind Carrie's apartment building. Carrie is called in as witness, and ends up helping to solve the crime. Al convinces her she should come back the force. She is reticent, but in the end decides it may be time to battle he demons. The one ghost that haunts Carrie is the death, and still unsolved murder of her sister. She continues to try to track back through her memory to see the face of the killer. This will be an arc for the series.