Dennis Quaid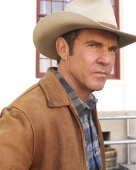 Dennis Quaid began acting in high school and studied theater at the University of Houston. Soon after his arrival in Hollywood, he landed the plum role of a working-class tough in "Breaking Away." VEGAS marks his first series regular role on television.

Quaid received honors from the New York Film Critics Circle in 2002, The Independent Spirit Awards as Best Supporting Actor of the Year in 2003, and also garnered nominations for a Golden Globe Award and Screen Actor's Guild Award for his performance in the critically acclaimed 2002 film "Far From Heaven."

Quaid's feature film credits since 2011 include "Beneath the Darkness," "What to Expect When You're Expecting," "Soul Surfer," "Footloose," and the upcoming "The Words" with Bradley Cooper, Jeremy Irons and Olivia Wilde, and "Playing the Field" with Gerard Butler, Uma Thurman, Jessica Biel and Catherine Zeta-Jones.

In 2010 Quaid portrayed President Bill Clinton in the cable movie, "The Special Relationship," for which he received Emmy Award and Golden Globe Award nominations.

Born in Houston, Quaid now splits his time between homes in Los Angeles, Montana and Texas. His birthday is April 9.