Season 1:

Episode 6 - The Real Things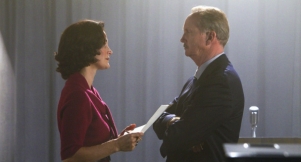 The Real Things: The Lambs investigate the murder of Howard Frankel, a local dentist who appears to have been killed for his gambling addiction. Lamb talks to Frankel's bookie, Jimmy the Polack, who informs them that Frankel had paid off his nearly $40,000 debt to him within the last few days. The discovery of casino chip molds at Frankel's office indicates that Frankel was involved in a large-scale counterfeiting operation, and that he used the money he made from his fake chips to pay off his gambling debts. Lamb is forced to team up with Savino on the case, since The Savoy was Frankel's target of choice for passing off his fake chips. Jack and Mia go through receipts for chip exchanges and eventually uncover that a single cage cashier changed out all of Frankel's fake chips, but not before their killer/counterfeiter manages to slip into the casino dressed as a chip deliveryman and steal nearly $500,000 from the Savoy vaults. Jack brings the guilty cashier, Holly Edwards, to Lamb and Savino for questioning. Savino wants to take matters into his own hands, but Lamb won't stand for it. Lamb questions Holly and learns that the Savoy heist and conterfeiting operation was orchestrated by her boyfriend, Jesse Lynch, and that he was the one who killed Frankel when he objected to the heist. Lamb goes to arrest Jesse, only to find that Savino and his thugs have gotten to him first. After a tense standoff, Lamb convinces an infuriated Savino to give Jesse over to the authorities.

Meanwhile, a new mayoral ordinance decrees that all Vegas casino count rooms are subject to surprise audits by Gaming Commission officers. Savino, furious with Mayor Bennett for what he perceives as backstabbing, decides that it's time to put a new, mob-friendly mayor in office. He meets with Scott Douglas, a local dry cleaner who is running against Bennett in the upcoming mayoral election. With some help from his PR-savvy wife, Savino manages to win Douglas over and transform him into a legitimate mayoral threat. Douglas faces off against Bennett in a televised debate and gives an inspirational opening statement before Borelli cuts the power to the broadcast antenna, blacking out the debate in the county. Savino hopes that the viewers will remember Douglas over Bennett, since that was the last thing they could see.

Katherine slowly begins to befriend Savino's wife, Laura, throughout the episode, hoping that she can gain further insights on Savino's backroom dealings.