Season 1:

Episode 8 - Exposure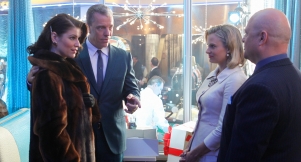 Exposure: Ralph, Jack and Dixon are called to the scene of a dead man who was gunned down, Ralph spots a clue immediately. In hopes of an open and shut case, Ralph and Jack follow the clue but soon figure out it was a setup. Before they know it, Norman Kemp, an MP from a nearby air force base, appears at the station to inform the Lambs that their dead body was a military doctor who went missing. It looks like both the air force and Ralph have jurisdiction and they will be working the case together. On their way to the base, they are attacked by masked men which leaves them without a car and without the body of their victim. When they make it to the base, the duo follows a series of clues that leads them to uncover a conspiracy. The victim was investigating the mysterious death of a man on the base from radiation poisoning and when he got too close to the truth, some soldiers were dispatched to kill him and frame someone else.

Over at the Savoy, Savino is further mired by increasingly controlling Rizzo when he tries to drum up business for the casino by bringing in a popular singer for the lounge. What Rizzo doesn't know is that the singer, Diane, is playing him to get close to Savino in hopes of rekindling the interest he had in her back in Havana.