Season 1:

Episode 9 - Masquerade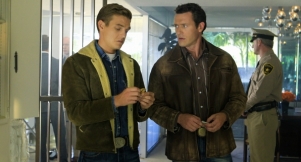 Masquerade: When a showgirl at the Stargazer casino turns up raped and murdered, the Lambs spring into action along with Katherine to find out who committed the heinous crime. It's clear from the beginning that something about this case has resonated with Katherine and she is more determined than ever to help the Lambs with the investigation. They soon find out that the showgirl was starting a new life in Las Vegas but had a sordid past. They follow a series of clues that eventually lead them back to the piano player in the stage show she was working on. He fell for her and was incensed when she didn't feel the same way about him. Ralph arrives to apprehend him just as he tries to make Katherine his next victim. In the end, Katherine escapes unscathed and confides in Ralph that a cousin of hers was once raped and the rapist was able to get away and do it again, something she didn't want to happen in this case.

Over at the Savoy, Savino has managed to court a high rolling whale of a casino guest named Clay. He wants to show other whales that the Savoy is a real contender for high stakes gambling. Unfortunately, the house loses a gigantic bet against Clay which sends Savino scrambling to keep Clay in his casino with the hopes of getting back all the money he lost.