Season 1:

Episode 11 - Paiutes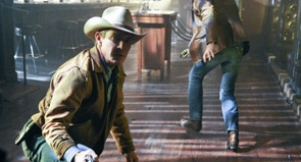 Paiutes: We open on Ralph being abducted by an unknown culprit before flashing back to the Lambs a day earlier responding to a call from a sports book across town. When they arrive they walk in on two men robbing the place and roughing up the owner. Before they can catch them, the duo disappears but after some investigation the Lambs are able to track them to their next target. They again walk into the robbery in progress and end up killing one of the criminals but the other gets away threatening retaliation on Ralph at a later date. Jack heads to the Savino at the request of Mia to figure out how one high stakes card player in the casino is cheating other white collar players in a private poker game. When they figure out that the cheat involves an eye in the sky technique from the suite above, they take the gambler in. He makes bail only to kidnap Ralph, in the scene we see at the top of the show, and get his stolen winnings back. Hot on his trail, Dixon, Jack and Katherine arrive on the scene just in time to save Ralph from an untimely demise.

Savino has problems of his own when he is informed by the bank that all the money they loaned him has mysteriously disappeared. He soon learns that Rizzo took the money to start using for loan sharking and to send some of it back to Chicago. Before long Savino and Rizzo are summoned to a rancher's house and roughed up until Savino offers the Tumbleweed in exhange for their lives. Katherine tips off Laura that Diane didn't die of a simple drug overdose and that the FBI will be sniffing around. In turn, Laura tells Katherine that Rizzo was the one who killed her and she takes this information directly to D.A. Reynolds who is interested to say the least.