Season 1:

Episode 12 - From This Day Forward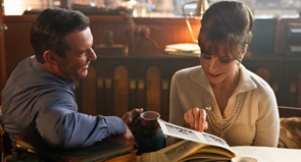 From This Day Forward: The entire Lamb family is blindsided when an old flame of Ralph's shows up at the sheriff station looking for help with the beating of her husband. As sparks fly between Ralph and the woman, Dixon and Jack are trying to figure out ways to get her away from Ralph and out of town as soon as possible. While Ralph is busy helping her apprehend the man behind the beating, Dixon and Jack investigate a murder that is quickly tracked back to a divorce ranch outside of town. One woman is found shot and after following a series of clues the Lamb's figure out that it was a jealous ranch owner that was behind the killing. Ralph is also able to find the man responsible for beating the husband of his friend and uncover a bit more about the shaky business practice that got him in trouble. He pays a visit to the victim and gives him some money to get out of town.

Out in the desert, D.A. Reynolds shows Savino the court documents on the case Katherine is mouting against Rizzo and the operation at the Savoy. Savino knows there has to be a rat in the casino and he plans to figure out who it is before Rizzo does. He realizes that it is his own wife Laura talking to Katherine and immediately sends her back home. However, he tells Rizzo that Mia is the rat and gets him amped up to kill her boyfriend Jack Lamb. Savino then gives Jack a heads up that Rizzo is looking for him because he wants to make sure Rizzo loses his fight with the law.