Season 1:

Episode 14 - The Third Man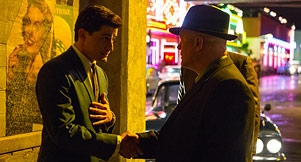 The Third Man: Dixon pulls over a car thief only find out that the culprit is Wesley, an old friend of his from high school that needs some extra money for his family. Although Dixon can't get him off the charges he is able to make a deal with him to be lenient if his friend can point out the ringleader of the operation. They agree on a plan to get Dixon into a race but when Wesley takes off his car careens out of control and puts him in the hospital. Dixon and Ralph follow the clues that lead them to Wesley's ex-wife's curent lover who sabotaged his race car and tried to kill him. Meanwhile, Ralph, Jack and Katherine are some of the first to arrive at the Rizzo crime scene to find his body along with the junkie he was with. As they investigate the crime Jack tries to cover his tracks along the way and mask his involvement. Jack also has to break the news to Mia that her father is dead but omits the fact that he was the one who killed him.

At the Savoy, Savino tries to console Mia while offering her a job back at the casino, she takes the job to find out if he had anything to do with her father's death. At the same time he also has to contend with a young new talent coordinator in town named Tommy who seems hell bent on stealing all the acts at the Savoy. When Tommy crosses a line Savino decides to offer him a job.