Season 1:

Episode 15 - Two Of A Kind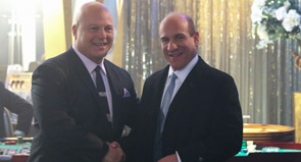 Two Of A Kind: The Lambs are called to a grisly scene of a man shot do death in his car at the side of a desert road. Despite all signs pointing to the man's wife as the culprit, Ralph, Jack and Dixon soon find themselves face to face with their dead man's secret wife and shifty boss. After investigating all avenues, they find it was the jealous boss who became a murderer when he shot his employee by the side of the road.

Savino, Mia and Tommy all have their hands full at the casino when a Hollywood production breezes into town complete with an unruly starlet and gruff studio boss. Tommy is told to keep an eye on the starlet but when she gets out of hand it is Dixon who comes to the rescue and reigns her back just in time to keep the studio boss happy.