Season 1:

Episode 13 - Road Trip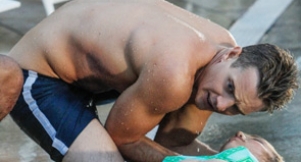 Road Trip: While Dixon takes a dip in the casino pool he discovers a girl floating face down in the water. He manages to save her life with CPR and accompanies her to the hospital where he meets the girl's family. At the hospital, the group finds out that the victim was poisoned and the near drowning actually almost saved her life. Dixon tells her family that he will find who is responsible before they head out on tour with their singing act. Ralph and Jack help Dixon as much as possible but before long they are pulled off the case for other reasons leaving Dixon to figure it out on his own. After a series of dead ends, he figures out that the victim was actually trying to poison her sister when she made a mistake and took the poison herself.

Meanwhile, Jack is kidnapped by Rizzo and tortured to try and get information about Mia and whether or not she became an informant for the A.D.A. He narrowly makes it out alive when their conversation turns deadly but Jack turns the tables and puts Rizzo in the line of fire. Ralph and Katherine are on the trail of Jones who escaped prison and is at large. Despite their best efforts, Jones escapes but falls right into the hands of Savino. The Savoy crowd spends much of their time on a hunt for stolen slot machines that end up being useless goods.