Season 1:

Episode 18 - Scoundrels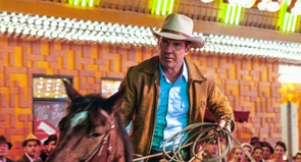 Scoundrels: A battered and bruised Violet Mills walks into the Las Vegas Sheriff station and claims that Dixon assaulted her the previous night in her hotel room. Dixon denies it and denies ever being at the hotel, but when a photo of him surfaces and catches him in a lie, Katherine is forced to arrest him on behalf of the state. Convinced that Dixon would never lay a hand on Violet, Lamb sets out to prove his son's innocence in any way that he can. With Jack's help, Lamb discovers that Barry Silver used Violet to frame Dixon as revenge for the beating Dixon gave him in Los Angeles. Lamb and Katherine manage to detain Silver long enough to get Violet to drop her claims against Dixon, giving him back his freedom. Furious, Silver vows to get revenge on Lamb and his family.

Meanwhile, Savino is stunned when Lena finds the dead body of Mason Purcell in one of the Savoy suites. He forbids his team from calling the Sheriff, since the last thing they need is more cops crawling around the hotel, so he needs to find a way to dispose of Purcell's body quietly. A snag arises when Teddy Brown, a gambling whale, claims that Purcell stole a precious watch from him, and that he'll take his business elsewhere if the watch is not returned. In a fun twist, Savino and Mia are forced to play detective to find Purcell's killer and track down the missing watch before it's too late. They finally learn that Purcell hid the watch in the hollowed out heel of his shoe -- unfortunately, they've already buried his body deep in the desert. Savino then forces Purcell's scam partner and killer, Otis Beacon, to dig up his body and retrieve the watch so that it can be safely returned to Teddy.

Yvonne feels terrible about Dixon's plight, but she can't help but feel thankful for what he did for her in Los Angeles. In a touching moment, Dixon tells Yvonne that he only went to talk to Violet to call their relationship off because he actually has feelings for her. She echoes his sentiments, and they wind up having their first date at the diner after Dixon is cleared of all charges and released.