Season 1:

Episode 20 - Unfinished Business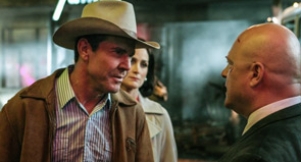 Unfinished Business: Lamb and Jack investigate the murder of Milton Krill, Porter Gainsley's attorney, who is found dead in the trunk of his car with a yellow canary stuffed in his mouth. All of the initial evidence points to this being a mob hit, with Savino falling under the microscope, but after Lamb and Katherine do some digging, it is clear that Gainsley is much more vindictive and ruthless than anyone expected. As they investigate Giansley's past, Katherine discovers that he pressured Lamb's wife, Marilyn, and her brother Dale Beauford to sell their land, and that he may have been the one who murdered Marilyn. However, as Katherine is en route to share this information with Lamb, her truck is run off the road and she suffers very serious injuries, landing her in the hospital. Enraged, Lamb attacks Gainsley in the Sheriff's office, just in time for Gainsley's lawyer to come in and inform Lamb that he is being removed from office by the governor of Nevada. Lamb then goes to Savino with a proposal: if Savino helps him get vengeance on Gainsley, he'll turn over the phone recordings that he and Jack made of Savino's calls to the bosses back in Chicago.

With all of Gainsley's financial and legal troubles, Savino finally manages to strongarm him out of the Tumbleweed and assumes full control of the shuttered casino. The night before he plans to reopen the casino, he takes Lena there for a private candlelit celebration, but one of Gainsley's thugs plants a bomb and blows it up. Savino and Lena manage to escape with minor injuries, but he vows vengeance against Gainsley for his actions.

Meanwhile, Mia is torn between her job and her heart, as Savino discovers the bug Jack planted in his office phone. She loves spending time with Jack, but seems to be distracted by her job, involvement in Savino's illegal affairs, and some sexual tension between Tommy Stone and herself.