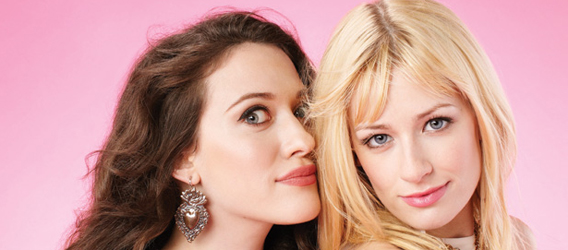 Pop: Girls Rule
For years, TV's biggest night of comedy has been anchored by a hit show at 9 p.m., from Murphy Brown to Everybody Loves Raymond to Two and a Half Men. And now, last year's breakout sitcom 2 Broke Girls is inheriting what is the most prestigious slot on any network: CBS' Monday night tentpole.
"That word reminds me of a circus," cracks 2 Broke Girls co-creator and executive producer Michael Patrick King, who's nevertheless humbled by the move. "I mean, what if you gave a party and nobody came? The fact that people want to come to our party every week is thrilling."
Indeed. After a big premiere last fall, the comedy, which boasts an Oscar-and-Felix-like pairing of two hilarious leading ladies with a "we're gonna make our dreams come true" conceit, averaged more than 11 million viewers for the season in its 8:30 p.m. time slot, making it the year's highest-rated new comedy and a worthy successor to the Monday night throne.
"2 Broke Girls came out of the gate remarkably well last year and stayed hot all season long, says CBS' scheduling guru, Kelly Kahl. "When we schedule that position we try to look for a show that's not only popular, but one that's on the way up in terms of its life cycle. Obviously we feel 2 Broke Girls has a long, successful run ahead of it."
The show's success can be attributed to a lot of factors, critics say, but most notably its leads Kat Dennings and Beth Behrs, who play the wisecracking Williamsburg Diner waitress and the former rich girl who move in together and launch a cupcake business.
"The show is a hit for one simple reason-chemistry," says Michael Ausiello, founder and editor-in-chief of TVline.com. "Beth and Kat have it in spades. Moving the show into the tentpole Monday position was a gutsy move for CBS. The show is a hit, no doubt about it. But it's a young hit. My gut tells me it'll probably turn out to be a smart move, though. The show has momentum."
And edge. The show's racy dialogue and snarky delivery have given it water-cooler status. "The thing that I feel always brings an audience to any show is originality," says King, who earned his comedy stripes helming Sex and the City. "The fact is that there is something on the screen they have never seen before. Something fresh. And hopefully there is something new in the edgy, very current comedy of these characters' voices that's appealing when wrapped up in the comfort of a traditional, familiar sitcom."
Confirms Kahl, "I think the two lead characters are incredibly appealing and relatable. We gave it a great premiere slot after the first episode of Two and a Half Men with Ashton Kutcher, and I think the ladies really connected with the audience from minute one. And of course, it's funny!"
So, will anything change in its new time period?
"Every show evolves year to year-that's how viewers stay interested," says King. "And we're still finding our voice, so yes, we'll continue to change and grow, but the outrageous humor we love to write and the heart of the show-the dream of these 2 Broke Girls-will stay the same."