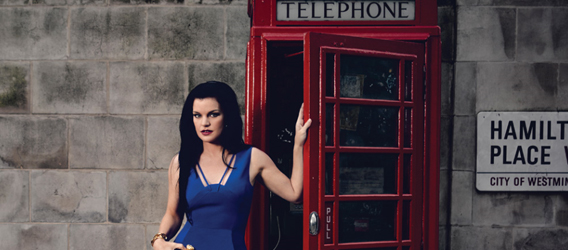 Cover Stories: Perfectly Pauley
I hear her before I see her, a deep throaty laugh that explodes out of the elevator of the Four Seasons Hotel in London's posh Mayfair AREA and into the lobby. It's a voice that makes men swoon and her fans smile: all husky, sexy Southern drawl with remarkable gravelly breaks. In other words, unmistakably Pauley Perrette.

There are millions of people who know and love this voice and the woman to whom it belongs. After playing NCIS forensic scientist Abby Sciuto for the past decade, Perrette has become an international star. As one of the original cast members of TV's top-rated scripted show, the actress's likability rating has even matched that of Tom Hanks.
It makes sense: Perrette's charm is palpable. From the moment she strolls into the hotel's Amaranto bar, slides into a booth and orders Peronis all around ("No glass, we'll drink straight from the bottle"), it's immediately obvious that she is undeniably, inexhaustibly happy. It's not just the Cheshire cat grin that's plastered on her face, or the fact that a rather handsome man gazes longingly at her for the duration of our interview (more on that in a minute). It seems to be Perrette's overall carefree demeanor; she is clearly a woman at ease with herself, and that kind of genuine happiness is contagious, enough to bring a smile even to a stranger's face.
Our meeting takes place the day after a 12-hour photo shoot for Watch! during which Perrette donned a dozen silk and taffeta gowns, from vintage Vivienne Westwood numbers to corseted cocktail dresses, and posed on a plethora of balconies and rooftops overlooking the green expanse of London's Hyde Park.
Today, understandably, she has opted for a slightly more casual jeans-and-sneakers combo. "In my real life this is my uniform," she says, gesturing at her attire. "I look like a scruffy 17-year-old boy because in my other life with my job, I'm in incredible costumes all day, and then I have the charities so I'm always at events doing red carpet stuff. So when I'm not working, it's jeans and a hoodie."
Despite having played Abby Sciuto for the past 10 years, there's no trace of her Goth counterpart's pigtails, miniskirts and studded dog collars in Perrette's appearance. "There has to be a separation," she says, suddenly serious. "Playing Abby never has blurred with my own life—it can't. She's this lifesaving drug for me.
"I have gone through unbelievable personal struggles my whole life, especially in the past 10 years. My relief from that is that I get to go and play Abby. When I get the ponytails on and the tattoos and the boots, those aren't my clothes, that isn't my life, those aren't my words; they are Abby's. When I'm playing Abby, none of my problems exist. So it's my total escape route. It's imperative for my survival that my life and Abby's never blur at any time."
Now, on to that very handsome man sitting beside her: He's Thomas Arklie, a former British royal marine and male model. "It's different from every other relationship I've been in," says Perrette. "It never occurred to me to go out with someone who's happy and fun. There have been many disasters. We have fun together."
That much is clear. They canoodle like smitten teenagers, arm in arm, finishing each other's sentences. "He's in the restaurant business in L.A., and his place is six blocks away from my house," says Perrette. "We were under each other's noses for nine years until one night our eyes met across the crowded bar and it was literally love at first sight."

Adds Arklie: "I didn't really know who she was. We'd done a wrap party for NCIS: LOS ANGELES three years previously and Pauley had been there but we didn't meet then, although I saw her at the party and thought she was the most beautiful girl I'd ever laid eyes on. Then when we met, I told her I remembered she was wearing a blue dress that night. It's funny how our universes collided after all those years."
"Tell her the story!" urges Perrette.
"No, you tell her," says Arklie.
"What story?" I ask.
"OK," says Perrette, without much coaxing. "So when I went into the restaurant he was standing behind a bar and it was eight inches lower than where I was standing, so I thought he was really short. Cute, but short. I'm really tall—like 5'10"—so I was worried. I get nervous around boys anyway, and then he walked out from around the bar, and I said, 'Oh my God, you're really tall.' And he said, 'Yeah.' And I said, 'You're really hot.' And he said, 'Thank you.' I said, 'Do you want to make out with me?' and he said, 'Absolutely,' and that's how it started. We made out right there." They've been an item ever since. Two years down the line they are engaged, although they have no imminent plans to marry.
"Of course we want to get married," says Perrette. "But I won't do that until federal law in America is changed and gay marriage is legal in every state."
Growing up in the Bible Belt, Perrette grappled with reconciling her religion with civil rights. "From a very young age I was thinking a lot about everything," she says. "I grew up in the church in a very conservative area and developed a lot of my beliefs about inclusion and justice and civil rights and unconditional love for people, because I came from a certain environment that was the opposite of that. So I knew even then that God doesn't want us to be bigots and judge people. My political beliefs grew from my spiritual beliefs."
Fancy hotels and evening gowns aside, this is the real Pauley Perrette, a woman of principle, a defender of causes human and animal. The displaced, the underprivileged, the poor, mistreated. Perrette would speak out for them all if she could. She supports more than 30 charities, and has funded the building of three wells for clean water charity Thirst Project. "I find it hard to say no," she admits. "It's endless, but it's better than going to a club, right? Also I love the people; they're all there because they want to be doing something good with their time. Those are the people I want to hang out with."
But the charity work is on hold for a few days to fit in a brief sojourn to London, one of Perrette's favorite cities. "It's very cool," she says. "Definitely one of the few places besides New York and L.A. that I could see myself living."
Last night Perrette and Arklie ventured over to London's Soho, dropping in on some of the city's happening gay bars before riding in a rickshaw back to the hotel, but have politely declined an invitation to a swanky private member's club this evening.
"I love the little old-fashioned English boozers—I'm a dive-bar type of girl. I don't like the trendy, cool places. I'm not very trendy. I just like to drink beer." Cheers to that, Ms. Perrette.

Check out photos of Pauley donning various stunning dresses.