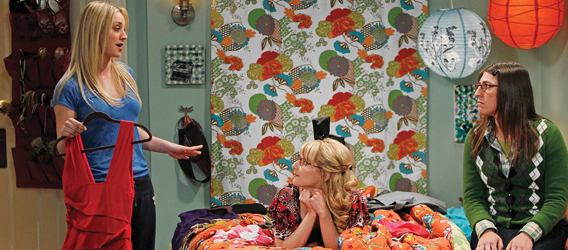 Bliss: Ready... Set... Refresh!

This spring and summer, it's all about home R&R: renewal and redecorating. From girlie one-bedroom apartments to roomy family homes, we've tapped the experts on set for their best design secrets. Here's how to give your space an instant lift—no surgery (or carpentry) required.

Awesome Accents
The Big Bang Theory

On the set: When decorator Ann Shea took on Penny's (Kaley Cuoco) apartment, she was faced with the same challenges that Penny herself faces. "She's a renter, so she can't paint or remodel," Shea notes, "and neither could I." To bring the originally neutral set to life, Shea went the route of colorful furniture and accessories, starting with choosing a fresh-looking palette. Turquoise, orange, purple and lime quickly became the apartment's pivotal hues, and they're reflected in everything from rugs and lampshades to pillows, drapes and the living room couch. "Penny is very girlie," says Shea, who drove that thought home with a bedroom infusion of bubblegum pink, as well as a funky blending of floral patterns.

Upgrade with extras: Pull your space together by including at least one item that incorporates all the colors you plan to use. In Penny's bedroom the multihued comforter anchors the rest of the room's mix, explains Shea, who favors Anthropologie's vintage-looking textiles. And when you can't change your architecture, let your accessories create drama and movement. Bubble lights immediately alter the feel of a room, as does the simple swap of a lampshade. To create a sense of height where there isn't any, employ a vibrant drape as a wall hanging, as Shea did with the Pier 1 version alongside Penny's bed.

Editor's pick




GET LIT
Get festive lighting just about anywhere—no electrical outlet needed— with these Battery Operated Lanterns from Cost Plus World Market. worldmarket.com




Rooms With A Hue
The Big C

On the set: Though it wasn't meant to inspire awe, the Jamison home is an undeniable eye-catcher thanks to rich, saturated wall colors. According to production designer Mike Shaw, the decorating conceit was that after her diagnosis, Cathy (Laura Linney) changed her worldview: "We wanted the set's colors to reflect the idea that everything had suddenly become more alive, more intense and more complicated." Cathy has taste, says Shaw, but it's taken her years to put the house together and it isn't totally coordinated. Paint plays a huge part in making its rooms look unified.

Paint to perfection: To choose a hue that's right for you, amass a selection of cardboard color samples, available at most paint or home remodeling stores. "Don't think about 'what will work,'" Shaw urges. "Think about what you respond to emotionally."

Narrow your choices to six colors, hold them against the wall and make your selection from there. Another trick is to zero in on the colors in an object you love—say, a bowl or painting—and use those as your guide. If you're leery of bold colors, keep your larger rooms neutral and go bold in a hallway or bath. Or try painting just one wall. "Once that taste for color blossoms, it becomes the new normal," Shaw says.

Think outside the "finish" box—instead of going with matte walls and semigloss trim, opt for an eggshell or semigloss wall, and a satin or semigloss ceiling: "You'll get a little more luster and a lot more durability," Shaw notes. And dark trim with a high-gloss finish can be extremely dramatic.

Editor's pick


TABLE MANNERS
The richly grained solid sungkai wood of Crate & Barrel's sturdy Kipling Grey Wash Large Extension Dining Table will host generations—and seats up to 10. crateandbarrel.com

Affordable art
Homeland

On the set: "When you design with a character in mind, the first thing you consider is income level," says set decorator Summer Eubanks. And you can make a strong statement about that through the strategic use of art. "Nick Brody (Damian Lewis) was MIA for eight years and his family was probably living on his pension," Eubanks explains, "so they wouldn't have expensive original works." But that doesn't mean they'd be short on interesting pieces or pretty prints. With Homeland's filming taking place in Charlotte, N.C., the decorator relied on local artists and shops to fit that bill, as well as the Library of Congress' website, where art that predates 1923 can be downloaded and used on TV without legal wrangling. While season two saw Brody become a congressman, life has been tumultuous and only the subtlest upgrades—sheers for the windows, pendant lamps in the kitchen—hint at the dysfunctional family's enhanced financial status.

Deck your walls: "The most mediocre piece of art can look spectacular in a great frame," says Eubanks. "Purchase appealing low-cost frames wherever you spot them." Flea markets, yard sales and thrift stores are always ripe for the picking, and keep in mind that even an assortment of empty frames can serve an artful purpose. A thoughtfully hung collection will create an almost sculptural feel. Another "instant art" trick is to buy a canvas-stretcher and top it with a colorful piece of fabric. "Just affix the fabric with 3M Spray Mount," Eubanks advises. And don't forget about that Library of Congress website. Unlike a set decorator, you needn't fret over your favorite piece's "date of birth."

Editor's pick


OLD GLORY
Made from recycled pine, Pottery Barn's rustic Painted American Flag makes a chic patriotic statement. potterybarn.com



Jessica Brody (Morena Baccarin), and a simple print, grace the Brodys' entry hall on Homeland.