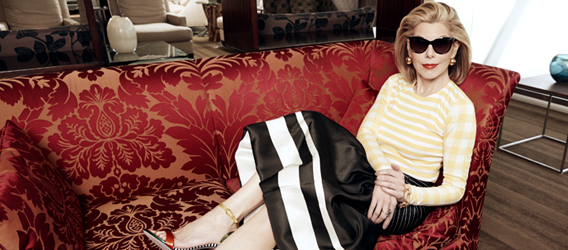 Script: Class Act
THE GOOD WIFE'S CHRISTINE BARANSKI TRAVELS IN STYLE ON A FASHIONABLE FLIGHT OF FANCY.
By Alyssa Shelasky

Admit it: Anyone who watches The Good Wife is in awe of Diane Lockhart. Even Christine Baranski—the Juilliard-schooled, everwillowy, Emmy-winning, always-working actress who has worn the role of Diane like a custom-made Chanel suit for four successful seasons—is highly intimidated by, well, herself. In real life, however, the 60-year-old Baranski sings and dances to The Beach Boys, sails in and out of the theater (her fi rst and favorite professional home), and enjoys a low-key life in Connecticut, where she and her husband, actor Matthew Cowles (remember that nasty bastard Billy Clyde from All My children?!), raised two happy, normal, nonshowbiz kids. Days before her glamorous shoot in British Airways' Concorde Room at John F. Kennedy International Airport, Baranski joined Watch! for lunch at The Mark Restaurant by Jean-Georges. Tucked away in a classy corner, the actress cooed over kale salad, pesto pasta, red velvet cupcakes and glistening champagne, while discussing her appetite for life ... as a working mother, consummate thespian and an ever-elegant lady.

Watch!: This is surreal. It feels like I'm lunching with the real Diane Lockhart.
Christine Baranski: Really? I don't remind myself of Diane. She's so much smarter and better educated than me. I know it sounds funny, but I really look up to Diane. I'm proud of my career, but I'm in awe of women like her.

Watch!: You seem so similar, though.
Christine: I'm even-keeled like Diane. Maybe that's why I've been married. 30 years and was able to raise a happy family. I had to balance a lot of things without losing my cool.

Watch!: Do you watch yourself on the show?
Christine: When I first started watching The Good Wife, I thought, "Oh, no! No! Nooo! Why did you hold your face that way? Why did you make that look?" Now, somewhere deep down inside, I've accepted that maybe, yes, I can be this Diane Lockhart person. It's intimidating, and scary, and like nothing I've ever done before. Yet, here I am. That being said, I think most actors are rarely happy with what they see.

Watch!: Have you always been this lean and statuesque?
Christine: I've always looked like this—long and lanky— even though I'm a big eater, as you can see! I'm lucky that I've had to think about my weight less than most women, but when I'm working and wearing these beautifully tailored clothes, I am somewhat disciplined. Looking your best is part of the job.

Watch!: What about the pressures of looking young?
Christine: I just turned 60, and I'm aware that part of the reason I still work is because I look good enough. For better or worse, our culture is about the visual. If you can show up tall, toned and fitting into great clothes, well, you're ahead of the game.

Watch!: Are you afraid of aging?
Christine: Not at all. As you get older, you have your place; your confidence, your sensuality; it's very powerful. Actually, The Good Wife is the perfect exploration of grown-up women who have dignity and authority. I think it's a great contribution to female culture.

Watch!: What kind of mom are you?
Christine: I have wonderful dialogue with my daughters; we are very close. There's no point in regret, but I did have to leave them a lot [in Connecticut] when I was in the theater, and for Cybill in L.A. I missed them desperately and I'll never get those years back. Ask any working woman—you are haunted by the time you can't be with your kids. Bottom line is: Women can't have it all, because there are only so many hours in the day! You want to be passionate and attentive to your job, and you want to be a great mom, but there's only so much time. You're always making compromises. On the other hand, my daughters now say, "Mom, look what you gave us! Look at the life we've had!"

Watch!: What's your husband like?
Christine: I didn't know he was a famous soap actor when I met him, but he was Billy Clyde on All My Children. He was a legendary bad guy! A real bad-ass villain! To me, he was just an exotic guy with a motorcycle jacket and an unfiltered Mexican cigarette. He's a very unique individual; I got very lucky.

Watch!: If you were a Good Wife viewer, whom would you crush on? Cary being the popular answer.
Christine: I'd probably have a crush on all of them! Let's put it this way: I wouldn't turn any of them away on a rainy night.

Watch!: Is Diane going to get more action soon?
Christine: I really love when they give Diane those interesting, eccentric guys. The idea that your love and sex life is over when you're older is such a cliché! I have some stuff coming up that's going to be wonderful, yet subtle. The raw sex, it doesn't work on our show. The viewers don't like it.

Watch!: Nonromantically speaking, Diane and Will have such great chemistry.
Christine: I love all the stuff I do with [co-star] Josh [Charles]. We have such a jokey, wonderful, affectionate relationship. From the moment we met, it's been that way. I find working with him so easy. I love when Will and Diane share really good scotch at the end of the day.

Watch!: Is it the real stuff?
Christine: When it's scotch, it's very weak tea. When it's red wine, it's grape juice and it's horrible. They would never serve real alcohol. Those lines are hard enough if you're well-rested and sober!

Watch!: Do you have a best girlfriend on set?
Christine: Having raised kids with this career, I have lots of long talks with Julianna Margulies. "Jules" has a 4-yearold and my heart goes out to her. I say, "Don't beat yourself up, you can't always be there. It's really, really hard." I feel like I'm maybe the only person on set who really understands how tired she is. You know, you don't just finish work and put your feet up. You're always pulled. It's like a crucifixion, just pulled in two directions endlessly.

Watch!: With all the Broadway stars on The Good Wife, I'm surprised [show creators Robert and Michelle King] haven't done a musical episode.
Christine: It would be very cheesy. But even Josh, the other night, burst into song from some sitcom, and it was hilarious. I've actually thought that with Nathan Lane, Alan Cumming, Audra McDonald, Kristin Chenoweth, maybe there could be a Christmas party where we all get drunk around the piano or something. Or maybe Alicia could have a nightmare where everyone is singing and dancing?

Watch!: What music do you listen to?
Christine: I listen to a lot of baroque and classical music. I'm a sucker for Bach, Beethoven, Mozart and the opera; oldschool rock, all the music of the 1960s and '70s ... the soundtrack of my youth! Motown—there's nothing better than Motown! And The Beach Boys and The Beatles. Music makes me very happy.

"THE GOOD WIFE IS THE PERFECT EXPLORATION OF GROWN-UP WOMEN WHO HAVE DIGNITY AND AUTHORITY."

Watch!: Do you go to the movies?
Christine: Of course! Argo was enthralling. My husband and I loved Amour. I enjoy the subtlety of film acting—how people can communicate so much with just a look or a gesture or a moment. Film is so powerful. Those close-ups reveal so much. It's not really like that in most of the work I do.

Watch!: Did you ever want to be a proper "movie star?"
Christine: Movie star? What does that even mean anymore? No, that was never a dream for me. Live performance, the theater, that was my dream. Plus, I had an odd face for the camera, and when I was younger, I had chronically broken-out skin. It's taken me a long time to feel comfortable in front of the camera. The camera has to be your friend; it's, curiously, a real relationship.

Watch!: It seems life is glamorous enough as a TV star.
Christine: Well, I will say, I love the concept of this photo shoot. You know, when you're on a first-class flight, it's like nothing counts. You can eat anything you want, because you're in the air! You can have an affair in the bathroom, because you're in the air! It's not unfaithfulness, you're in the air! OK, I haven't done that, but certainly I've had chocolate and champagne with no guilt ... in the air!


Check out all the photos from Christine Baranski's Watch! Magazine photo shoot.