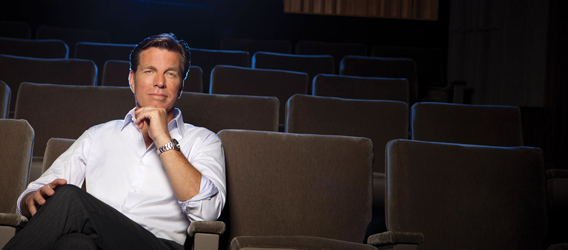 Script: A Hard Abbot to Break
By Alan Carter

24 years ago, Peter Bergman took a job he wasn't sure about. Little did he know that Y&R would offer him the role of a lifetime.

When Peter Bergman started on The Young and the Restless, just about everyone on the set told him: "You don't know Jack."
They weren't trying to be mean. In 1989 the actor took over the role of resident playboy/snake/cad Jack Abbott from Terry Lester, and Bergman had spent the past 10 years playing sweet-as-pie Dr. Cliff Warner on All My Children. Could he pull off playing the bad boy?
"Before Cliff, I was always cast as a prick," Bergman says with a laugh. "Cliff was the stretch." The role had made Bergman one of TV's most well-liked personalities—and not the person you'd expect to see playing one of daytime's most complex, flawed characters.
In those early months, there were whispers that Y&R had made a big mistake with the recast. It seemed that every time Bergman opened his mouth he'd hear crew members saying "Terry wouldn't say it that way" or "Terry would have done this." Maddening to be sure.
"I was surrounded by Jack Abbott experts!" Bergman remembers. "It definitely got on my nerves. Everyone knew how to do Jack better than me."
Now, with his 25th year on the show approaching, Bergman's had the last laugh—three daytime Emmys for Best Actor and a whopping 17 nominations.

GREAT SCOTT! A NEW JOB!
"I owe it all to Melody Thomas Scott," Bergman says of the actress, whose character has married and divorced his several times. "She got me this job."
"I wasn't sure he wanted people to know that," laughs Scott. "But I was this huge All My Children fan, for years. I used to watch with my grandmother. When Terry left, my husband [Ed Scott, then Y&R's executive producer] was fretting because we had a work date set for Jack and we didn't have an actor to play him. And I said, 'Oh, my God! Peter Bergman is your new Jack!' and he said, 'Who's Peter Bergman?' "The actor, who was living in New York with an expectant wife, was even less enthused.
"I like to get in my own way," Bergman says. "I've done that many times. I was basically dragged kicking and screaming into the best job I've ever had."
And he's stayed, much to the delight of viewers and critics.
"Looks and charm aside, he's such an incredibly complex actor—that's why he's endured," says Soap Opera Digest senior editor Devin Owens. "From Cliff to Jack, the incredible and brilliant versatility showed his talent. He took over for a very popular actor and made the part his own. He got to play against that squeaky-clean image and make people take notice. And besides that, he just happens to be one of the most affable actors in the business."
Affable he will cop to, but Bergman cracks up that he's a daytime sex symbol. "I was never the big shirtless guy," he says, laughing. "There's always been a certain amount of dread to that—most definitely now. I'm definitely not sexy when I'm at home. If I ever get too full of myself, my wife [Mariellen] threatens to take acting classes."

A LASTING IMPRESSION
He has nothing to worry about. The actor, still Prince Charming-handsome as ever with the bluest eyes on daytime, has a mantel full of awards and a camera-ready face that shows none of his 60 years. ("My knees surely feel 60!" he says with a laugh.)
It's been smooth sailing for much of his time on the show—save for a 1991 offset fistfight with Eric Braeden, who plays onscreen nemesis Victor Newman, that made national headlines. They've since settled their differences, Bergman says. "No one will ever accuse us of being best friends. But ... it works. Let me say it this way: Jack Abbott is a considerably more interesting and vital character when Victor is around."
But Bergman's nuanced performance—the character is neither hero nor villain—has given the character complexity that has lasted.
"I've been playing 'Smiling Jack' for 24 years," he reflects. "He's been central to my life. At some point, when I walk away from this, it would be natural to think, 'Who am I without Jack?' "

A LUCKY LIFE
The son of a Navy officer, Bergman was born while his father was stationed at Guantanamo Bay—"Because when you think Cuban machismo, you think of Peter Bergman," the actor says with a laugh—and spent much of his early childhood hopscotching around the country with his family before settling in New York state. Although a talented football player, Bergman gradually turned his attention to acting, and even worked a construction job after high school to afford tuition to the American Academy of Dramatic Arts.
Small off-Broadway roles would lead to a guest-starring gig on Kojak and a leading role on All My Children a few years later. It was during that time Bergman met and married actress and singer Christine Ebersole, a subject he rarely brings up. (They're still friends.)
In 1983 he remarried; he and Mariellen have two children, Connor and Clare. "My wife is sensational," Bergman muses. The couple even went to see Ebersole perform in Los Angeles. "We both had the best time."
A working actor for 33 years, Bergman can count the number of days he hasn't had a job: eight! "That just doesn't happen," he says. "All of my lawyer and doctor friends have gone from job to job. And who has stability? The actor! Can I get credit for saying they were eight very difficult days?" Bergman laughs. "I consider myself the luckiest man alive."

ROLE PLAY
Throughout his acting career Bergman has had many auditions, but one stands out most … and it wasn't even his! When producers of All My Children went to cast the part of his character's sister, two young actresses would try out for the part: Academy Award winner Melissa Leo, who would eventually win the role ("She was such great fun. … She was so good. Not surprised she has an Oscar!") and a very young Julia Roberts. "You've heard of her?" Bergman laughs.