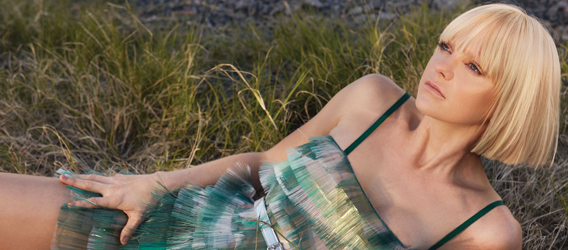 Click: The Faris of Them All
By Brantley Bardin

Mom's the word for everyone's favorite funny girl, Anna Faris

Comedy freaks rejoice: Anna Faris, that fearlessly transgressive mistress of screwball, ditz and dirt—remember those utterly unhinged turns in House Bunny, the Scary Movie series, and The Dictator?—is coming to TV and she's bringing her crazy with her. In the fall's Chuck Lorre-created Mom, Faris, 36, says she found nirvana. "I like playing really flawed people and they're hard to find, because the trend for women is always, 'Oh, we need a character that women will like and guys will fall in love with,'" she explains, "which is not only a lot of pressure, but ultimately makes for a pretty bland person. And my character, Christy, is sure not bland. She's a sweetheart with the best of intentions who wants to do right by her kids—but she's a mess!"

Watch!: Oh, let us count the ways: Christy is a barely recovering alcoholic mother of two—who is trying to make peace with her own, barely recovering, substance-abusing mom, Bonnie—while waitressing at a Napa Valley restaurant that boasts a cocaine-loving chef and a married boss whom she's, natch, dating.
Anna Faris: She's just barely hanging in—it fits me like Cinderella's shoe! (Laughs.) And I think it should be relatable to, like, half of the people in the country, where we're all dealing with these problems on some level, be it addiction, parental issues, children ... or just people who are dating their bosses.

Watch!: And how fabulous to watch you sling barbed bon mots at your TV mom, Allison Janney! My fave: "Some mothers teach their daughters how to bake. Mine taught me how to beat a cavity search and still feel like a lady."
Anna: Which hints at just all sorts of a crazy past between us, right? Allison, who is a genius and the loveliest person ever, and I are hoping for and really excited about the possibility that we'll get to play around with flashbacks between the two of us on the show. I really want to explore our mother/daughter presobriety days.

Watch!: Give us a dream scenario.
Anna: I have a vision that the two of us were on the run in Mexico, high out of our minds in a car. And, maybe, we're completely paranoid out of our minds, too. Maybe even for no reason.

Watch!: Lovely. You know, you have quite a history of playing serious substance abusers. You even won a little-known award for 2007's cult classic Smiley Face as possibly the most stoned-out girl on earth. Would you like to share that triumph with the public?
Anna: Oh, yes, my High Times Stony Award for Best Stonette of the Year. I cannot begin to tell you how proud I am of my Stony. The trophy is a bong—an actual working bong—and it sort of feels like the best award you could possibly get. It's on my mantle, which I think makes my parents who are visiting right now a little bit crazy. But I can't help it. I just love that thing!

Watch!: You and your husband, Chris Pratt, have an almost 1-year-old boy, Jack. How often does being a mom make you want to light that bong up?
Anna: Oh, pretty much every second of the day. (Laughs.) You know, being a mom, it makes me crazy when people say (cooing), "Oh, isn't being a mother just the most amazing thing?" I mean, it is, but it's also everything else: fascinating, incredible, boring, frustrating, difficult, demanding, exhausting. Of course, there's those moments every day when the baby grins and giggles and you give him raspberries on his little belly ... but then there's also the moment when he's inconsolable and you're going out of your mind.

Watch!: And you want to lift that bong, right?
Anna: Lift that bong! (Laughs.) No. But we do have a lot of wine in the house. And you know what? That is necessary.

Watch!: Thank you for being the first celebrity mom in forever to actually admit that the whole mother thing isn't all huggie-wuggies. OK, wrapping up here, few may know it but as a kid you set out to become a dramatic actress, but after your Scary Movie success—
Anna: I could hardly get an audition for anything dramatic. For a while in my 20s I used to feel like, "I've just got to prove that I can be a dramatic actress," but then as I got older I realized, "Why do I want to do that? Comedy is fantastic!" You get to laugh all day and—especially for women—it's not as vanity-based and it provides you with a little longevity.

Watch!: So here's to Mom!
Anna: I swear that both Allison and I can answer, "This is our dream job." Everything about it—the cast, the crew, the writers, the fact that I can be in town with the baby—it's all just, Oh. My. God.