Alan Cumming Brings His Infectious Charm To The New CBS Drama Instinct
See what the lead star and Executive Producer had to say about his new CBS show.
Just one enthusiastic panel with the cast of
Instinct
is enough to know that this group is seriously excited to to share their new hour-long procedural drama beginning on Sunday, Mar. 18 at 8/7c on CBS and
CBS All Access
.
And,
no one's
more excited than lead star and Executive Producer Alan Cumming, who returns to CBS after his beloved run on
The Good Wife
!
On Saturday, Jan. 6, Alan Cumming, Sharon Leal, Bojana Novakovic, and Naveen Andrews joined Executive Producer Michael Rauch at The Langham Pasadena for the CBS Television Critics Association 2018 Winter Tour.
At the event, Cumming—who's set to play the first gay lead character in an hour-long broadcast drama—let his charming personality and contagious laughter fill the room.
From left: Alan Cumming and Bojana Novakovic.
He went right into detail about the complexities of his character, Dr. Dylan Reinhart—like how he's "sort of a fuddy-duddy professor, a bit of a dandy, and kind of is a former spy"—and then when an audience member asked what he brought to the character (outside of how he was written in the James Patterson's book), Cumming simply replied...
"I brought my genius."
The crowd erupted.
That was just the start of Cumming's hilarious responses and storytelling, which included insight around the plethora of contemporary sport coats he wears on set, how he's not-so-skilled at riding motorbikes (unlike Novakovic who rode cross-country on hers), and how he was able to do some of his own stunts on set in New York City.
"The older I get, the more I enjoy doing whoop ass kinds of things."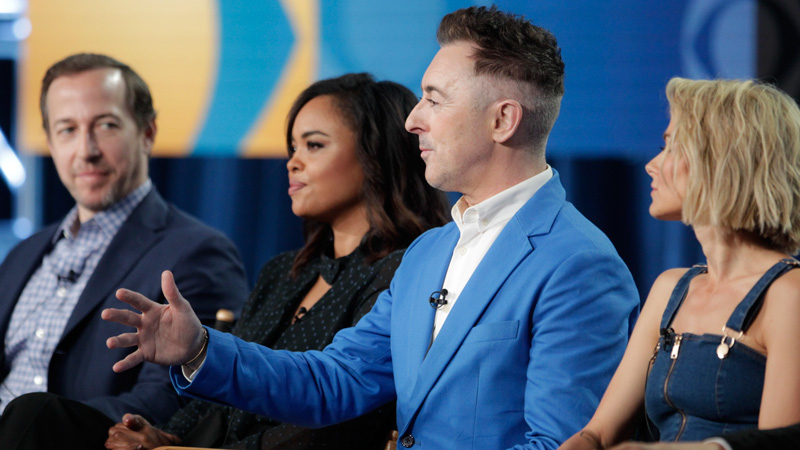 From left: Michael Rauch, Sharon Leal, Alan Cumming, and Bojana Novakovic.
Jokes aside, Cumming is serious about seeing
Instinct
do well and already feels the pressure to deliver as an executive producer.
"I hope people like it. I hope it's a great success. I hope we keep doing it. But at the same time, really what's important to me is the experience we had making it. I had a really lovely time. We danced between takes. One of our camera guys had a little speaker. We would, every day, dance, all the crew. Things like that mean more to me than how it ends up. I've realized it's much more important to work with good people that you like and to do material that you care about."
There's no doubt that Cumming and Novakovic's fun-to-watch relationship will keep audiences hooked, especially when it comes to how they solve cases together, and navigate each other's personalities and personal lives.
Another relationship to look out for is the one between Cumming and his on-screen husband, played by actor Dan Ings.
In case you're curious on how the episodes will play out, Rauch explained that there will be a crime story in each episode, as well as deep character development, intriguing storylines, and satisfying emotional relationships with twists and turns that take off a few episodes in.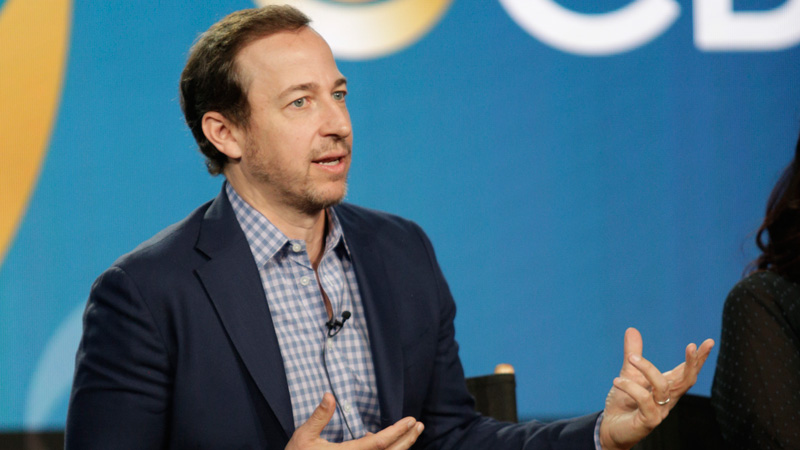 Executive Producer of
Instinct
, Michael Rauch.
So in just about a month, fans of Cumming and procedural shows in general will be able to dive right in to
Instinct
—and Rauch couldn't be more excited to tell these stories,
especially
the story of Dylan.
"Being able to do a New York show, and shooting in New York, and having New York be a character and a texture of the show really adds to the storytelling. But mostly I think what sets this show apart is, as far as I know, it's the first broadcast hour‑long with a gay lead character."
Through all of his joking, Cumming came back to one thing—gratitude—and stated just how proud he was to be a part of this ground-breaking first in American television.
Check out Cumming as Dylan and Novakovic as Lizzie when
Instinct
kicks off in March!
Watch the series premiere of
Instinct
on Sunday, March 18 at 8/7c on CBS and
CBS All Access
.