Niles And Daphne's Romance On Frasier Is One Of TV's Great Love Stories
Revisit the episodes that made us fall in love with the unlikely couple as they fell for each other.
Posted on May 26, 2020 | 12:55pm
When
Frasier
debuted in 1993, it heralded the continued adventures of Frasier Crane (Kelsey Grammer), the former Boston barfly we grew to love in
Cheers
who
turned into a Seattle radio mainstay.
What we didn't expect was to become fully invested in the romantic voyage of two all-new characters: Frasier's obsessive-compulsive brother Niles Crane (David Hyde Pierce) and a quirky physical therapist, Daphne Moon (Jane Leaves), who is hired to help the men's father.
STREAM: Every Episode Of Frasier On CBS All Access
From very early on, the Niles and Daphne "will they, won't they" dynamic is a highlight of the series, showing that true love isn't always drawn in a straight line and there's always hope to find "your person."
So, let's revisit Niles and Daphne's lovey-dovey journey with these essential
Frasier
episodes, which offer plenty of feel-good romantic moments and a hefty dose of sharp jokes.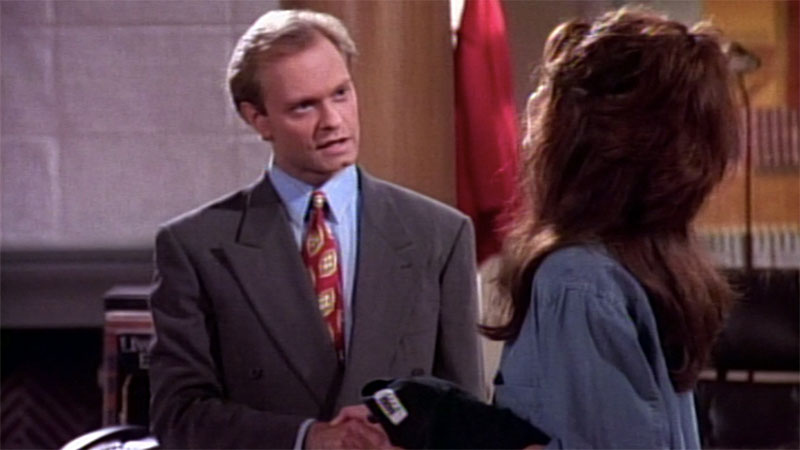 "Dinner At Eight" (Season 1, Episode 3)
This is where it all begins for Daphne and Niles, introduced to one another by Frasier. Daphne is newly settled into Frasier's condo to assist with Martin's (John Mahoney) physical therapy and Niles pops by for a visit. He is instantaneously smitten with his dad's possibly-psychic therapist, even going so far as to lie about having colitis so as not to disappoint her.
"Dinner At Eight" features what would be the first of many longing glances from Niles to Daphne. But there's one major hiccup at this point in the series: Niles is still (unhappily) married to the oft-discussed but never seen Maris.
WATCH: Season 1, Episode 3 Of Frasier, "Dinner At Eight"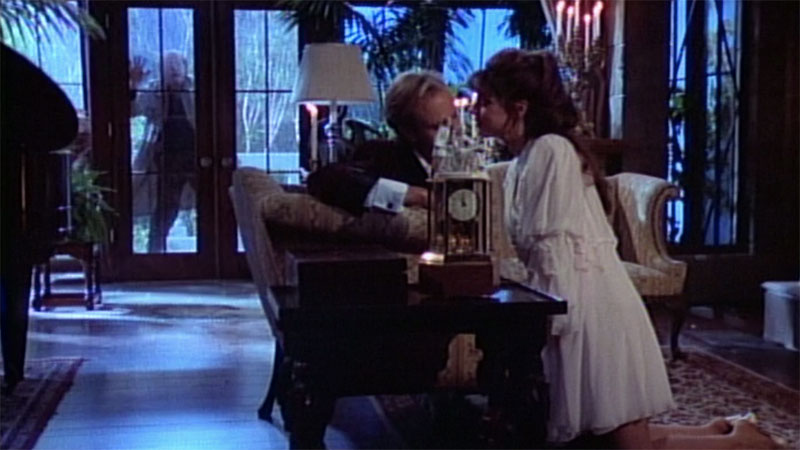 "A Mid-Winter Night's Dream" (Season 1, Episode 17)
The first of many tempting situations that Niles and Daphne find themselves in throughout the series, here the couple share an intense moment of attraction after Niles has a fight with Maris and Daphne offers to help him make a meal intended to facilitate a make-up between the doomed couple.
As with so many of their early bouts of chemistry, Frasier does his best to intervene and prevent Niles from doing anything that will permanently damage his marriage—in a hilarious way, naturally.
WATCH: Season 1, Episode 17 Of Frasier, "A Mid-Winter Night's Dream"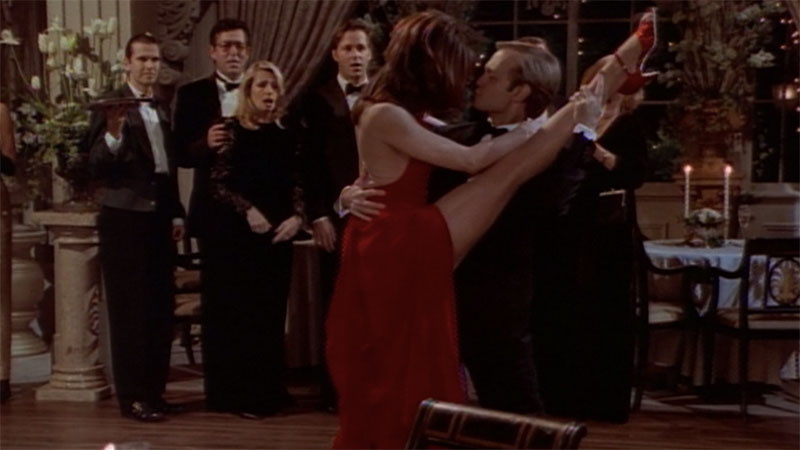 "Moon Dance" (Season 3, Episode 13)
By this point in
Frasier
, Niles and Maris are recently divorced. Though, when Maris shows up in the society page of the newspaper (remember those?) with a new man, Niles concocts a plan to prove he
too
is doing just fine post-divorce by taking a high-society heiress to a ball.
The only hitch in the plan? He doesn't know how to dance.
Enter Daphne, who teaches him everything he needs to know—and winds up attending the ball as Niles' date when the other woman cancels. What ensues is one of the couple's most memorable moments as they engage in a romantic tango. Niles even proclaims his adoration for Daphne, though she writes it off as part of the act to make Maris jealous.
WATCH: Season 3, Episode 13 Of Frasier, "Moon Dance"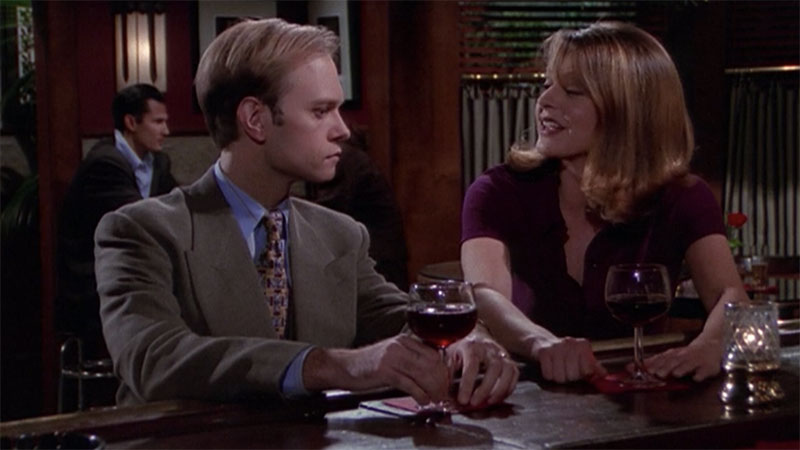 "Mixed Doubles" (Season 4, Episode 6)
If ever an episode cements the idea that Niles and Daphne are on a path that could only ever end with love, it's this one. Here, Daphne ends a relationship and Niles decides it's time for him to finally admit his romantic interest. At the insistence of Frasier, he waits a day to let Daphne sort out her own feelings about the breakup.
Before Niles can make his declaration, however, Daphne is dating someone new she met at a singles bar—a man who is Niles' doppelgänger in nearly every way, right down to his mannerisms. Niles gives the singles bar a chance, too, but he and Daphne's new beau fall for each other, so the two of them have a drink together instead.
When Daphne asks what he thinks would've happened if they'd first met at a bar, Niles says one of the most romantic lines of the series: "I'd say, what are you doing for the rest of your life?"
WATCH: Season 4, Episode 6 Of Frasier, "Mixed Doubles"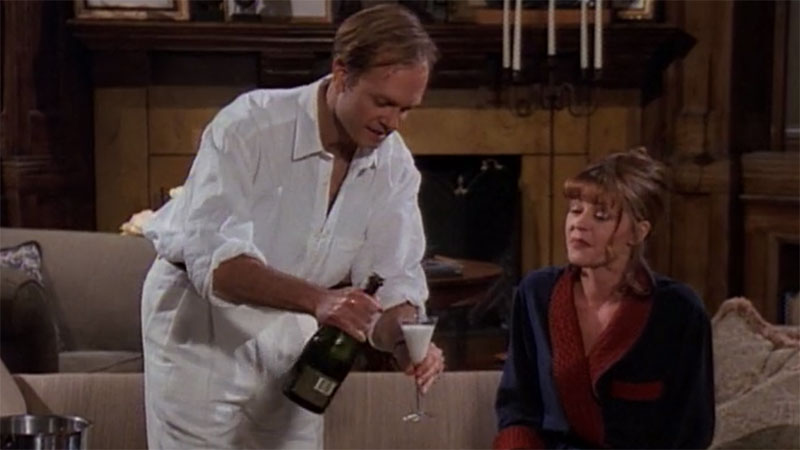 "Daphne Hates Sherry" (Season 4, Episode 21)
Heatwaves are often a precursor to romance (at least on TV), and this Season 4 episode is no different. As a hot spell engulfs Seattle, Daphne gets into another argument with Martin's girlfriend Sherry (Marsha Mason), prompting her to storm out of Frasier's apartment and seek refuge elsewhere: Niles' place.
While Daphne's visit is innocent enough ("Oh, Dr. Crane, you're always thinking of me!"), as the temperature rises, so do their libidos, and they stumble through a series of playful gaffes that play up their physical desire for one another.
It comes to an end when Daphne realizes she forgot her medication back at Frasier's and, after heading back, she winds up working things out with Sherry, much to Niles' disappointment.
WATCH: Season 4, Episode 21 Of Frasier, "Daphne Hates Sherry"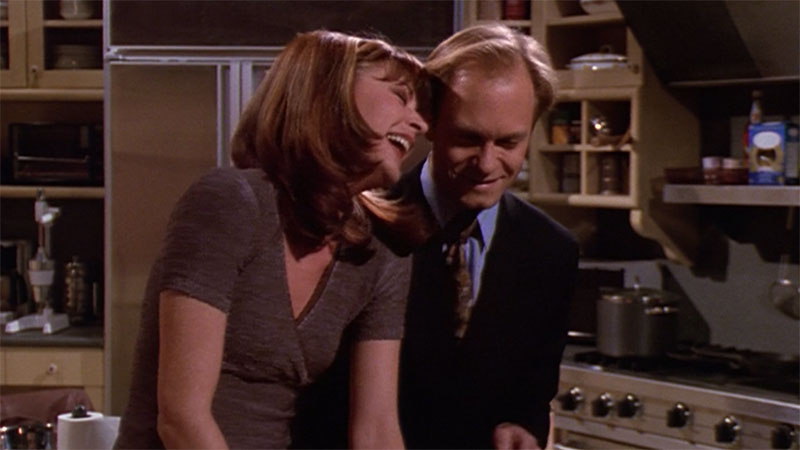 "First Date" (Season 5, Episode 20)
By Season 5, Niles finally works up the courage to ask Daphne out. Unfortunately, his bravado is quickly deflated when Daphne overhears Niles expressing his feelings to Frasier, not knowing he's actually talking about her. When she congratulates him on his new love, he panics and claims he was talking about his neighbor.
To help him plan the perfect first date, Daphne shows up at Niles' apartment and assists him in preparing an intimate meal. The pure joy Niles and Daphne share in the kitchen together—even breaking into a rendition of "Heart And Soul"—is so adorable it makes it all the more crushing to recall it's all part of a plan that's gone horribly awry.
WATCH: Season 5, Episode 20 Of Frasier, "First Date"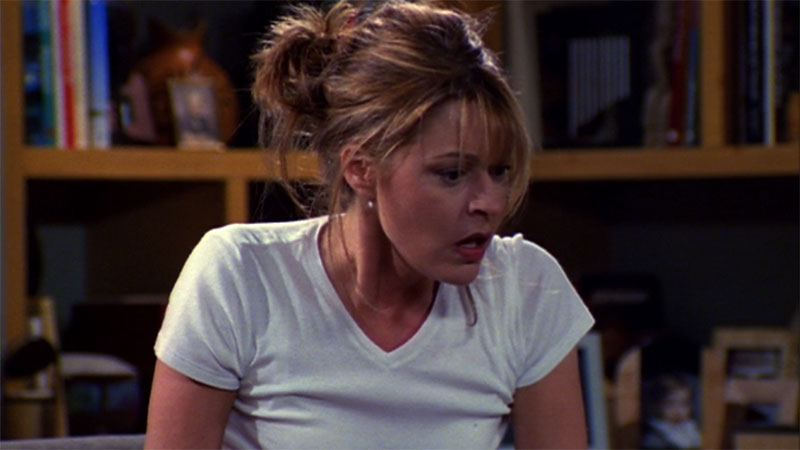 "Back Talk" (Season 7, Episode 10)
While this episode is ostensibly about Frasier being moody on his birthday, it contains a pivotal revelation for the Niles/Daphne relationship: Daphne finally discovers, in no uncertain terms, that Niles has the hots for her.
By now, Daphne is engaged to the affable attorney Donny (Saul Rubinek) and Frasier is having a hard time dealing with the upcoming change to their living arrangement, as Daphne will be moving out after six years. The combined stress and annoyance at being given a birthday cupcake causes Frasier to throw out his back.
This all leads up to a critical moment when a highly medicated Frasier accidentally lets slip to Daphne that Niles has been absolutely crazy about her for years.
WATCH: Season 7, Episode 10 Of Frasier, "Back Talk"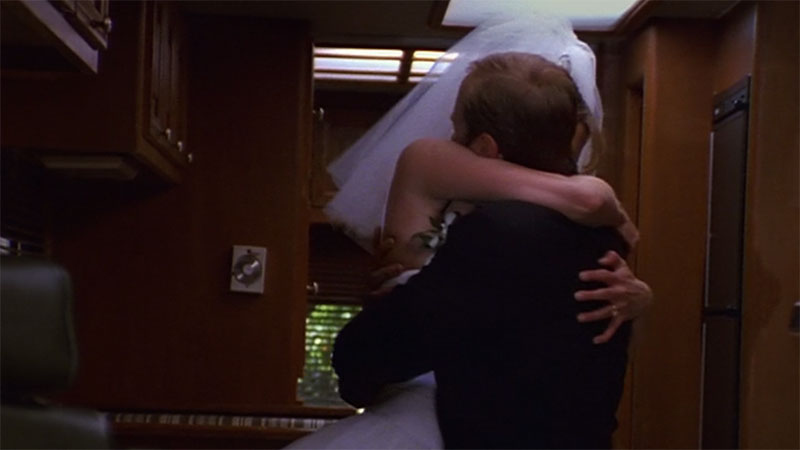 "Something Borrowed, Someone Blue" (Season 7, Episodes 23 & 24)
After seven seasons of buildup, the Niles-and-Daphne saga comes to a head on the evening of Daphne and Donny's wedding. Not an ideal scenario, but it's not a true TV wedding without some major missteps.
Daphne has been living with the knowledge of Niles' feelings since "Back Talk," making their every interaction awkward.
To complicate things further, on a whim, Niles marries Mel (Jane Adams), Maris' plastic surgeon whom he had been seeing casually. Despite Nile's recent nuptials and Daphne's forthcoming ones, the pair finally admit their feelings face to face. They kiss, but ultimately decide to go their separate ways...
Until the next morning, that is, when Daphne finds Niles hiding in Martin's Winnebago and decides to ditch her wedding and run away with him instead!
WATCH: Season 7, Episodes 23 & 24 Of Frasier, "Something Borrowed, Someone Blue"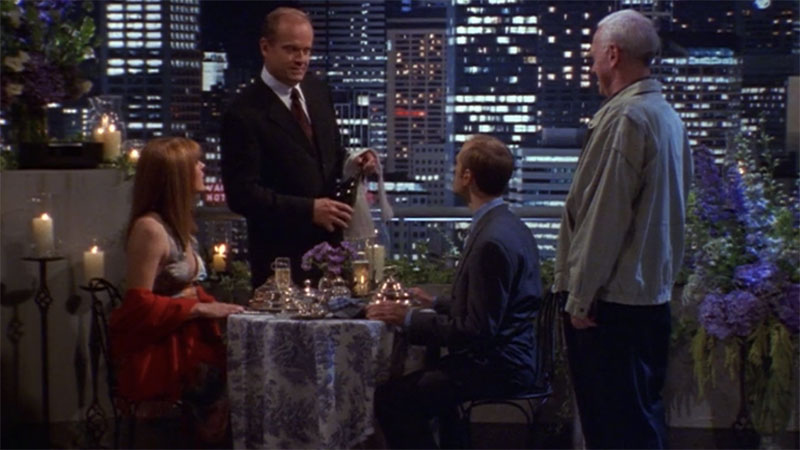 "And The Dish Ran Away With The Spoon" (Season 8, Episodes 1 & 2)
Picking up exactly where the Season 7 finale left off, Daphne and Niles decide
not
to run away from her wedding after all, but instead face the consequences of their decision to be together.
What awaits them isn't the happy ending they'd hoped. Donny sues Daphne for emotional distress (he's a lawyer, after all) and Niles is forced to play Mel's husband for a while because she doesn't want the social embarrassment of having been left so quickly.
Though Niles and Daphne take their largest relationship step yet, they still have a long way to go before they can act—and feel—like a normal couple.
WATCH: Season 8, Episodes 1 & 2 Of Frasier, "And The Dish Ran Away With The Spoon"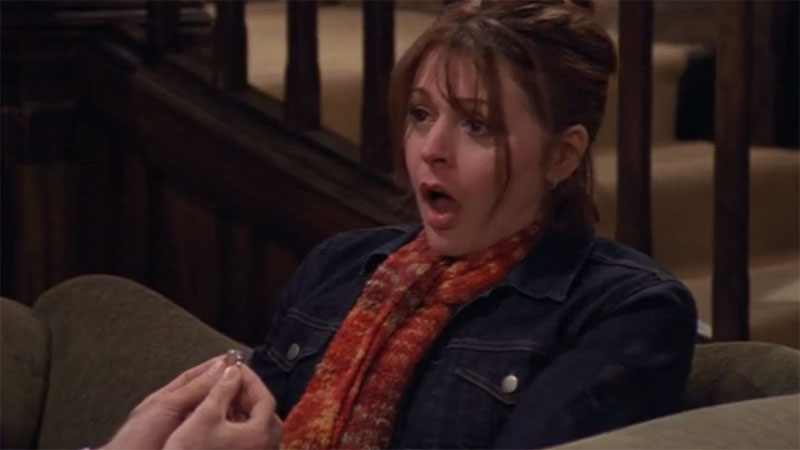 "The Proposal" (Season 9, Episode 15)
Before a TV wedding can descend into chaos, first there must be a proposal plan gone awry! That's exactly what happens in the aptly titled "The Proposal" in which Niles plans a perfect proposal of marriage.
This includes finding the perfect ring, the most delicious wine, and even getting the world-famous chef Wolfgang Puck to prepare a meal... only for Daphne to arrive with a bout of the flu.
The hilarious situation unfolds further as Frasier tries to smuggle all of the surprise participants out of Niles' apartment without Daphne seeing. In the end, Niles decides the proposal doesn't need all the bells and whistles—just the two of them (finally) together.
WATCH: Season 9, Episode 15 Of Frasier, "The Proposal"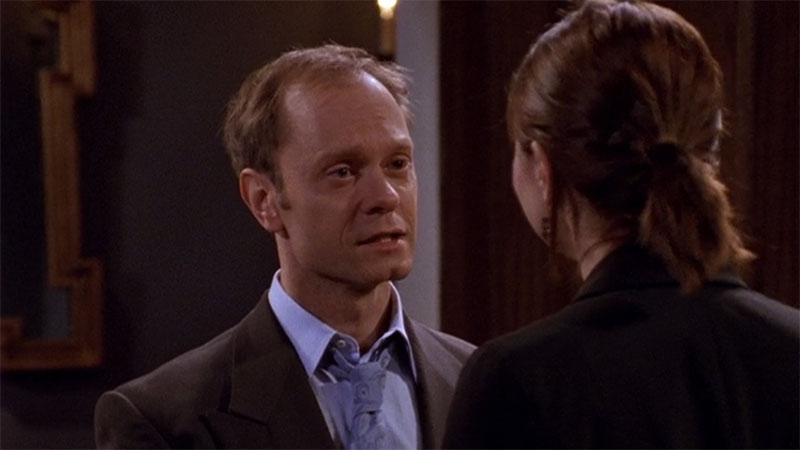 "Moons Over Seattle" (Season 9, Episode 24)
In Season 9, with her love life settling into a comfortable and happy routine, the main source of conflict in Daphne's life comes in the form of her needy mother Gertrude (Millicent Martin). Gertrude is staying with Daphne and Niles while on the outs with Daphne's bullish dad Harry (Brian Cox). In an effort to make all parties happy, Niles sets off for Manchester to try to bring about a reconciliation between her parents.
The plan doesn't go as expected, nor does Niles realize how invasive he's being in Daphne's family life, but it does have one unexpected result: Daphne's father tells her it's clear how right Niles is for her if he's willing to go so far out of his comfort zone to make her happy.
It's then that the couple decide not to delay their marriage any longer and simply elope!
WATCH: Season 9, Episode 24 Of Frasier, "Moons Over Seattle"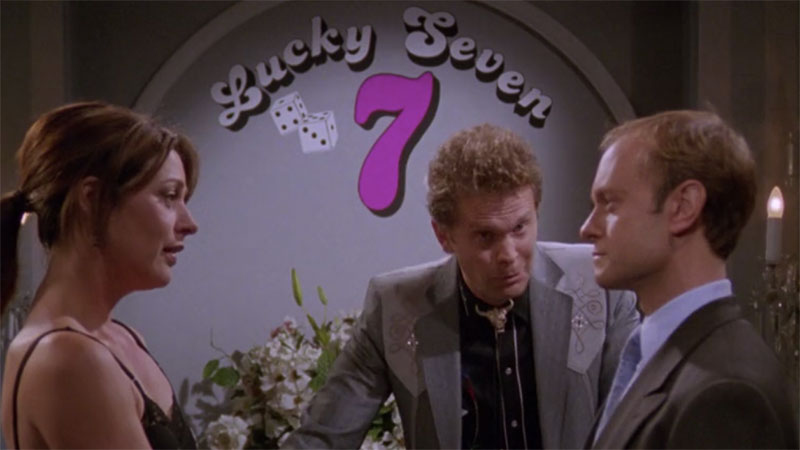 "The Ring Cycle" (Season 10, Episode 1)
Because they decided to elope in Reno, Niles and Daphne realize their loved ones will be upset to have missed the ceremony.
In an effort to appease them, they stage a civil ceremony with everyone involved. Of course, things spiral out of control as things keep confusing the situation, resulting in the newlyweds having to re-do the ceremony multiple times to diminishing returns.
In the end, the truth wins out and everyone's happy, but it wouldn't be Niles and Daphne's wedding without some last obstacles to overcome.
WATCH: Season 10, Episode 1 Of Frasier, "The Ring Cycle"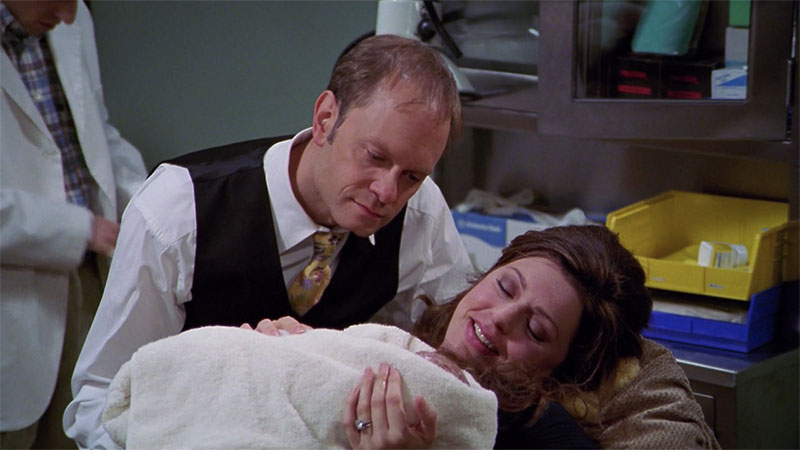 "Good Night, Seattle" (Season 11, Episodes 23 & 24)
In the series finale, as the Cranes wade through yet another chaotic wedding—this time between Martin and his fiancée Ronee (Wendie Malick)—Daphne goes into labor while at the veterinarian's office (Eddie ate the wedding rings, naturally).
So, not only does Martin's wedding occur in the vet's office, but so too does the birth of Niles and Daphne's first child, David.
After an 11-year journey full of highs and lows, detours and setbacks, Niles and Daphne's journey to true love is complete as they launch into their next adventure: parenthood.
WATCH: Season 11, Episodes 23 & 24 Of Frasier, "Good Night, Seattle"
Stream these classic episodes of
Frasier—
and every other episode of the series—on
CBS All Access
.