Just How Close Is 9JKL To Mark Feuerstein's Real Life?
CBS' freshman comedy, premiering on Oct. 2, hits close to home for star Mark Feuerstein.
"Welcome to our family!" said
9JKL's
Mark Feuerstein
(Josh Roberts) as he welcomed the crowd to the set of the show at Radford Studio Center for the CBS Television Critics Association 2017 Summer Tour.
WATCH: Take A First Look At The New CBS Fall Comedy 9JKL
This fall, Feuerstein will retell his own hilarious and heartfelt life story when the new CBS family comedy premieres on Monday, Oct. 2 at 8:30/7:30c on CBS and
CBS All Access
.
The close-to-home comedy will be set in New York where the newly-divorced Josh has moved back home to regroup and live in a stunning Manhattan apartment—wedged between his overly involved parents on one side and his brother, sister-in-law, and their new baby on the other.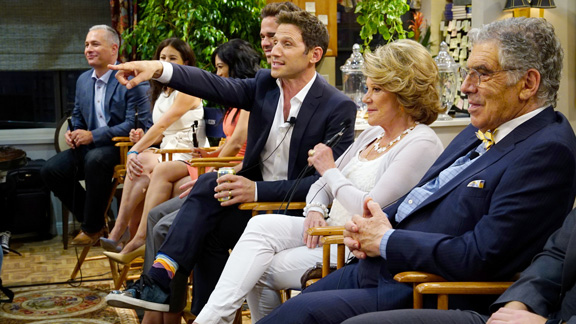 Feuerstein was joined by fellow stars
Elliott Gould
(Harry),
Liza Lapira
(Eve),
Linda Lavin
(Judy),
Matt Murray
(Nick),
Albert Tsai
(Ian), and
David Walton
(Andrew), as well as Executive Producers Dana Klein (Feuerstein's real-life wife) and Aaron Kaplan, to explain the similarities between the freshman comedy and the star's actual life.
The inspiration behind
9JKL
hits as close to home as any show possibly can. And, Mark's on-screen mother—played by the incomparable Lavin—adores him just as much as his actual mom.
"Oh, I
know
how to be his mother," joked Lavin, who previously starred as Feuerstein's mother on the late-'90s show
Conrad Bloom
.
READ: Meet The Stars Of The New Comedy 9JKL
Of the show's genesis, Mark explained, "After a 15-hour day of shooting
Royal Pains
, my mom would knock on my door and have salad ready... I'd talk to her until midnight about the day's events...
That
was the catalyst for the idea of the show."
So, how do his real-life parents feel about a show that's basically all about them?
Lavin chimed in, "Mark's parents seem so happy to be written about. They're very smart, funny people. They've given me the inspiration on how much they love their son, so I can love him the same."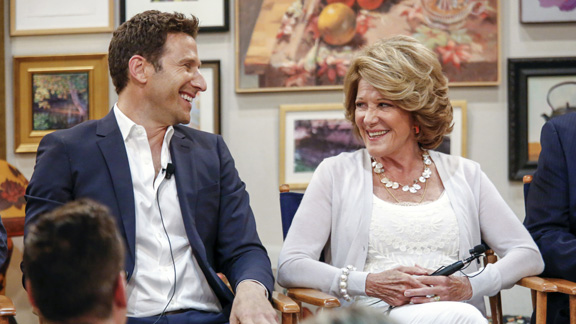 Even the
9JKL
set shares fun family touches with Feuerstein's parents' home, like similar artwork and post-it notes on the refrigerator—his parents' way of keeping an address book.
"My parents are so supportive," added Feuerstein. "There were moments on the night of [filming] the pilot with a scene out on the terrace where Linda says to David, 'You don't like to visit with me,' and then I say, 'Neither do I!'"
"I ran to my mom on set and told her I loved her and not to be offended," he added.
Feuerstein and Klein are excited to show viewers that quality family time is a precious thing. It's something they themselves already knew, but after working together the past few months on set, they know even
better
.
"I have had the privilege of watching Dana run the writers' room since night one," said Feuerstein, doting on his wife and collaborator. "She's absolutely brilliant at it. She is funny, kind, and smart... I'm in awe of my wife."
As for Klein, she said there are perks to being married to the star of the show—like borrowing his deodorant between shoots.
The couple's 7-year-old daughter, however, wasn't as keen on the idea of her parents working together. Klein shared a funny anecdote of a note they received from their daughter that read, "I don't like your work. It's not funny and it's boring to me."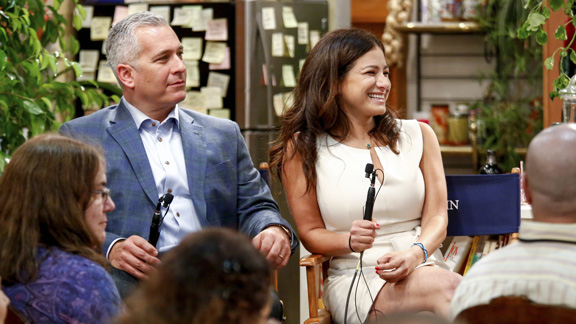 9JKL
may have been informed by Feuerstein's family history, but in no way is it a documentary. Though the cast will encapsulate elements of his past, they are their own characters and the star insists the audience will quickly forget that they are related to Feuerstein's own family.
If you're wondering if Feuerstein would ever recommend living with parents? The answer is—perhaps surprisingly—"100% yes."
Stay tuned for more updates on
9JKL
before it premieres on Monday, Oct. 2 at 8:30/7:30c on CBS and
CBS All Access
.