Who Are Brothers Osborne? 5 Things You Need To Know
Check out these fun tidbits about the New Vocal Duo Or Group Of The Year presented by T-Mobile.
Posted on Apr 2, 2017 | 10:00pm
First things first: Yes,
Brothers Osborne
are indeed real-life brothers. The Maryland-born, Nashville-based duo of T.J. and John Osborne (T.J.'s the clean-shaven lead singer, John's the scruffy guitarist) perform passionate country-rock with a hint of soul.
They bring an outsider's POV to Nashville, often talking about wanting to bring authenticity back to country music.
Clearly, it's working; their 2016 debut album,
Pawn Shop
, spawned a string of hits, including "Rum," "Ain't My Fault," and the GRAMMY-nominated "Stay A Little Longer."
Now, the brothers are fresh off of a
52nd ACM Award
win for
New Vocal Duo Or Group Of The Year presented by T-Mobile
, so it's time to get familiar with the bluesy bros. Here are five things you need to know.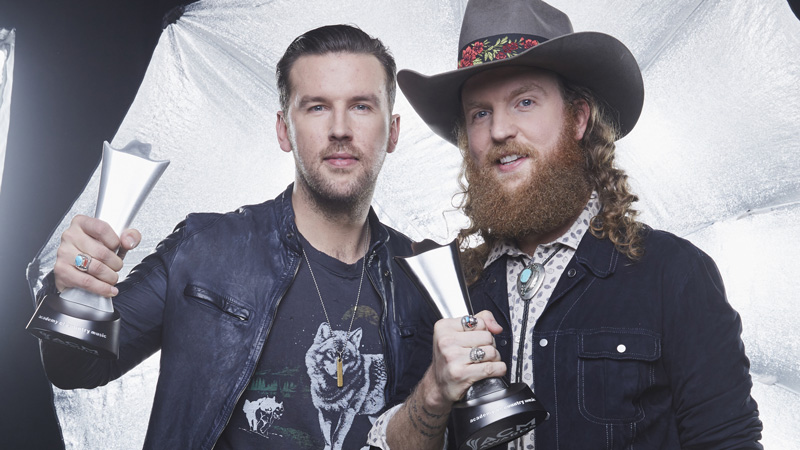 1. They're two of five kids from a tight-knit family.
Only two years apart and the middle of five kids, John and T.J. were close growing up. They even
shared a room
and slept in bunk beds until John left for college.
They learned to sing and play guitar together, as well, during
all-night jam sessions
that their parents hosted on weekends.
It wasn't long before they began writing on their own, and, after John moved to Nashville in 2000, T.J. unsurprisingly followed suit two years later to join forces with his big bro.
2. They're proud hometown heroes.
The brothers grew up in Deale, Maryland, a small fishing town on the Atlantic seaboard. Most people don't think of Maryland when they think of country music, so the brothers decided to show off their blue-collar stomping grounds in the video for "Rum."
A majority of the clip was filmed at a dockside bar called Happy Harbor, where John and T.J. had their first paying gigs as teens.
They recruited locals to appear in the video, having them lip-sync the breezy, boozy song and showing off a normal day in Deale, gray skies and all.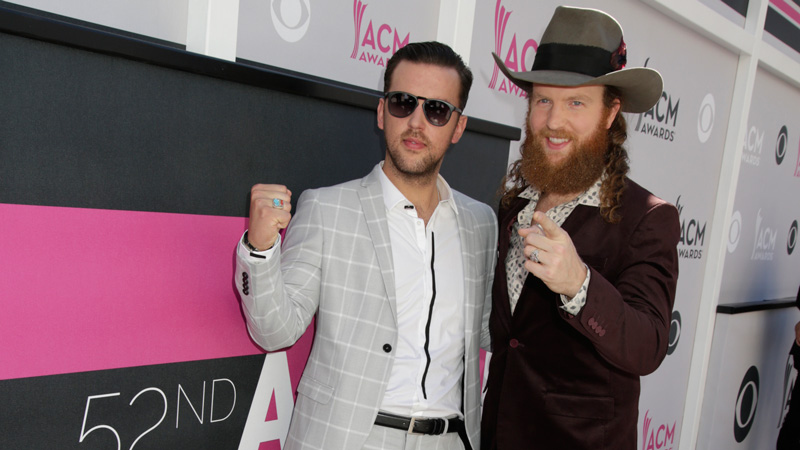 3. In high school, they performed in a local cover band with their dad.
As teenagers, John and T.J. played in a band called Jax 'n' Jive and, together, won their high school's Battle Of The Bands competition in 1999.
They also played in a cover band with their dad—who was a plumber by day, and a music lover 24/7—called Deuce And A Quarter, which performed tunes by the likes of Merle Haggard and Lynyrd Skynyrd in local bars around Deale.
Plus, during this era in their pre-career, their dad prepped T.J. and John for the grueling tour grind by
insisting
they learn enough songs to play four-hour sets.
4. Pawn Shop is more than just their debut album title.
Much like an actual pawn shop, the duo's 2016 album is an eclectic collection. The title track is about living on the cheap while managing to find diamonds in the rough, and tackles the heart-wrenching decision between selling an instrument and affording rent.
John
explained to Billboard
that visiting pawn shops is one of their favorite hobbies while traveling, saying, "We go to pawn shops in almost every city we visit. It's a race to see who can find that one cool steal."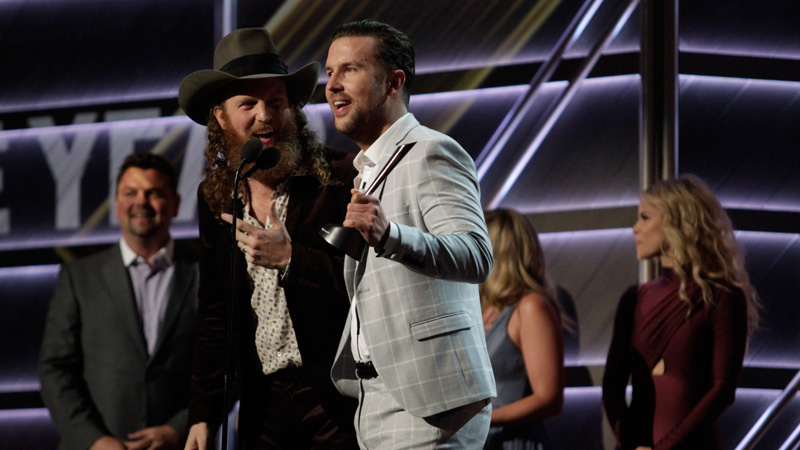 5. They're inspired by iconic, classic-rock duos.
Some of the most iconic duos in music history follow the "singer and guitarist" format, including The Rolling Stones' Mick Jagger and Keith Richards, and Led Zeppelin's Robert Plant and Jimmy Page, to name a couple.
John and T.J. fit that mold, and they look to those kinds of pairings to inspire their own guitar-and-vocals arrangements.
LISTEN: 5 Songs You Need To Know From 52nd ACM Award Winner Brothers Osborne
The country world is stacked with electrifying groups climbing their way up the charts, but Brothers Osborne stand out from the pack with their brazen music and brotherly bond.
Get used to seeing them 'round here because their reign as country's hottest duo is only just beginning.
Learn more about the
52nd Academy of Country Music Awards
on CBS.com.