How All Rise's Groundbreaking Virtual Episode, "Dancing At Los Angeles," Came To Life
Simone Missick, Executive Producers Greg Spottiswood and Mike Robin (who also directed), and more discuss how their virtual episode came together.
Posted on May 4, 2020 | 10:00am
After the threat of coronavirus shut down productions across Hollywood, the CBS courthouse drama
All Rise
was the first series to announce that it would be filming an episode entirely remotely.
WATCH: Full Episodes Of All Rise On CBS All Access
Serving as the Season 1 finale, "Dancing at Los Angeles" airs Monday, May 4 at 9/8c on CBS and
CBS All Access
. It's the first scripted drama of its kind, featuring characters whose lives are affected by coronavirus in the same myriad ways that real-world citizens' lives have been disrupted.
The process was more achievable than it sounded at first, according to series star
Simone Missick
(Lola Carmichael) and Executive Producers Greg Spottiswood, Len Goldstein, Michael Robin (who also directed the episode), and Dee Harris. But it wasn't without some interesting hurdles for actors and writers alike!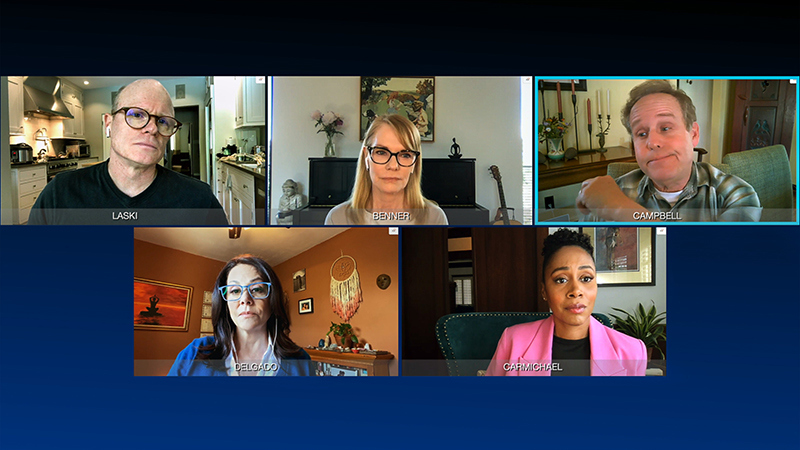 Originating the first remote episode in history
Spottiswood explains that the
All Rise
team all seemed to have the idea for a virtual episode separately but simultaneously.
"[Mike and Len] were sort of cooking up the idea," he says. "I had sort of been thinking about writing little scenes, and Simone and I talked about it, like, 'Oh, we should maybe post something on social media between Sherri and Lola.' And then Mike and Len called Dee and I, and Dee had already been thinking about it. Basically, Mike and Len said, 'You think this is possible?' And there was a long pause, which there is every time we mentioned it to anybody. And then we went, 'Yeah I actually think it might be.'"
Once the ball was rolling, the episode came together fairly quickly, with Spottiswood and writer Greg Nelson creating the 64-page script in just a week while Robin prepped to shoot the episode at the same time.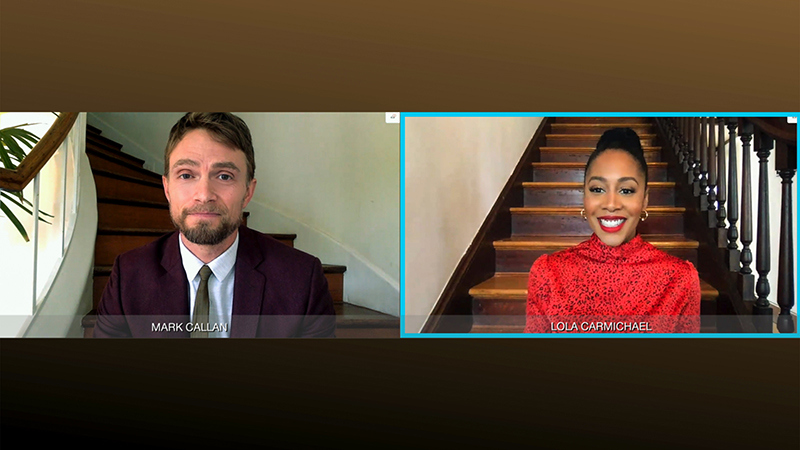 The technology of taping at home
One of the biggest initial challenges, Robin explains, was figuring out how to vary what viewers would be seeing on screen, considering the frame essentially consisted of the grids that appear during Zoom or other video conference calls.
Robin realized that the best solution would be to record each actor's square separately, functioning like a single from a master recording. The production partnered with a company called Straight Up Technologies and its WebEx system, which created a private network that allowed the actors to dial in and have their performances in Zoom recorded individually.
"Once we had basically [a classic Zoom grid view], and we also had every single actor's view to be able to have them separately, it actually was a really accomplishable task," he says.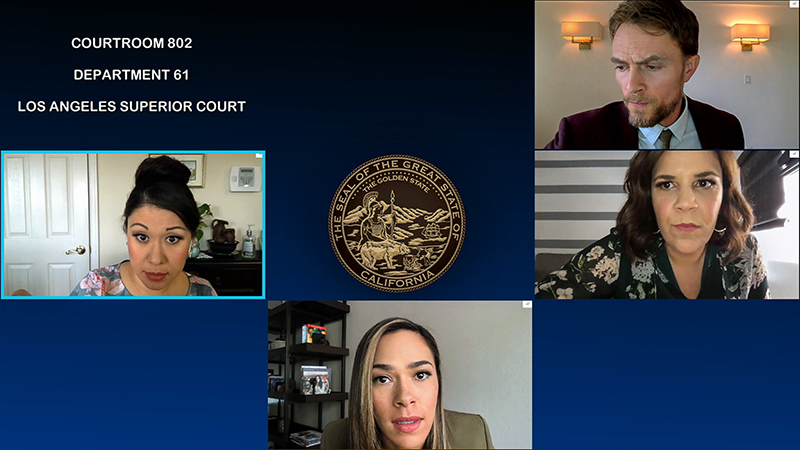 A one-person crew
For the actors, however, taping at home meant handling significantly more aspects of a production than they ordinarily do.
Spottiswood and Robin joked that the actors essentially served as 13 different departments—including acting. Missick likened the experience to being the skeleton crew of a high-budget independent film.
That didn't mean she was
completely
alone.
"Everyone was chiming in," she says. "The two ladies who do my make-up, I'd text them in the morning and they'd go, 'You did a really good job, but bump up the lipstick.'"
Since the actors' homes served as the sets, they also had to undergo technical consultations before shooting commenced. That consisted of the actors giving virtual home tours to production via their laptops to establish the areas that could be dressed and lit the most effectively. Plus, those tours served as test runs for consistent internet signal—crucial when filming remotely.
Logistically, Missick had to have wardrobe items sent to her since her own personal wardrobe is nothing like Lola Carmichael's.
"Our costume designer [Janelle Nicole Carothers] had to quickly find some things to get over to me and there was that moment of, 'How long was it in transit? Which fabrics are OK? Should I stick it in the dryer? Do I need to spray it with Lysol?"
Missick continues, "She said, 'Baby, I don't want you to be scared to do a wardrobe fitting, so you can take your time and you will figure it out,' and there was a lot of Googling to make sure, 'What fabrics could carry the virus and how long?'"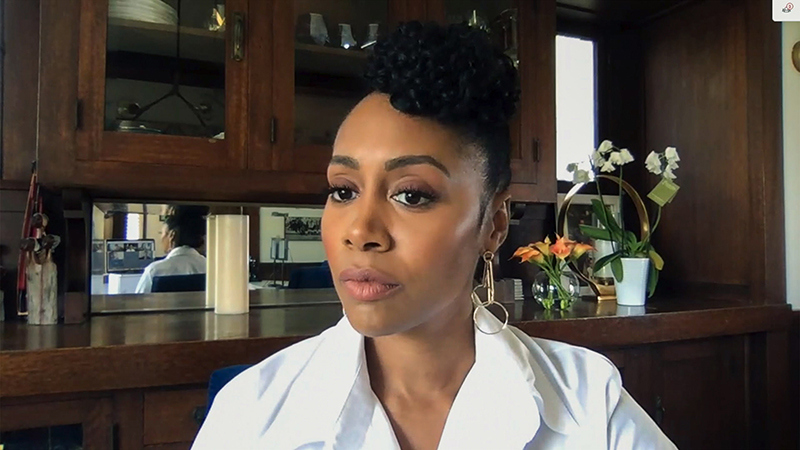 Writing in the time of coronavirus
With writers rooms being particularly dependent on in-person connectivity and brainstorming, tackling the script for "Dancing at Los Angeles" relied in part on the Spottiswood and Nelson's previous knowledge of each other's workflow.
"We had a virtual whiteboard, we had virtual cards, we shared those. We put up a collaboration on the final draft and wrote and edited each other's work in real time on the same document, while we were writing," Spottiswood explains. "Neither of us have worked that way before, but because we've worked together for a long time, we had a shorthand, which made the transition into the sort of virtual world a lot smoother than it would be for writers who are just getting to know each other. We had an advantage that way."
"Dancing at Los Angeles" also marked an important first for
All Rise
's characters and plot: Mark Callan (
Wilson Bethel
)'s first time as an attorney in Lola Carmichael (
Simone Missick
)'s courtroom.
"Our approach from a writing standpoint was do [the scenes] with a light touch and save the big fireworks for another episode when they're actually in the same room," Spottiswood says. "But just to introduce the idea and kind of explore what it might mean and how they might respond to it as characters and kinda dip our toes into the water."
Spottiswood continues that the tone of the episode, considering the gravity of coronavirus, was something that was always top of mind for them during the writing process.
"We tried to focus on what our characters were experiencing in that moment, and trying to be honest to those characters and their situations," he says. "We focused in on the story, and we focused in on the relationships between characters and the characters' ability or inability to connect, so the movement for us as writers in the episode is one from isolation to connection.
"And that was sort of our guiding principle, was to sort of say, 'All right, here are some people who feel as isolated as all of us do at some point during this crisis, and what can they do or what story can we tell to find them just a moment, a simple moment of connection with another human being so they feel less alone?' And our hope is that our audience will identify with that."
Don't miss the special virtual episode and Season 1 finale of
All Rise
, "Dancing at Los Angeles," on Monday, May 4 on CBS and
CBS All Access
.