Back to Cast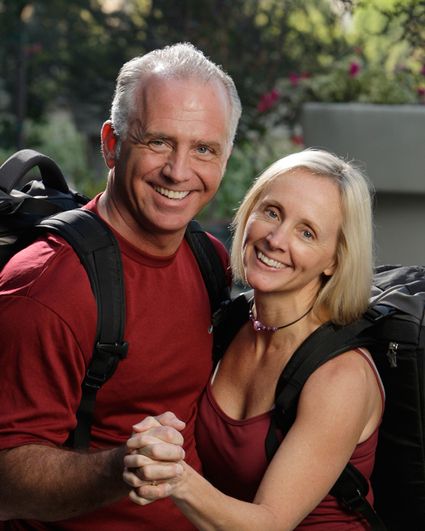 Biography
Brad Hunt (52); Victoria Hunt (47)
Hometown: Columbus, Ohio
Occupation: Brad (Distribution Dispatcher); Victoria (Tax Manager)
Relationship: Married

Married for nine years, Brad and Victoria may not always see eye-to-eye, but they do make a dynamic team. They both have children from previous marriages, this is Victoria's third and Brad's second. Both endearingly concede that they are "stuck with each other."

Victoria was born with hip dysplasia and spent much of her childhood in hospitals, body casts and crutches. Following a recent major foot surgery, she was told that she could never run again. She is now out to prove that anything is possible. She claims that the biggest difference between her and Brad is that she is an optimist while he is cynical. However, she believes they share the same desires and like to be challenged both mentally and physically. Their motto is, "life is not a spectator sport and therefore you should always enjoy each moment that life gives you." Victoria works as a tax manager and Brad is a distribution dispatcher.

Brad describes himself as intelligent, straight forward and resourceful. One of his proudest achievements is overcoming drugs and alcohol addiction and remaining clean and sober for 25 years and counting. Brad enjoys pistol shooting, weightlifting and gardening.

This physically fit Team hopes to gain a lifetime of stories and a little bit of glue to reinforce their bond. Regardless of whether they win or lose, they already feel a sense of accomplishment by just being chosen to compete in the show.