Back to Cast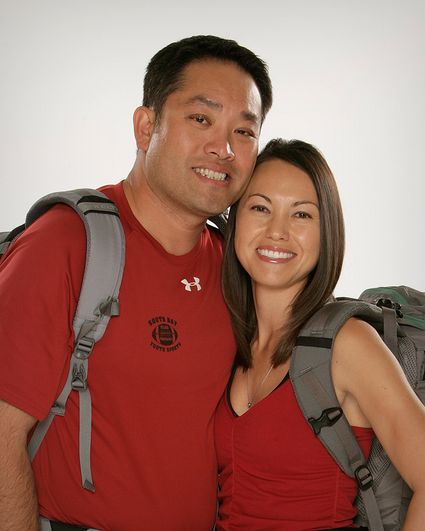 Biography
Married
­

Joe Wang
­Age: 42­
Hometown: El Segundo, Calif.
Connection to your Teammate: Married
Current Occupation: Software Sales Executive
Favorite Hobbies: Coaching youth sports, poker and golf
Achievements: My biggest achievement is my family.
Lifelong to do List: Travel around the world.
If I could switch places with someone: My son Jameson who has unlimited potential.
Role Model/Hero: My parents. They immigrated here to USA to provide a better life for me.
What are you passionate about? Raising my kids to be the best they can be.
What would you do if you won the million dollars? Pay for my kids' college education.
People would be surprised to learn: I was born in Taiwan and speak fluent Mandarin Chinese
Favorite place you have ever visited: Fiji
Biggest challenge you and your teammate will face on the Race together: Getting a task that we both can't do and being away from our kids for an extended period of time.
What do you hope to accomplish by running the Race (other then winning one million bucks)? Create a closer bond with Heidi
Pet peeve about your teammate: She can't multi-task.


Heidi Wang
Age: 37
Hometown: El Segundo, Calif.
Connection to your Teammate: Wife
Current Occupation: Homemaker
Favorite Hobbies: Traveling, gourmet cooking, shopping, golfing and reading
Achievements: Giving birth to my two beautiful and intelligent kids, having a successful finance career prior to choosing to stay home to raise my children.
Lifelong to do List: Run a marathon, improve my golf game and to never stop learning new things
If I could switch places with someone: It would have to be with my daughter, Herason. The opportunities and potential for a young girl today are endless.
Role Model/Hero: My parents, Richard and Yohko Leeser. They sacrificed everything for their children to give them a better life. I have the utmost respect and admiration for both of them.
What are you passionate about? My family. There are no words for the love and devotion I have for my husband and children.
What would you do if you won the million dollars? Invest it towards my children's college education fund
People would be surprised to learn: In high school, I was voted Senior Class President, Most Likely to Succeed, Most Likely to win a Nobel Peace Prize and Most Likely to Total Their Car
Favorite place you have ever visited: My home. Although I've traveled extensively and visited many wonderful places, there really is "no place like home."
Biggest challenge you and your teammate will face on the Race together: Being away from our children for so long and not being able to eat sushi.
What do you hope to accomplish by running the Race (other then winning one million bucks)? Spending quality one-on-one time with my husband. We both could use some extra, uninterrupted time and attention from the other. Additionally, I plan to re-enter the professional workplace soon and I hope this experience makes me a better job candidate.
Pet peeve about your teammate: Joe is a very intense and short tempered individual who thinks he's right all the time!
­­