What a week for geeks! The Big Bang Theory and Lucasfilm joined Jedi forces for a special 'Star Wars Day' episode which aired last night, just days after the "Star Wars VII" movie casting announcement. The episode, which featured the return of Emmy-winning guest star Bob Newhart as Professor Proton, did not fall short on paying homage to the beloved movie franchise. And now fans can have their Death Star cake and eat it too by indulging in a round up of the top ten Obi-Pun Kenobi's and "Star Wars" related references!

1. Howard corrects Penny about Star Wars holidays
Star Wars Christmas= Wookiee Life Day

2. Penny asks when Star Wars Day is
Leonard: "Well, it's not May the fifth and it's not May the third...it's May the...fourth!"
Sheldon: "Get it?"
Raj: "May the fourth be with you!"

3. Sheldon builds an hour into his Star Wars Day schedule dedicated to complaining about 'The Phantom Menace'

4. Raj introduces Admiral Ackbar's Snack Bar - Watch the moment!

The Menu
- R2-Decaf
- Cafe Au Leia
- Chai Tea-3PO
- Attack of the Scones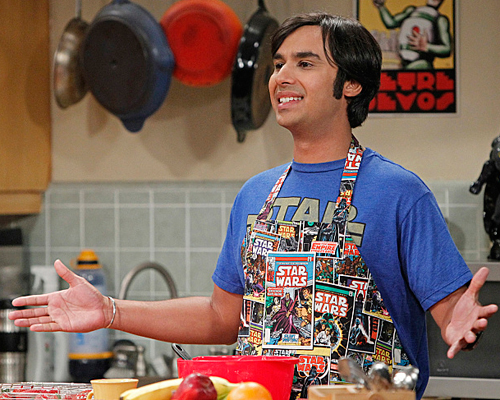 5. Penny asks Sheldon about going to Professor Proton's funeral
Sheldon: "When Darth Vader struck down Obi Wan, did Luke cry like a baby and go to his funeral?"
Penny: "No, he blew up the Death Star"

6. Amy & Bernadette bake a Death Star cake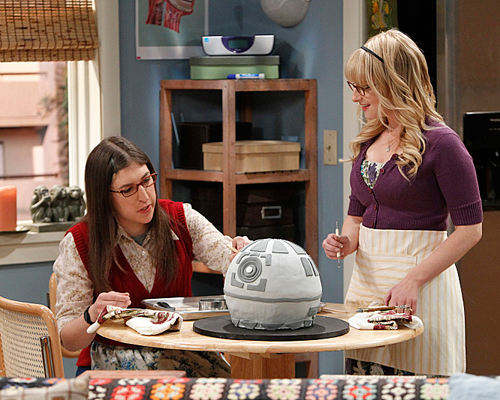 7. Raj reveals the 'Machete Order':
"Watch episodes four and five, skip one, watch two and three as a flashback and finish with 6"

8. Arthur (Professor Proton) appears as Sheldon's Obi-Wan, complete with Jedi robes and a light saber - Watch the moment!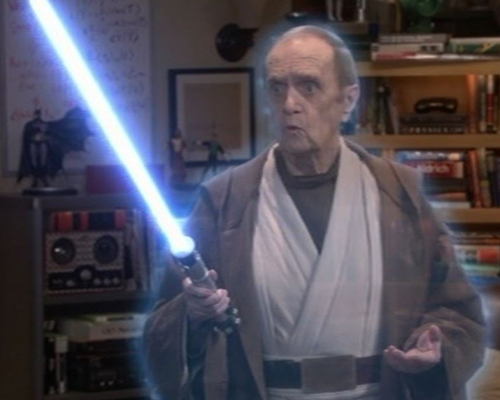 9. Arthur asks about the meaning of Obi-Wan - Watch the moment!
Sheldon: "I know! You have come to me because you're my Obi-Wan."
Arthur: "I'm not, I'm not familiar with that. Is that...an internet?
Sheldon: "Wow. You're dead, so I'm gonna let that slide."

10. Sheldon dreams about meeting Arthur in the swampland of Dagobah
Watch the moment!