It's been an enormous season for The Big Bang Theory. Penny and Leonard tied the knot, Howard and Bernadette learned they were going to be parents, and Sheldon and Amy finally got intimate under the covers. To top it all off, the show just recently celebrated 200 episodes!

To honor the huge milestone, the cast, producers, and writers joined together on stage at PaleyFest to spill about their favorite moments. Find out what we learned below!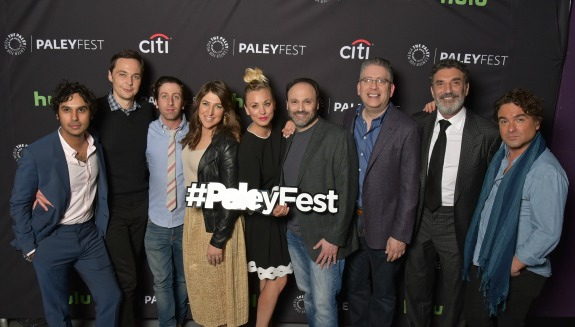 Photo: © Michael Bulbenko

1. Kaley Cuoco has been pulling for Penny and Leonard to get married from the beginning.
Love the adorable banter and fiery romance between Penny and Leonard? You're not alone! Kaley Cuoco noted that she's loved the idea of their characters getting hitched from the get-go. On Penny's evolution, Kaley said: "She has a real job now. She's married to her best friend. I've said from the pilot, it was my dream they would get married."

2. While he loved the wedding, Johnny Galecki said he doesn't feel it was the most emotional moment Penny and Leonard have shared.
Penny and Leonard's love story has been a rollercoaster of heartbreak and happiness. From breakups to marriage, Kaley said it best when she noted that the characters have "had a lot of tearjerkers together."

You might think standing at an altar—even a shoddily made one in Vegas—would be the most memorable moment in two characters' relationship. However, for The Big Bang Theory star Johnny Galecki, the moment that's stuck with him most was when Penny and Leonard first said "I love you."

"The first time we said it out loud was really nice," Johnny said.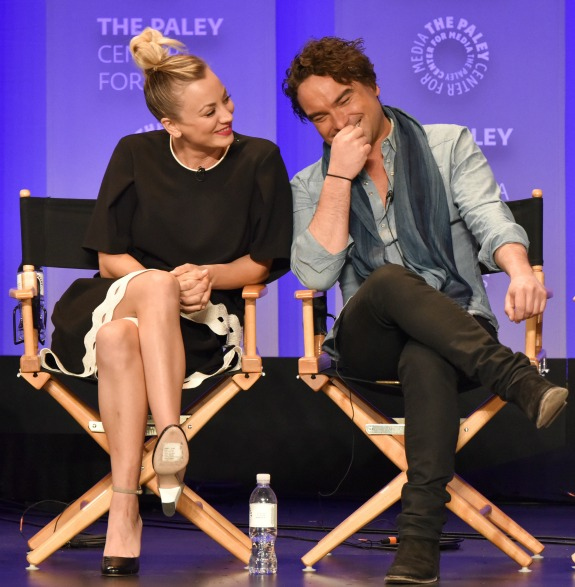 Photo: © Rob Latour

3. Jim Parsons can't wait for Shamy to jump into bed again.
Turns out we weren't the only ones thrilled to see Amy and Sheldon take their relationship to the next level! When asked about the much-anticipated moment, Jim said that the experience opened up a whole new realm of possibilities for both him and Sheldon.

"I never thought Sheldon would have sex on this show," Jim said with a smile. "I look forward to doing it again. I discovered a new way of conversing with an actor on this show that was pillow talk! I can't wait to be back in bed again."
"I can't wait to be back in bed again" - #JimParsons #BigBangTheory #PaleyFest pic.twitter.com/uEmpk9lrsJ

— The Big Bang Theory (@bigbangtheory) March 17, 2016
4. Simon Helberg is excited to be a father on TV.
As a father of two in real life, you might think that Simon has the dad role down. However, the hilarious actor joked that he could use all the help he can get!
"I was hoping Howard would give me some [fathering] advice," he said.
5. While he quipped about the difficulties of parenting, Simon got serious when he talked about just how excited he really is for Howard's next big step into adulthood.
"I look forward to it," he said. "Every time I open the script, I'm just blown away."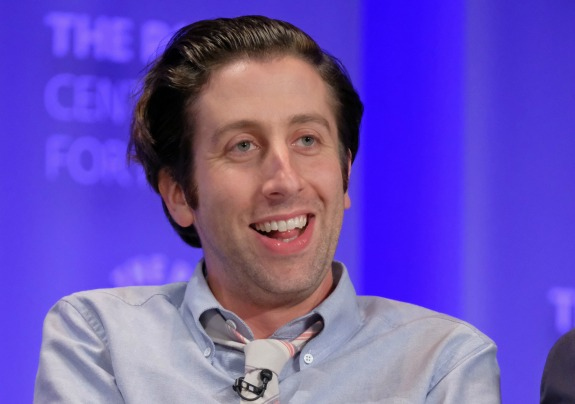 Photo: © Michael Bulbenko
6. Unlike Sheldon, Jim really enjoys his birthday.
While Sheldon has never been a big fan of surprise parties and celebrations, Jim has no qualms with blowing out the candles on a birthday cake.
"What's wrong with a birthday?" he asked. "It's a wonderful time of year!"
7. The idea for the 200th episode celebration came to the team at the nick of time.
With how well-orchestrated Sheldon's birthday party seemed, writer and executive producer Steven Molaro said it was actually thrown together pretty quickly.
"At the last minute, while trying to figure out what we might do, [we remembered that] it was a year ago that Sheldon had admitted to Penny that it was his birthday," Molaro said.
8. Mayim Bialik totally fan-girled when she met Adam West.
Turns out, even the biggest names in Hollywood get star-struck. A long-time fan, Mayim admitted that she had a hard time keeping it together when she met her childhood hero.
"I cried when I met him," she said, adding: "He was the Batman of my youth."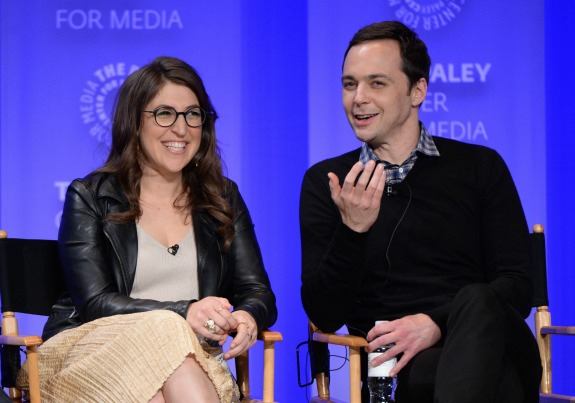 Photo: © Michael Kovac
8. Kunal Nayyar talked about his big bangs.
Ever wonder about
Raj's hair evolution in The Big Bang Theory
? For a while, Kunal did, too!
"I have curly hair in real life," he said. "And, if you actually notice in the first season, Raj has like, hipster, curly hair. In the second season, for some reason, they started straightening my bangs."
The style stuck, and now Raj rocks a head of pin-straight locks for each episode.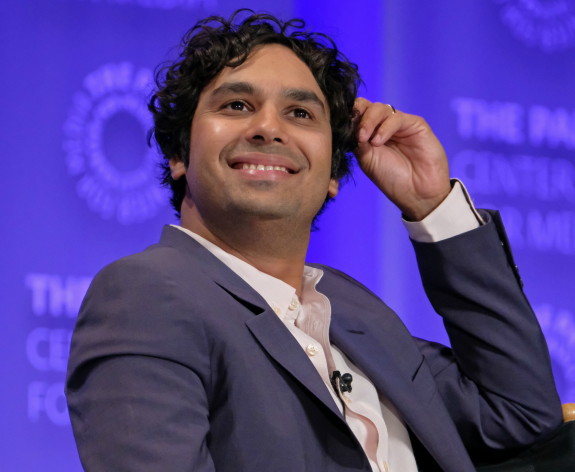 Photo: © Michael Bulbenko
9. Big things are in the works for Leonard!
For years, fans of The Big Bang Theory have wondered about Leonard's relationship with his father—who is he, where has he been, and why doesn't Leonard talk about him much? Well, in the near future, we're about to find out the answers to all of those questions.
"We're going to be meeting Leonard's dad, finally," writer and executive producer Steve Molaro said.
10. Johnny was so excited by the possibility of having a father-son relationship on screen, that he took matters into his own hands.
Apparently, Johnny recruited his TV dad, who will be played by the iconic actor Judd Hirsch, at a party!
"I said, 'Hey, would you have any interest in playing my dad on the show' ... It just kind of went from there," Johnny recalled.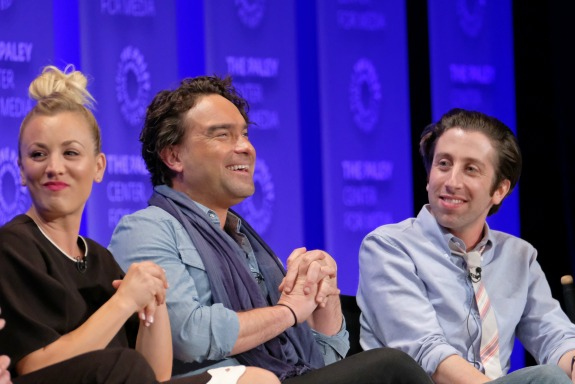 Photo: © Michael Bulbenko
11. The actors still get nervous filming in front of an audience.
Even the most seasoned performers get the butterflies before taking the stage. But, they don't let their nerves slow them down.
While Jim said the overall preparation and filming process is "hard as hell," he said he couldn't be more grateful for the experience.
"We're very lucky to get to do it," he said.
12. What you see is what you get.
There's no denying that all of the actors have incredible chemistry on
The Big Bang Theor
y. But, did you know that these actors love each other just as much behind-the-scenes?
"This is us at work; this is us at dinner," Kaley said of their playful interactions and overwhelming showing of support. "This is who we are ... It's completely as real as it is on camera."
As if her statement wasn't sweet enough, Johnny added: "I'm so proud of this family."
A round of applause for the #BigBangTheory cast? Duh! pic.twitter.com/TrloME7h4V

— The Big Bang Theory (@bigbangtheory) March 17, 2016
For more side-splitting laughs and adorable moments, tune-in to
The Big Bang Theory
Thursdays at 8/7c on CBS.