Fans Will Finally Get To Meet Penny's Mother And Brother On The Big Bang Theory
Producers announce Katey Sagal and Jack McBrayer will play members of Penny's immediate family.
Over the years, fans of
The Big Bang Theory
have met various relatives of Leonard, Sheldon, Howard, and Raj.
However, aside from Penny's dad (played by Keith Carradine), the other members of Penny's immediate family have remained a mystery—until now!
During a panel at Comic-Con 2016, producers announced that acclaimed actress Katey Sagal (
Sons of Anarchy
,
Married... with Children
) and side-splitting funnyman Jack McBrayer (
30 Rock
,
The Jack And Triumph Show
) will both appear in the Season 10 premiere as Penny's mother and brother, respectively.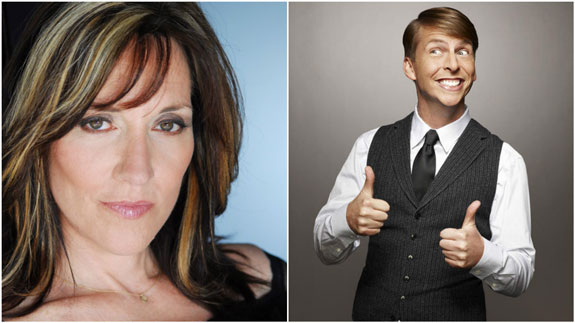 Sagal will play Susan, Penny's mom, who's stressed out and neurotic from a life dealing with her troubled—yet cheerful—son, Randall, played by McBrayer. Seeing that Penny's bro is a drug dealer and ex-con, no wonder Susan is at her wit's end.
Believe it or not, this isn't the first time Katey and
Kaley Cuoco
have teamed up: the ladies played a dynamic mother-daughter duo on the sitcom
8 Simple Rules for Dating My Teenage Daughter
.
According to one of the panelists on "Inside
The Big Bang Theory
's Writers Room," Katey said she's "always ready to be Kaley's mom."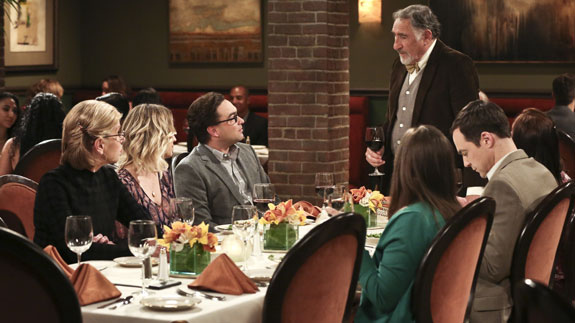 The Season 9 finale (
"The Convergence Convergence"
) of
The Big Bang Theory
was a family affair and ended with a cliffhanger when Sheldon's religious mom, Mary (played by Laurie Metcalf), and Leonard's recently divorced dad, Alfred (played by Judd Hirsch) ended up sneaking away together after a less-than-celebratory dinner with the gang.
How will Susan and Randall mesh with Penny's new husband and the rest of his friends?
Find out when Season 10 of
The Big Bang Theory
premieres on Monday, Sept. 19 at 8/7c.