The Big Bang Theory Talk About Penny's Extended Fam And Coitus At Comic-Con
Not only that, but they revealed some major news that's sure to shake things up during Season 10!
On Friday, June 23, thousands of fans gathered together in a San Diego ballroom at Comic-Com 2016 to see a panel called "Inside
The Big Bang Theory
Writer's Room," where producers and scribes for TV's No.1 sitcom reflected on the show's latest season and teased some seriously exciting details of what's to come!
The first major surprise?
Melissa Rauch
, aka Bernadette Wolowitz, served as the panel's special moderator—and she was ready ask the hard questions.
Sorta
.
Next up, showrunner Steven Molaro shared some big news about Penny. Not only will fans watch the newlywed
reunite with her mother, Susan, but Penny's also going to get a visit from her brother, Randall
, who will also make his onscreen debut on the show.
Who, pray tell, will play Penny's stressed-out mom? None other than
Katey Sagal
, who's no stranger to acting as a maternal figure to
Kaley Cuoco
, who was cast in 2002 as Sagal's daughter in the sitcom
8 Simply Rules for Dating My Teenage Daughter
.
As for Randall, an oddly cheerful ex-con who also slings drugs, that role goes to the hilarious Jack McBrayer (
30 Rock
,
The Jack And Triumph Show
), who happened to be on-hand for the writer's panel and received a standing ovation when he walked on stage.
Once seated, Melissa asked Jack if he'd ever been to prison, to which he responded, "Recreationally." But before attendees could figure out whether or not he was kidding, McBrayer quipped that he "looked good in orange."
Is that a hint of what Randall might be wearing in the Season 10 premiere? He could always borrow
Leonard's naughty carrot lingerie
.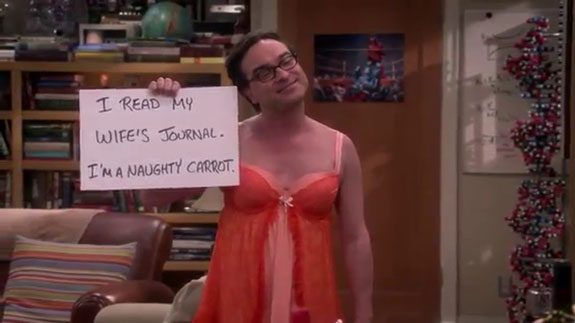 Speaking of Penny, someone in the audience asked a question fans have
always
wanted to know the answer to: "Why doesn't Penny have a surname?"
Producer Bill Prady explained that, originally, the writers created the characters' last names so they could be used in props, like degree certifications; and, since Penny didn't have a fancy title, they waited so long to assign her one, eventually, Prady & Co. feared that ascribing her a last name would jinx the show.
"We started getting superstitious about it," added Molaro, "[but] she has one now, and it's Hofstadter."
Awww
.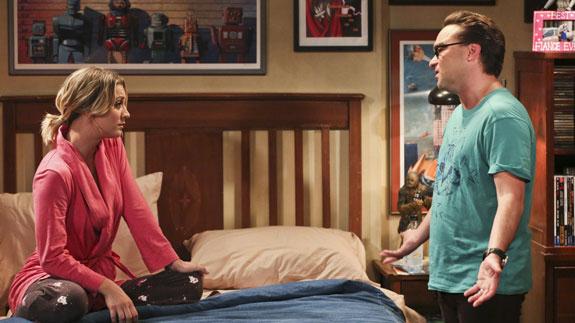 Penny's mother and brother aren't the only new family members fans will meet in Season 10. For example, when we last left Howard and Bernadette Wolowitz, they were still reeling from the reality of expecting a child.
During the panel, Melissa took a break from moderating to talk about the strong reaction she received to Bernadette's pregnancy.
"The only people more excited about this pregnancy than me are my parents," she said, laughing.
In fact, Melissa has to keep reminding them that she's not
actually
expecting, even though "all of [her parents'] friends are treating it like
The Big Bang Theory
is a documentary series."
In addition to being excited about Bernadette's pregnancy, fans also cheered when
Sheldon and Amy finally got intimate
for the first time.
"Not since the loss of my own virginity, have I been so invested in a single physical act," said Molaro.
From the moment coitus was on the table, the writers wanted
Bob Newhart to appear as an advice-administering ghost
who would serve as Sheldon's, um, sexual sherpa and help the scientist navigate through this type of unknown territory.
So now that
Sheldon and Amy have taken their relationship to the next level
, does that mean the couple will be having coitus on a more regular basis? Molaro said that his wish was for Sheldon to view sex as a fun, recurring event.
In addition to writing about big milestones for the characters, writers for
The Big Bang Theory
also enjoy incorporating other pop-culture benchmarks into each season because one of the biggest thrills for the creative team is getting to meet some of their idols.
For example, when Molaro was 12, he "waited in such long lines to meet people like
George Takei
, which makes it all the more special when the
Star Trek
megastar later appeared on the show.
Naturally, he asked for George's signatures both times.
PHOTOS: Mayim Bialik dons Star Trek garb in Watch! Magazine
Speaking of
Star Trek
, throughout the previous nine seasons of
The Big Bang Theory
, Sheldon & Co. have made countless references to the sci-fi franchise and have been graced with guest appearances by various members of past series like
Wil Wheaton
,
Leonard Nimoy
,
LaVar Burton
, and more!
At Comic-Con 2016, one convention attendee, who was dressed in a Starfleet uniform, asked if
The Big Bang Theory
would feature even more Trekkie goodness in upcoming episodes, seeing that
Star Trek: U.S.S. Discovery
, is slated for release in 2017 on
CBS All Access
.
Molaro didn't confirm anything, in particular, but he did tease the possibility of Sheldon's beloved Leonard Nimoy documentary becoming a reality, saying, "In the world of
The Big Bang Theory
, I think that movie will also come out."
Now
that's
something we've gotta see!
Watch
The Big Bang Theory
on CBS and
CBS All Access
.