Mayim Bialik Reacts To Her Second Chance At Coitus On The Big Bang Theory
Read what The Big Bang Theory actress has to say about celebrating ShAmy's coitus-versary.
From having coitus—
twice
—to moving in with her boyfriend
Sheldon
, 2016 was definitely a banner year for
Amy Farrah Fowler
on
The Big Bang Theory.
Seems like during Season 10, everything's coming up Amy!
WATCH: Full Episode of "The Birthday Synchronicity"
Lucky for us, we caught up with actress
Mayim Bialik
and talked to her about Amy's highly anticipated "coitusversary" with Sheldon, as well as how ShAmy's relationship might continue to develop in the future.
Find out what the brainy beauty had to say!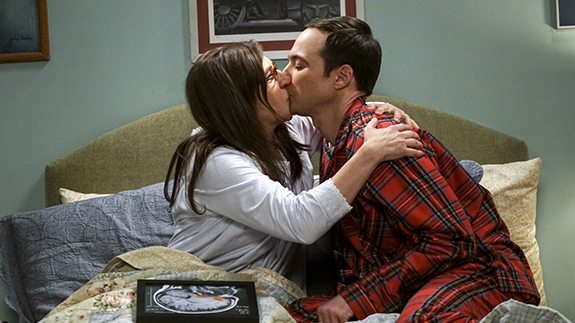 Obviously, "The Birthday Synchronicity" episode was a big one for Howard and Bernadette, but it also marked an important milestone for Amy. What was it like to play against the baby storyline?
​
Mayim Bialik:
This shows one of the great strengths of our writers: they are able to develop more than one storyline at a time in a dynamic and exciting way!
[
Jim Parsons
] and I loved this episode, because it allowed us a lot of development [for] our relationship without writers needing to force any changes we weren't ready for. The changes that we have seen in Sheldon's character are in some ways monumental and in some ways incremental, and that is to the credit of our writers.
As his girlfriend, I get to facilitate a lot of that development, which is really exciting.​
READ: Amy Farrah Fowler's Wittiest Quips From The Big Bang Theory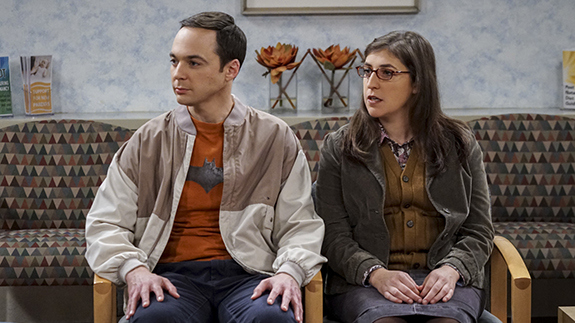 In general, Amy and Sheldon have gone through a lot of changes lately, between coitus and moving in together—and Amy seems more confident than ever. Can you talk a bit about how your character has evolved?
​
Mayim:
I definitely think Amy is more confident, and it seems [like] she is a faster learner, socially speaking, than Sheldon turned out to be.
However, our writers still maintain her innocence and her naïveté and, in this episode, especially, we get to see how important boundaries are for both her and Sheldon, and how much they are respectful of that. It's really sweet.
READ: Can't Fight Chemistry: Amy And Sheldon's Romance Is Rekindled And Radiant
Which of those aspects, for you, has been the most rewarding to play?
​​
Mayim:
I think showing the delicateness of Amy is incredibly rewarding because I know there are so many women and even men out there who feel like they are behind in terms of social development.
The way Amy has developed shows that there are leaps and bounds which can be conquered, but who you are essentially doesn't change—and doesn't need to if you are with the right person.​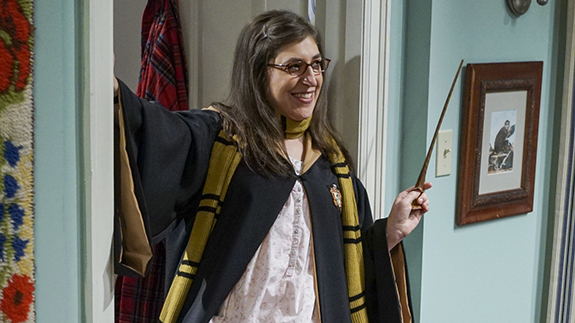 Meanwhile, Sheldon has had babies on the brain, as well. How fun is it for you getting to play off this new side of Sheldon and seeing the potential in that?
​​
Mayim:
Honestly, I'm curious if it will lead to more plot lines!​ For now, the writers have such a good time having [Sheldon] explore new things through his lack of tact and inquisitiveness, and it's been really funny for us to be a part of.
I don't think that Amy and Sheldon need to start thinking about a baby, if that's what you're hinting at—we have enough going on with just moving in together!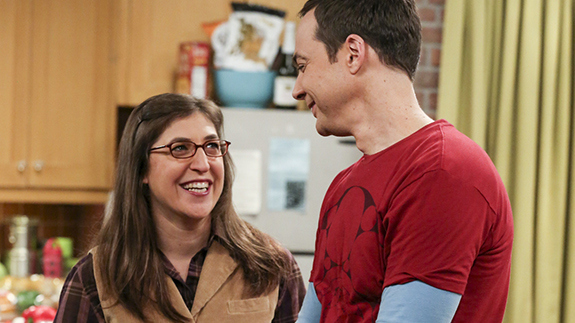 Aside from relationship goals, what other storylines would you like to see for Amy in future episodes?
​
Mayim:
Oh, gosh, I've been waiting for an ugly duckling episode, literally, for seven years. Maybe Season 10 will be the year that we see it!​
Watch
The Big Bang Theory
on Thursdays at 8/7c on CBS and
CBS All Access
.