Howard, Raj, And Bert Are Rockers Of The Lost Ark On The Big Bang Theory
Watch Footprints on the Moon perform a song about the greatest boulder in the history of cinema.
In the latest episode of
The Big Bang Theory
,
"The Solo Oscillation,"
Raj (
Kunal Nayyar
) and Howard (
Simon Helberg
) were forced to break up their band, Footprints on the Moon, when Bernadette (
Melissa Rauch
) said they couldn't practice at Howard's place anymore. (Baby Halley needs her rest, after all!)
STREAM: Episode 13, Season 11 Of The Big Bang Theory On CBS All Access
As a result, Raj teamed up with Bert (Brian Posehn) and learned that the geologist had quite a knack for songwriting. In fact, he had written an entire ode to the boulder in
Raiders of the Lost Ark
!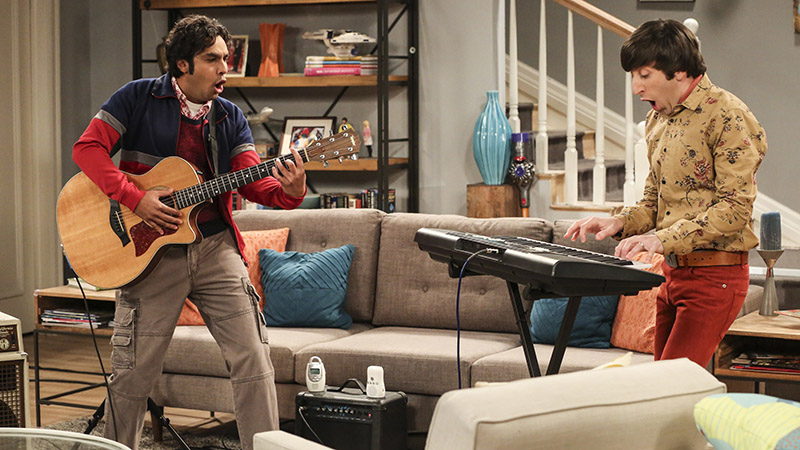 In a stroke of luck—or rather, when Howard threatened to go solo and compose an entire musical in his and Bernadette's bedroom—Howard was allowed back into the band, and he, Raj, and Bert became a trio!
And so, the new-and-improved Footprints on the Moon made their rockin' (boulderin'?) debut at a bar mitzvah, where they performed Bert's heavy-metal Indiana Jones tribute. Check out their performance in the video above!
STREAM: Full Episodes Of The Big Bang Theory On CBS All Access
Watch all-new episodes of
The Big Bang Theory
on Thursdays at 8/7c on CBS and
CBS All Access
.