The Story Behind Stephen Hawking's Wedding Gift To Amy And Sheldon
The Big Bang Theory EPs Steve Molero and Steve Holland also reflect on the theoretical physicist's impact on the hit CBS comedy.
The Big Bang Theory
has always had a special place in its heart for
Stephen Hawking
.
Paying tribute to the late theoretical physicist in the Season 11 finale, "
The Bowtie Asymmetry
,"
The Big Bang Theory
has shared a special, unaired web-exclusive clip where Amy (
Mayim Bialik
) and Sheldon (
Jim Parsons
) receive a wedding present from Hawking, which Leonard (
Johnny Galecki
) surmises must have been sent before the physicist passed away.
Watch the clip above to see the happy couple open up Stephen's gift.
Inside, Amy and Sheldon find a pocket watch with the inscription, "Sheldon, I'm so glad you finally married Amy. It's about time. Ha, ha, ha. Love, Stephen."
Offering their insight into Stephen's legacy on
The Big Bang Theory
, Executive Producers Steve Holland and Steve Molaro reveal how they decided what Stephen's gift would be, the impact he's had on the show, their favorite memories of Stephen on
The Big Bang Theory
, and more.
STREAM: The Big Bang Theory Season 11 Finale, "The Bow Tie Asymmetry​," On CBS All Access
How did you decide on what Stephen Hawking's gift to Amy and Sheldon would be?
Steve Molaro:
I thought it would be nice if it was something that could be inscribed. I also knew a lot of Stephen Hawking's theories involved the concept of time. When you also add in Sheldon's love of pocket watches, it seemed like a nice idea. As far as the inscription goes, Stephen had a wonderful sense of humor, in real life as well as on our show. It seemed only fitting to let the inscription be warm and funny.
What impact has Stephen had on The Big Bang Theory over the years?
Steve Holland:
We strive to make sure our characters live in the real world, and that extends to the real world of science. We go out of our way to ensure that the science we talk about on the show is accurate and the formulas on the white boards are legitimate. So to have Professor Hawking be a part of our world gives it so much credibility.
And the fact that he was a fan of the show was incredibly flattering (and a huge testament to our science consultant Dr. David Salzberg). Once we realized what a great sense of humor he had, it was a blast bringing him back and making him a bigger part of our world.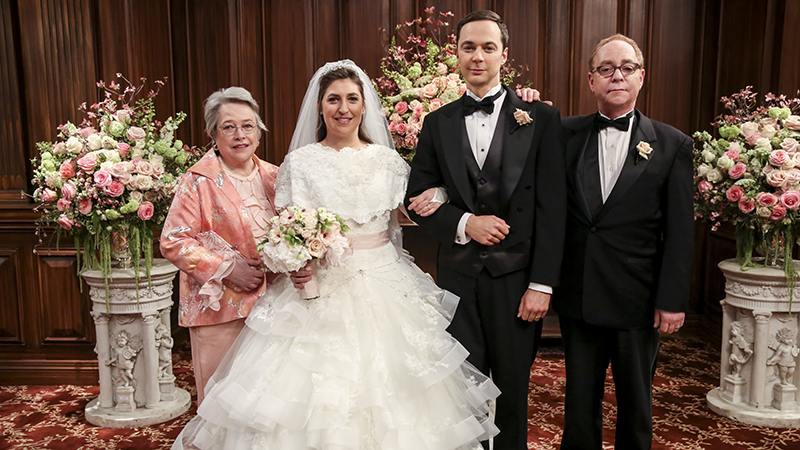 Is there a TBBT memory of Stephen that stands out for you, in particular?
Steve Holland:
There's two. The first time Stephen was on the show, he came to watch the cast rehearse and, in the script,
Simon [Helberg]
had to do a "Stephen Hawking" impression. Simon didn't realize at the time that he was going to have to his impression with Stephen Hawking sitting a few feet away. During the scene, no one was watching Simon, all eyes were on Professor Hawking. When the moment came and Simon launched into his impression, Stephen broke out in a big grin.
Also, later that week we got invited to a dinner at Caltech celebrating Stephen's birthday and after dinner we had the great opportunity to watch him give a lecture. I'd like to say that I understood everything he was lecturing about, but I can't. I can say that I will never forget that experience.
Stream
The Big Bang Theory
on CBS and
CBS All Access
.