100th Celebration
­Check out photos from The Big Bang Theory's 100th episode celebration.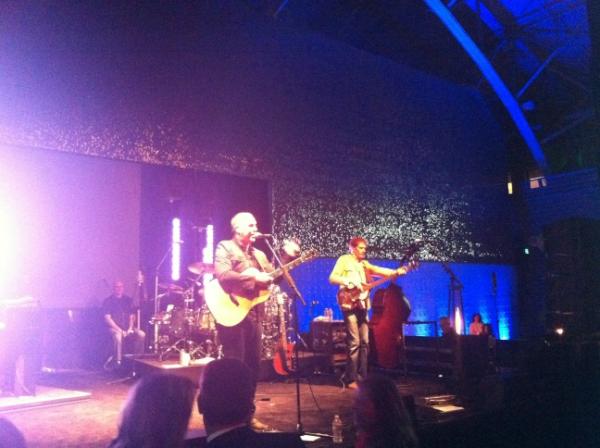 1. Barenaked Ladies
Barenaked Ladies perform at #BigBangTheory 100th Episode Party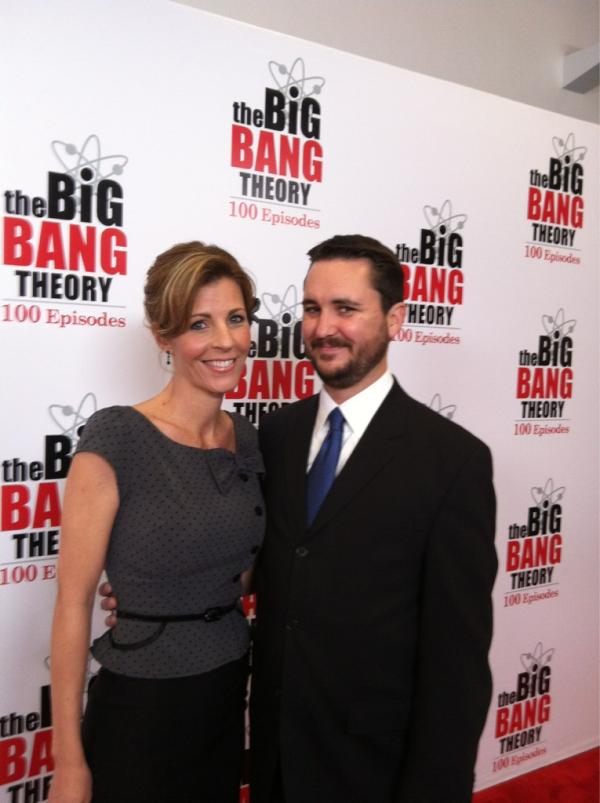 2. Will Wheaton
Will Wheaton and wife on the red carpet at the 100th Episode party.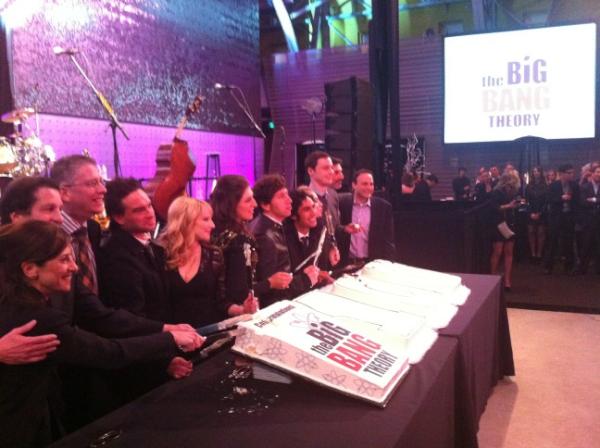 3. Cake
The cast of The Big Bang Theory gather around the cake at the 100th Episode Party.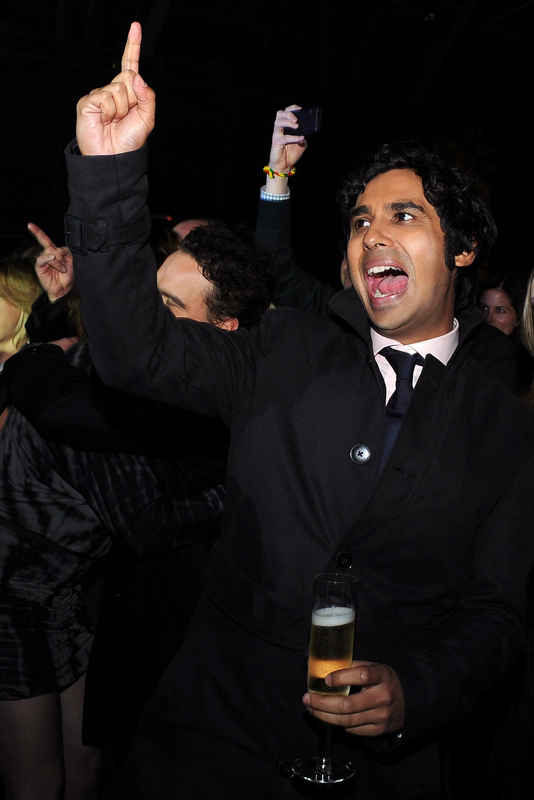 4. Rocking On
THE BIG BANG THEORY star Kunal Nayyar during the Barenaked Ladies performance at THE BIG BANG THEORY's 100th episode party on Thursday, December 15, at the California Science Center in Los Angeles. (Photo Credit: © 2011 Warner Bros. Entertainment Inc. All Rights Reserved.)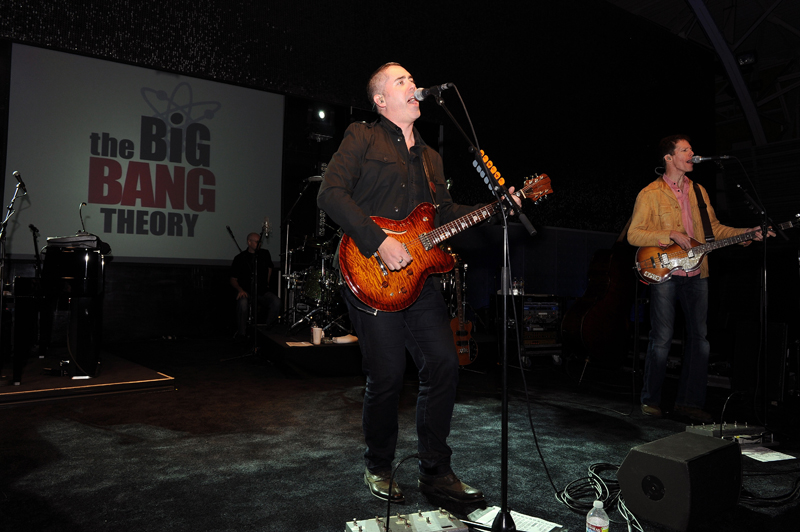 5. Barenaked Ladies
Barenaked Ladies singer Ed Robertson performs at THE BIG BANG THEORY's 100th episode party on Thursday, December 15, at the California Science Center in Los Angeles. (Photo Credit: © 2011 Warner Bros. Entertainment Inc. All Rights Reserved.)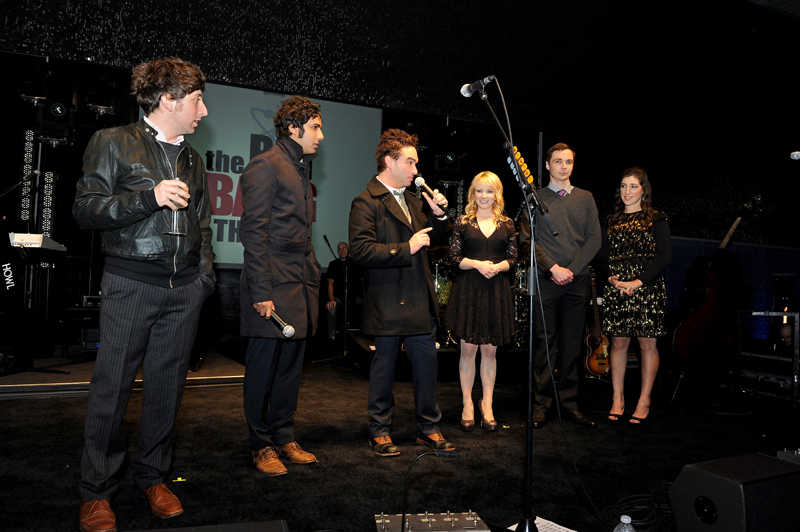 6. Cast Speeches
Mayim Bialik (left), Kaley Cuoco, Jim Parsons, Melissa Rauch, Johnny Galecki, Simon Helberg and Kunal Nayyar (right) — surround the cake at THE BIG BANG THEORY's 100th episode party on Thursday, December 15, at the California Science Center in Los Angeles. (Photo Credit: © 2011 Warner Bros. Entertainment Inc. All Rights Reserved.)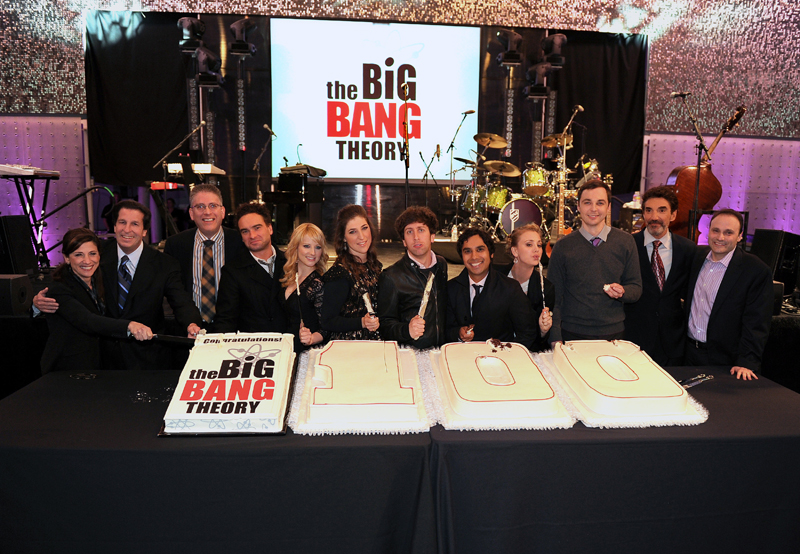 7. Cake Time
THE BIG BANG THEORY team celebrates! From left to right: Nina Tassler, President, CBS Entertainment; Peter Roth, President, Warner Bros. Television; THE BIG BANG THEORY co-creator/executive producer Bill Prady; series stars Johnny Galecki, Melissa Rauch, Mayim Bialik, Simon Helberg, Kunal Nayyar, Kaley Cuoco and Jim Parsons; co-creator/executive producer Chuck Lorre; and executive producer Steven Molaro at THE BIG BANG THEORY's 100th episode party on Thursday, December 15, at the California Science Center in Los Angeles. (Photo Credit: © 2011 Warner Bros. Entertainment Inc. All Rights Reserved.)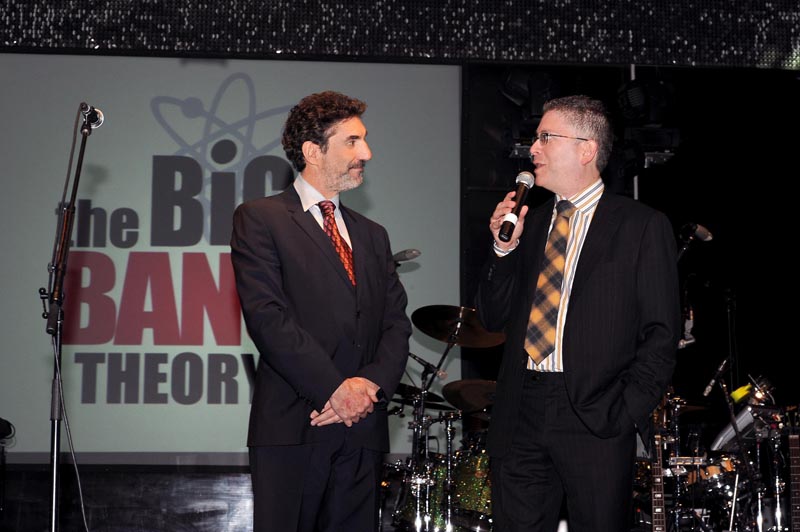 8. Chuck Lorre & Bill Prady
THE BIG BANG THEORY co-creators/executive producers Chuck Lorre (left) and Bill Prady (right) at THE BIG BANG THEORY's 100th episode party on Thursday, December 15, at the California Science Center in Los Angeles. (Photo Credit: © 2011 Warner Bros. Entertainment Inc. All Rights Reserved.)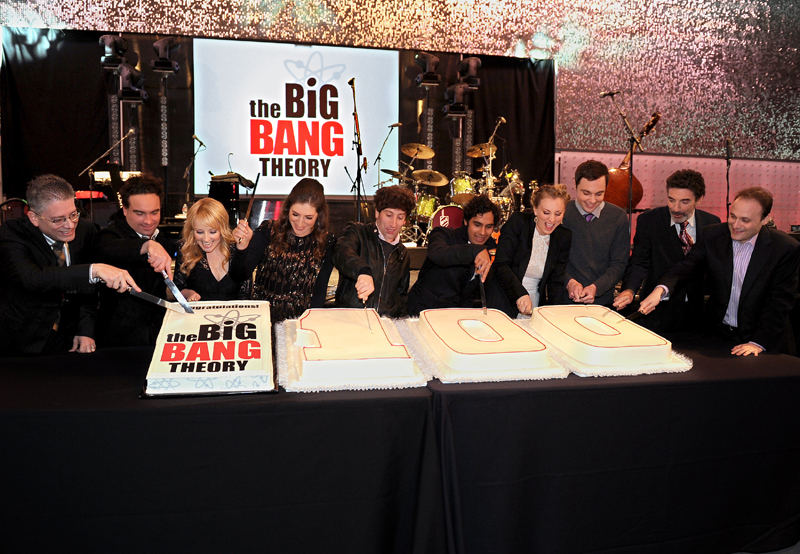 9. Cutting the Cake
THE BIG BANG THEORY co-creator/executive producer Bill Prady (left); series stars Johnny Galecki, Melissa Rauch, Mayim Bialik, Simon Helberg, Kunal Nayyar, Kaley Cuoco and Jim Parsons; co-creator/executive producer Chuck Lorre and executive producer Steven Molaro at THE BIG BANG THEORY's 100th episode party on Thursday, December 15, at the California Science Center in Los Angeles. (Photo Credit: © 2011 Warner Bros. Entertainment Inc. All Rights Reserved.)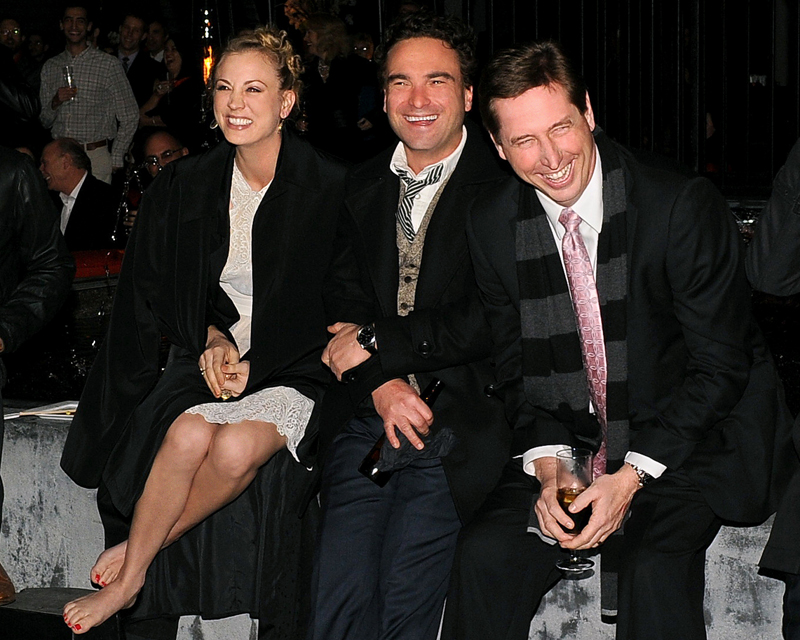 10. 100th Celebration Laughs
Kaley Cuoco (left) and Johnny Galecki (center) share a laugh with director Mark Cendrowski at THE BIG BANG THEORY's 100th episode party on Thursday, December 15, at the California Science Center in Los Angeles. (Photo Credit: © 2011 Warner Bros. Entertainment Inc. All Rights Reserved.)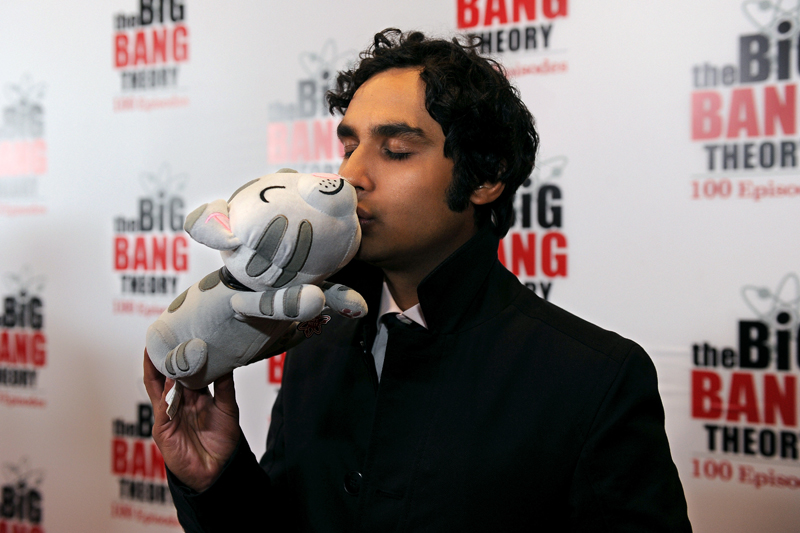 11. Kunal Nayyar
Kunal Nayyar with Soft Kitty at THE BIG BANG THEORY's 100th episode party on Thursday, December 15, at the California Science Center in Los Angeles. (Photo Credit: © 2011 Warner Bros. Entertainment Inc. All Rights Reserved.)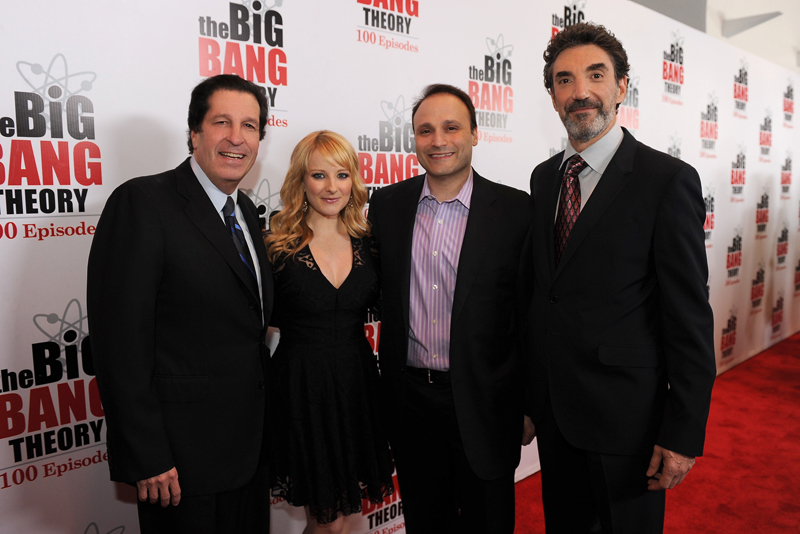 12. Melissa Rauch on The Red Carpet
Warner Bros. Television Peter Roth (left) with THE BIG BANG THEORY star Melissa Rauch, executive producer Steven Molaro and co-creator/executive producer Chuck Lorre (right) at THE BIG BANG THEORY's 100th episode party on Thursday, December 15, at the California Science Center in Los Angeles. (Photo Credit: © 2011 Warner Bros. Entertainment Inc. All Rights Reserved.)