Back to Cast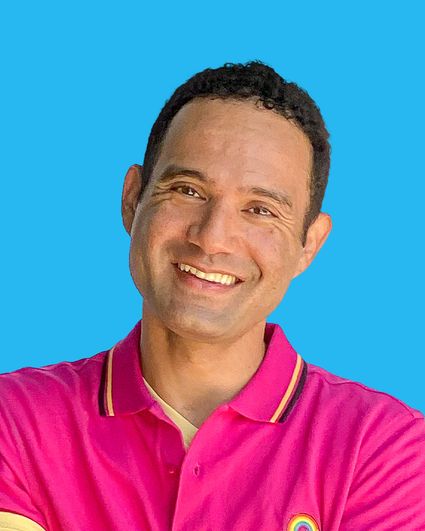 Biography
Kevin "KC" Campbell
Age:
40
Hometown: San Diego
Current city:
San Diego
Occupation
: Ad agency executive
Previous season: Big Brother 11. Kevin was the first Houseguest to be evicted on finale night,
placing third.

Three adjectives that describe you: Sickening, sassy, and seasoned.

Favorite activities: I'm a roller KWEEN who loves to SKATE (not blade…EW) under the San
Diego sun. I also love to work on my creative side hustles: button making, creating wall art, and
taking on overly ambitious knitting projects. I'm mostly a homebody who loves snuggling up to
my delicious husband and my fur-baby cat named Mochi.

Why do you want to play Big Brother again?
I came SO close to winning but choked in the final competition and it still stings to this day.
How DARE you, Jordan! Am I bitter about it? Meh…maaaaybe, but am I better about it? YES!
Getting eliminated on finale night, PLUS having legends come on the show saying I was the
person to win but then didn't, HURT. I want to prove to myself and America that I'm an
underrated player who deserves to reclaim his lost crown.

What do you think will be the most difficult part about living inside the Big Brother house?
I feel like this time it's going to be like a pack of hyenas going after a meal, so it will NOT be
cute. I know I'm HUNGRY and so will everyone else, so everyone will be nipping and snapping
at each other like they got something to prove. I suspect it's going to be an aggressive game, but
I'm ready to FIGHT for my meal!

Which past Big Brother cast member did you like most and why?
If any goddesses show up like Janelle, Da'Vonne, Danielle, or even Nicole, I'm hoping someone
knows CPR because I will DIEEEEE.

What is your strategy for winning the game?
I'm a very resilient person (my therapist said so!) and I plan on looking for any angle to get
ahead. I think it's weird to go into this game with a set strategy, instead I have several 'tools' in
my sickening tool belt I plan on using: Friendship building; Backstabbery; Alliance
making/breaking; Competition winnability and an intuition that makes me certifiably psychic.
I'm also still a professional gossip and I have perfected the art of distraction. So, if there's a
previous winner, couple, or anyone who is a more juicy target than me, I plan on pointing it out
as an obvious target.

How does this strategy differ from the last time you played?
Float, no! Fight, YES! As a SEASONED alumni, I've watched many seasons since my own in
which I was able to do the "woulda-coulda-shoulda's." Because of that, I know what works for
me and what won't in this game. I plan on playing every competition like it's my last, taking
every opportunity to snatch my crown. Instead of focusing on keeping an alliance around me
from self-imploding, I'm going to make sure I'm not letting a win slip through my hands as a
result.

Have you changed/evolved since the last time you were on the show?
I'm still offbeat and awkward but now I'm just more seasoned. I went from Graphic Designer to
Senior Creative Director at the same marketing agency I work at. I upgraded the 'boyf' to 'husb'
and got married, and we recently celebrated 20 years together! I also gave birth to a fur-baby, his
name is Mochi and he's sassy like his daddy. I'm hoping to win Big Brother this time so we can
officially start our family together and adopt a real baby.

My life's motto is…
I AM the President, Founder and CEO of the "Keep It Cute, Keep It Real Committee." I'm going
to keep it real and call out mess when I see it, but keep it cute so we're all laughing and having
fun about it.

What would you take into the house and why?
My second twice removed third distant half cousin said she wants to come with me. Her name is
Miss Anita Veto and let's just say she's a little more confident than me and will do ANYTHING
to get me out of a pickle.

Fun facts about yourself:
-I'm half Black, half Japanese.
-I grew up a Jehovah's Witness but was excommunicated at 21 years old.
-I was humiliated when I lost Season 11 of Big Brother and came in third place.