Congrats To BB Alumni Jeff And Jordan On Recent Wedding And New Baby!
One of Big Brother's favorite couples share news about tying the knot earlier than expected
Posted on Apr 6, 2016 | 07:10pm
Congratulations are in order for former
Big Brother
couple
Jeff and Jordan, who are now happily married
and
proud to announce they're expecting their first baby, something that's been kept under wraps for over three months!
The lovebirds,
who met through Big Brother and got engaged on the show in 2014
,
recently revealed they got hitched in March after finding out they were expecting their first child together. Last we caught up with the pair, they were in the middle of planning a wedding in late 2016, but their plans abruptly changed once they found out a baby was in their near future.
Jordan, a self-described "traditional" person, insisted they go to the courthouse to make it official and ensure all members of the newly expanding family would share the same last name: Schroeder. Thankfully, J&J weren't alone for the quiet nuptials; instead, they were surrounded by a circle of close friends as their witnesses.
So what about the extravagant wedding? Not to worry, BB fans. Plans of a bigger bash is slated for 2017.
Hear what Jeff Schroeder had to say when he exclusively spoke with us about the exciting news:
How hard was it to keep this a secret for the last couple months?
Jeff Schroeder:
"It was pretty tough keeping everything under wraps. Our family, of course, knew as well as a very few close friends but that's it. And we really wanted to make sure the baby was healthy before we got the word out as well. We are relieved the news is finally out now because it was hard not to tell every single person you run into when they ask, 'What's new with you?' and we couldn't say anything, knowing we had a great answer!"
What's been the best piece of baby advice you've received, so far?
Jeff:
"Honestly, we are still trying to wrap our heads around the fact that we are actually going to be parents! Everybody has their opinions about do's and don'ts, but we think parenting is more of an 'on the job learning experience.' As far as advice goes, I think both our mothers' suggesting they come out when the baby is born for the first few weeks is the best thing we've heard so far! Gonna be tough to beat that one!"
Big Brother fans would love to know more about the wedding. Any tidbit you can share?
Jeff:
"After we found out about the baby we didn't want to wait until October to be married. Also, Jordan didn't want to be that far along in her pregnancy and walk down the aisle. We decided to keep it simple and get married at the Beverly Hills Courthouse with just a handful of friends. Not necessarily Jordan's dream wedding, but it actually was very nice. Also, Jessica Alba got married there—that sealed the deal for us!"
Will you be accepting baby name suggestions from Live Feeders?
Jeff:
"Ha, we always love hearing suggestions from the Live Feeders! We actually are open to hearing some names, but only early on in the season. Once things heat up on the show, the Live Feeders tend to do the same online. Play nice feeders!"
Before the happy couple embark on a wonderful future together, let's take a quick look back at where it all began...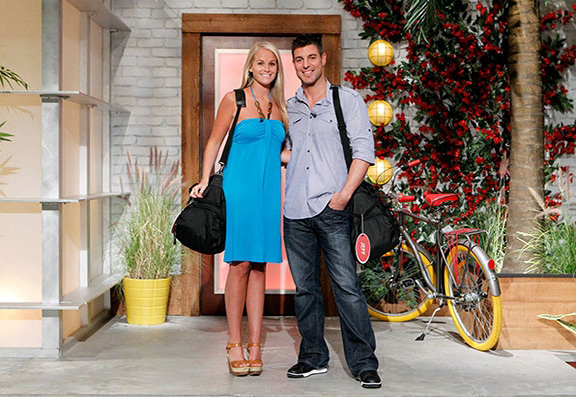 Congratulations, Jeff and Jordan!
Oh, and don't forget to tune in Wednesday, June 22 at 8/7c because that's when
Big Brother
returns to CBS for Season 18!