Crazy Twists Shock 16 New Houseguests: Big Brother 18, Episode 1 Recap
Four stowaways sneak into the house, family secrets are revealed, and alliances start to form.
The newest season of
Big Brother
kicked off with a two-hour premiere filled with surprise guests, game-changing twists, and the kind of two-faced conversations that make—and potentially break—new alliances.
While we all try to catch our collective breath, let's travel through some of the biggest moments from the Season 18 premiere.
WATCH: Full Big Brother Season 18 premiere episode.
Before moving into their new home for the next 99 days,
each Season 18 Houseguest was introduced
(and squealed with glee) when they were given a coveted oversized key. Almost as soon as we met the newest batch of players, we watched them pack up and say goodbye to their loved ones—or, in
Corey
's case, his beloved canine companions—because
Big Brother
waits for no one!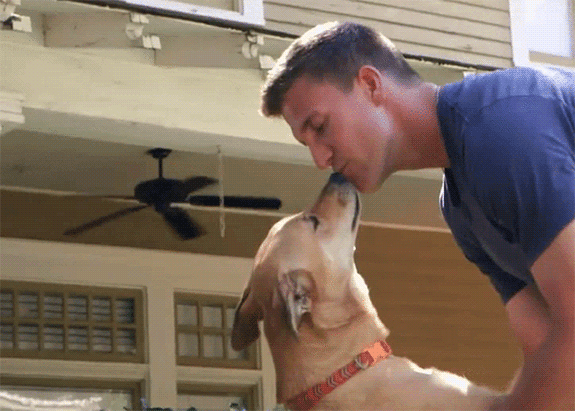 Once the 12 new Houseguests moved into the Season 18 house, hellos and hugs were exchanged. It didn't take long before the meet-and-greet morphed into a giant love fest.
Zakiyah
thought
Paulie
was adorable,
Victor
was immediately smitten by
Natalie
, and
Bridgette
could barely believe she was
actually
on the show.
But before anyone could get too comfortable, host
Julie Chen
announced the first twist of the summer. These HGs weren't alone; in fact, there were four stowaways hidden in the house.
Who were these concealed party crashers, pray tell? None other than former HGs
James Huling
(Season 17),
Nicole Franzel
(Season 16),
Da'Vonne Rogers
(Season 17),
and
Frank Eudy
(Season 14), who were all getting another chance to play the game!
Once the veterans made everyone's acquaintance, Julie asked the entire cast of 16 Houseguests to gather in the living room so she could tell them about twist #2. This summer, the HGs would be competing in teams of four.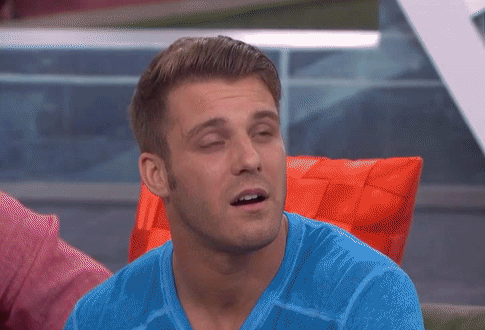 As you can imagine, everyone was shocked. They had to pick their jaws off the floor pretty fast because it was time for the first competition, called "Ride The Rocket," where the newly formed quartets would compete over cash, punishment, and safety.
Once the HGs divided into four teams of four, each quad were instructed to straddle an oversized rocket and hold on through various obstacles
without
falling off.
The first team to all wipe out—#BigSister, which consisted of
Jozea
,
Paul
, Da'Vonne, and Zakiyah—ended up visiting Notburgh, which included a no-expense paid trip to the Have-Not room and all its non-existent perks for the next week.
The second team to abandon their vessel—#Category4, comprised of Paulie, Frank, Bridgette, and
Michelle
—landed in Mysteryland, which included an unknown punishment to be revealed at a later time.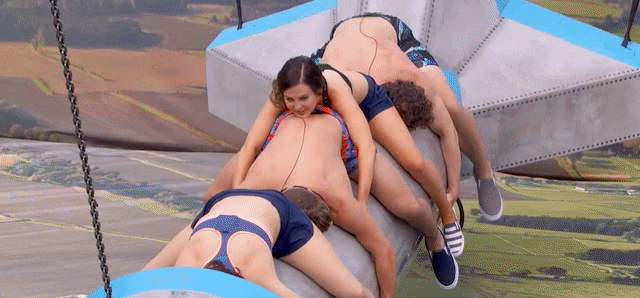 The third team to lose their grip—#Freakazoids, made up of Corey,
Tiffany
, Nicole, and
Glenn
—won $10,000 to be divided evenly among them. Finally, the last team
standing
sitting—#TeamUnicorn, which consisted of Bronte, Victor, Natalie, and James—snagged guaranteed safety for the next
two
evictions.
After "Ride The Rocket," all of the Houseguests went back inside to clean up—and that's when the real scheming began. Most of newbies seemed to agree that the returning players needed to get the boot. Or, as Zakiyah said, "These old heads got to go."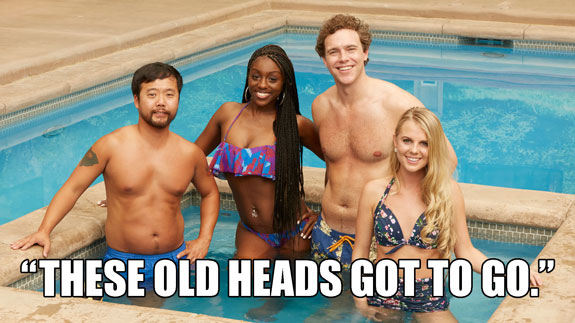 Obviously, the opposite sentiment was felt by the veterans, who didn't trust their fresh-faced counterparts, either, and knew they'd have to dig deep if they wanted to keep their place in the house.
Before any plans could be properly hatched, Julie returned to tell the Houseguests about a third twist. The remaining three teams would compete in a three-part competition titled, "Hit the Road." The first two teams to win would earn safety. The last remaining team would have to compete against one another in the third and final stage, and the losing Houseguest will be immediately evicted.
Also, the remaining three team members of the team will decide who from their team will become this summer's first Head of Household.
By the end of Episode 1, fans knew
someone from Team #Freakazoid would be leaving the house—
but who?
Find out which Houseguest is given his (or her) walking papers
when the second half of the
Big Brother
Season 18 two-night premiere event airs on Thursday, June 23 at 9/8c.
Plus, before you make any major plans for the summer, remember you'll want to watch
Big Brother
on Wednesdays and Sundays at 8/7c, and Thursdays at 9/8c on CBS and
CBS All Access
.