Big Brother Season 18, Episode 3 Recap: A New Competition Turns The House Upside Down
The Houseguests crashed into a new challenge, which added a game-changing twist to future evictions.
Posted on Jun 27, 2016 | 03:30pm
During
Big Brother
's inaugural Sunday episode, the Houseguests continued to bond, hatch plans for future eliminations, and develop new alliances that could blur the line between Season 18 rookies and veterans.
While we recover from seeing #Category4's pixelated naughty bits, let's review some of the biggest moments from the latest episode:
WATCH: Full Episode 3 of Big Brother, Season18
After
Nicole
, the season's first HOH, nominated
Jozea
and
Paulie
for eviction, the game kicked into high gear for the new and returning Houseguests. However, before anyone could talk strategy, the show introduced a new competition called #BBRoadKill.
Each week after the nomination ceremony, the BB RV will roll into the backyard and each HG will
individually
enter and compete in a challenge. The winner will be revealed secretly and that person will gain the power to anonymously nominate a third Houseguest for eviction.
This week, the Houseguests competed in "Take It Off," where they had to strip from a full tracksuit down to a swimsuit, all while keeping three buttons pressed. The person with the fastest time would win the new game-changing power.
Who ended up being the fastest person to disrobe down to his—or her—skivvies?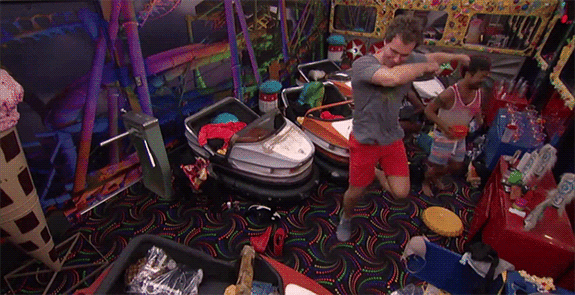 That'd be
Frank
, who celebrated the win by busting into this high-stepping jig with
James
, another returning cohort and fellow member of the new
#8Pack
alliance. The alliance reached across the aisle of newbies and vets by including these two, in addition to Nicole,
Da'Vonne
,
Tiffany
,
Zakiyah
,
Corey
, and
Michelle
.
Speaking of allies,
Natalie
made her move to create an all-girl alliance with
Bridgette
and
Bronte
, who seemed more than willing to align together for the #SpyGirls alliance.
The ladies even came up with no-nonsense alter-egos—Flirty Spy (Natalie), Wifey Spy (Bronte) and Spunky Spy (Bridgette)—that helped strengthen their solidarity.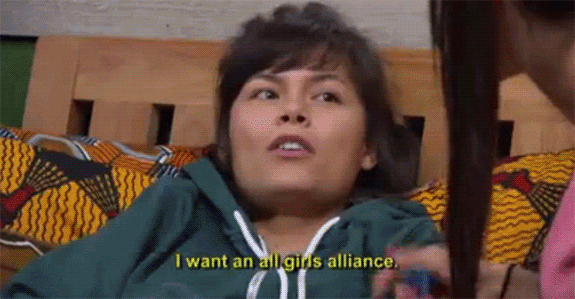 Though, what the women failed to realize was that Tiffany overheard their entire planning session. How will that impact their alliance? We shall see.
In the meantime,
Mysteryland reared its ugly head when #Category4 was given their punishment
from the "Ride The Rocket" challenge. For the entire week, Paulie, Frank, Bridgette, and Michelle had to don perfectly placed pixels—and nothing else!
Some members of Category 4 seemed more comfortable in less clothing, while others appeared to be counting down the hours until the punishment was over.
One thing that provided at least a few moments of distraction was the announcement of which Houseguest would join Jozea and Paulie on the chopping block. After contemplating his options, Frank decided to put up someone who had been making waves since entering the house on Day 1.
Who will win Season 18's first Power of Veto competition and which Houseguest will be evicted from the
Big Brother
house this week?
Find out on the next episode of
Big Brother
, which airs on Wednesdays and Sundays at 8/7c, and Thursdays at 9/8c on CBS and
CBS All Access
.