Nicole Keeps It Real As Big Brother Season 18's First HoH
Read what this returning Houseguest has to say about her first week in the BB18 house.
Posted on Jun 29, 2016 | 05:50pm
This week, Nicole Franzel was named
Big Brother
's first Head of Household for Season 18.

Read this exclusive letter from the current HoH and find out how pumped she is to return to BB, which alliances she is involved with, and what she
really
thinks of the Houseguests who have family ties to the show.
Hi guys!
It's so crazy to be back in the
Big Brother
house! I wouldn't want to be anywhere else this summer! I want to thank all of my supporters for everything. I wouldn't be here without you. If you couldn't tell, I'm actually playing
Big Brother
this time. Last time, I let myself get a
little
distracted, but I'm here to win this year!
I'm SUPER excited to be back in the big brother house this summer! #BB18 #teamcoconuts

— Big Brother HOH (@BigBrotherHOH) June 29, 2016
Coming back is kind of difficult. I immediately had a target on my back and felt the need to become the first HoH, which was never part of my game plan, but you know what they say—expect the unexpected. I just hope this move gains the trust of the
other returnees
and that they will have my back for the weeks to come!
This summer started off
so
crazy. I seriously I thought I was about to go home Day 1! I'm really excited to play this game with
Frank
,
Day
, and
James
! I loved watching them and now getting to play with them is so awesome. I'm really hoping us four go far together.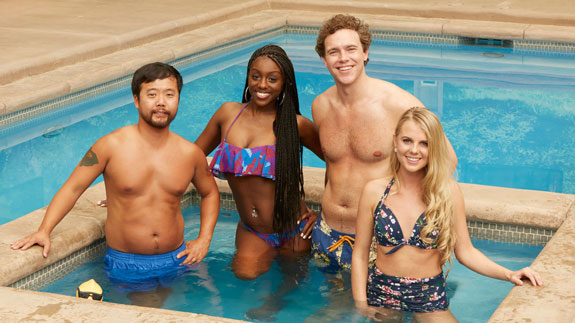 Playing on teams is sort of tricky and
all
of these twists can be overwhelming but I
actually
think this week will go as planned. This is a new thing for me. Oh, and playing with
Tiff
and
Paulie
is super cool. I guess I'm not allowed to play BB without a Calafiore boy. Hopefully it works out better this time, though.
The house is divided! yayayayayaaaay! well at least lets hope so, otherwise I'm in a lot of trouble :/ #BB18

— Big Brother HOH (@BigBrotherHOH) June 29, 2016
Things change daily in here. The other side of the house—I think their name is "Revolution" or something—they change their target hourly. I can't keep up, to be honest. They hold a lot of meetings that are the
furthest
thing from discreet. After the vote this week, everything will be out in the open and people will see where everyone's allegiances lie.
Also there are
so
many physical beasts in here this summer. Sheesh! I mean, I need to start working out, but I keep telling myself that it's my strategy to just look weak but,
dang
, I really do need to start running or something.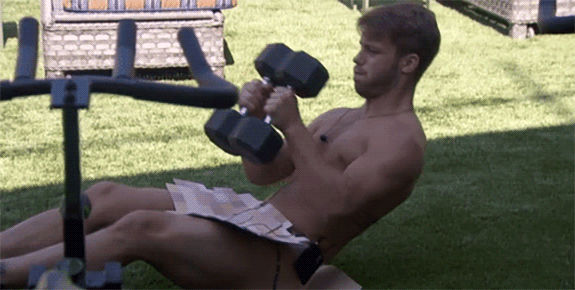 I have quite a few alliances going right now. So, we have the
8 Pack
, which I feel pretty great about. I'm in the "Fatal Five," which is an all-girls alliance with the girls in the 8 Pack.
Frank, James, Day, and I have an alliance without a name, too! Apparently, the house has no idea we four are working together, though.
Plus,
Corey
and I have a Final 2 deal—but, right now, I'm just trying to make it week by week, to be honest!
Mom, Dad, Jesse, and Kaylee—I love and miss you all so much. I'm
always
thinking about you guys and I am staying strong. Please take care of yourselves and be safe! Give my pups some love for me. I really miss cuddling them!
To all of my friends, miss and love you. Mariah, I hope you're having an awesome summer.
Shoutout to the BB16 cast! I look for you guys in this house daily. It's so
weird
playing this game without you! I hope you all are doing great.
Derrick
, I'm trying to use some of your moves this season, but it's harder than it looks!
I truly feel like the luckiest girl in the world to get a second chance at playing the best game ever,
Big Brother
! Thank you to all of the
Big Brother
fans out there!
Team Coconuts
xoxo, Nic
Watch new episodes of
Big Brother
on Wednesdays and Sundays at 8/7c, and Thursdays at 9/8c on CBS and
CBS All Access
.