Try Not To Stare At Zakiyah And Paulie During The Most Awkward Hug Ever
What started off as a simple squeeze between two Houseguests quickly turned into an awkward embrace.
Posted on Jul 6, 2016 | 02:45pm
If you're a
Feeder
, then you may've have already seen some flirty moments between
Zakiyah
and
Paulie
. However, there's been one somewhat intimate interaction between the two hot Houseguests that raised eyebrows—but not for the reasons you'd expect.
In this PG-rated clip, watch what happened when Zakiyah and Paulie participated in what felt like one of the longest single hugs in recent Big Brother history.
"Don't let go," said Zakiyah to
this week's HOH
and the line worked because, well, Paulie didn't.
Plus, as if this moment wasn't weird enough, the pair clung together in front of an audience; while cradling each other for nearly 90 seconds,
James
sat at the kitchen table as a solo spectator.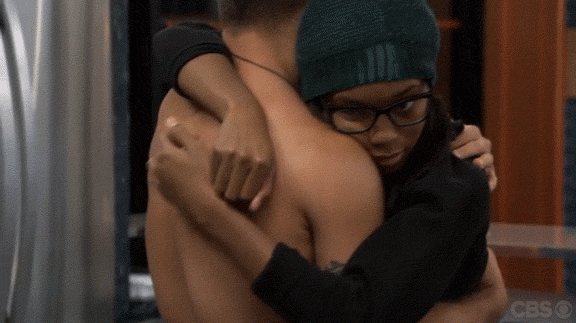 Can you spell "awkward?"
WATCH: Full Episode 6 of Big Brother, Season 18
Craving more exclusive moments from the Season 18 house? Head over to the
Big Brother Live Feeds
now for 24/7 access of all the action.
Plus, don't forget to watch
Big Brother
on Wednesdays and Sundays at 8/7c, and Thursdays at 9/8c on CBS and
CBS All Access
.