Find Out Which Evictee Won Their Way Back Into The Big Brother Season 18 House
After five intense rounds, one former BB18 Houseguest won the opportunity to re-enter the game.
Posted on Jul 22, 2016 | 09:00pm
For the past few weeks,
Big Brother
fans have been patiently waiting to find out which of the first five evicted Season 18 Houseguests—
Glenn
,
Jozea
,
Victor
,
Bronte
, or
Tiffany
—would win the unprecedented
Battle Back competition
to land a spot back in the BB house!
Each battle tested the players' physical strength, brain power, and overall strategic gameplay.
So, who outlasted the competition to give the remaining Houseguests a big surprise by walking back through the front doors? Let's revisit each battle, one by one.
Round 1:
Glenn
(Week 1 evictee) vs.
Jozea
(Week 2 evictee)
Seeking vindication for his early elimination, Glenn was pumped to compete for a second chance at $500k; however, so was Jozea, who's self-proclaimed Messiah complex had him believing he could walk on water—or logs, which were a part of the challenge, which looked similar to the
"Berry Balanced" HOH competition
that followed Jozea's elimination.
Glenn's determination was admirable, but it didn't translate into a berry strong performance in the comp and Jozea was rewarded with the win in the first battle.
Round 2:
Jozea vs.
Victor
(Week 3 evictee)
When Jozea ran onto the tennis court to compete against Victor, his former
Big Brother
bestie, the Puerto Rican Sensation wasn't exactly excited to see the L.A.-based makeup artist. However, a friendly fist bump and handshake kicked off the ball-busting competition.
Jozea might've reigned supreme in Round 1, but Victor managed to pull through and send
Big Brother
's former CEO back to La-La Land.
Round 3:
Victor
vs.
Bronte
(Week 4 evictee)
With high hopes of reuniting the
Spy Girls alliance
, Bronte burst into the
Big Brother
backyard ready to face her Battle Back opponent, but when Victor emerged from the smoke, she clinked horns with her Team Unicorn brethren—and then whispered, "There's not a single person in that house who likes you, buddy."
So much for not being snooty.
Huh, Bronte?
Both competitors thought they had this memory comp in the bag, but the reigning champ schooled the aspiring mathematician, who lost this numbers game.
Round 4:
Victor vs.
Tiffany
(Week 5 evictee)
With one round left, Victor was pretty attached to his Battle Back belt, but Tiffany wasn't going to let him keep the oversized accessory without a fight, especially when tasked with putting together the band schedule for the first Electric BB Festival poster.
Tiffany's strategy was to work from the bottom upwards, slow and steady, while Victor started at the top of the marquee and filled in the blank spaces as fast as possible.
A spelling error and design mistake threatened to delay Vic from finishing the puzzle in record time, but with Tiffany struggling to Shine Bright Like A Frankie (who happened to be playing the fest at 8 PM), Victor was crowned the #BattleBackChamp.
Sorry, Tiff. But, as Julie Chen said, "Your summer is officially over."
Victor was definitely stoked to get back into the Season 18 house, but his former allies—
and
enemies—weren't all thrilled to see his face again.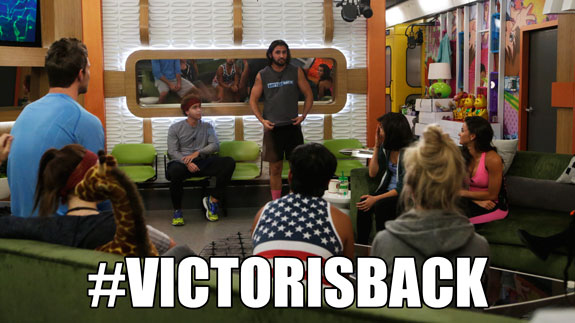 How will Victor's return affect the current alliances and what will the Houseguests do when they discover there's a secret room in the house that contains a power that could change one person's fate in the game?
So. Many. Twists.
Watch
Big Brother
on Wednesdays and Sundays at 8/7c, and Thursdays at 9/8c on CBS and
CBS All Access
!