Paul Pumps Up The Friendship: Big Brother Season 18, Episode 19 Recap
The clothing designer fashioned targets on two tough women during his first stint as HOH.
Posted on Aug 1, 2016 | 01:20pm
On the latest episode of
Big Brother
Season 18,
Paulie
hopped aboard the friendship train,
Natalie
received the first America's Care Package, and
Paul
rallied his allies to back his big game moves during his first run as Head of Household.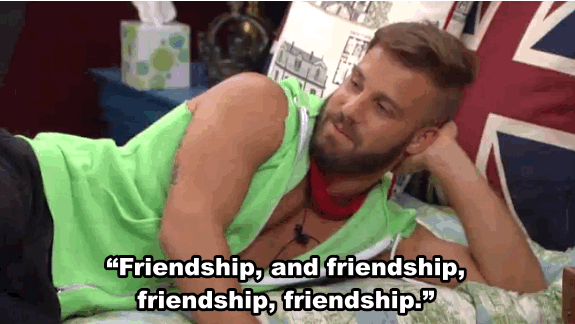 While we giggle over Paul and Paulie's budding bromance, let's run through some of the biggest moments from the latest episode.
WATCH: Big Brother Season 18, Episode 19
After they
had sent Frank packing
, the Houseguests headed to the backyard to compete in the "Perfect Shot" HOH competition. To win, the participating players would have to roll a red ball across a crooked board and land in either the highest numeric slot or in a small box.
Despite valiant efforts from all, one person balled harder than the rest: Paul, who celebrated his victory with fist bumps, smiles, and, of course, friendship.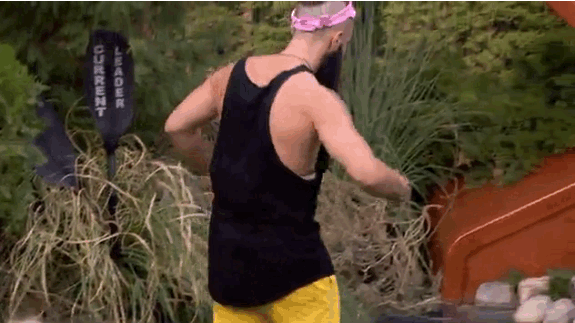 But once the bearded boy settled into his comfy HOH robe, the magic of fellowship began to wear off. Paul made it clear to his buds that
Bridgette
was his target and asked for their help in sending the competition beast home. Despite Paul's pleas—and the fact that his pals had used him as a pawn in the past—no one seemed willing to step up to the plate.
Just as he was about to resign his efforts,
Nicole
, who later admitted she vowed she would never volunteer as a pawn, threw her hat in the ring. Now,
that's
friendship!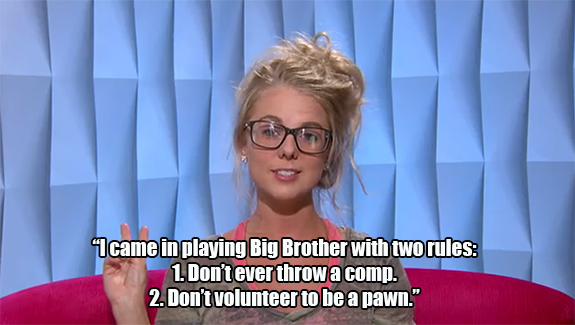 While Nicole kicked herself for breaking her promise, Paulie fought to uphold one of his own. An hour before Thursday's live eviction, the elder Calafiore brother assured
Frank
that he'd look out for Bridgette.
So, he started planting seeds in Paul's mind that perhaps they should consider shifting the focus onto a bigger target:
Da'Vonne
, who he claimed had stirred up her fair share of drama. To make his plan work, Paulie volunteered to go up on the block in Nicole's place. Should he or one of his allies win the comp and clear a space on the block, Paul agreed to nominate Mama Day.
Before they could strategize further, the #Twinsies joined the others as they learned about the latest
Big Brother
twist, America's Care Package. Each week,
America will vote to send one lucky Houseguest a care package
, filled with practical gifts. But that's not all! Each recipient will score one special game advantage.
So, who would America treat first?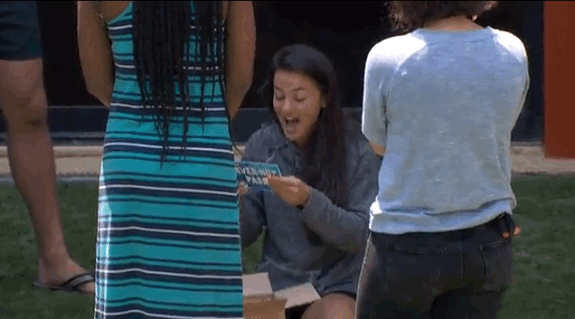 Natalie! The cheerleader could hardly contain her excitement as she unwrapped a bundle of socks, some dental floss and, most importantly, a Never-Not Pass, which guarantees she can not be a Have-Not for the remainder of the summer. No more slop for you, little Nat-Nat!
Unfortunately, her luck didn't spread to everyone else in the house. During the nomination ceremony, Paul carried out his plan and placed both Bridgette and Paulie on the block.
Who will win the golden Power of Veto, and will it be used to save either Bridgette or Paulie?
Watch
Big Brother
on Sundays and Wednesdays at 8/7c, and Thursdays at 9/8c on CBS, and stream full episodes on
CBS All Access
.